With over 500 applications, we are delighted to announce the final list of TechRound Top BAME 50 Entrepreneurs Under 50.
We would like to say a special thank you to those who entered and our wonderful judges (Bindi Karia, Linda Plant, Rajeeb Dey and Kike Oniwinde) who generously gave their time and feedback for this competition.
Thank you to the TechRound team including David Soffer, Daniel Tannenbaum, Josephine Melvin, Natasha Meisel, Lara Dolden and Dana Leigh.
Supporting BAME communities has never been more important and this list is designed to celebrate the innovation and hard work of BAME entrepreneurs across the UK and the world; and provide inspiration to future generations.
One judge reportedly said that she was 'bloody impressed' with the quality of candidates and their ideas, which is a huge credit to the BAME community living in the UK who continue to thrive despite various social and economic challenges.
For questions or comments, please contact the TechRound team here.
Top BAME 50 Entrepreneurs Finalists of 2020 
Highly Commended for Concept and Innovation
Bridget Daley (Parents in Biz), Rebekah Wisten (Pink n Dink), Heeral Pattni (Amica), Jasmine Douglas, (Babes on Waves), Sarah Hayford (The Land Collective), Quincy Dash (The Clout Group PR), Caroline Sande (TravelEatSlay), Grace Trowbridge (Simply Noir), TJ Amas (QuoteonSite), Nessa Keddo (Munch Free), Monica Shafaq (Kaleidoscope Plus Group), Priya Downes (Nudea)
50) Lena Chauhan – Rise IQ
Name: Lena Chauhan
Company: Rise IQ – an impartial, independent service which helps employees to find the most appropriate medical treatments when taken ill.
About: Lena Chauhan started her business out of the frustration from a personal experience with corporate healthcare. Chauhan states that "During my 20 year career in finance I was the 'go to' person for all health issues for all my colleagues, friends and family as I always asked questions and looked at alternative pathways."
In 2016, Chauhan met a surgeon who had launched a B2C Medical Navigation startup. Chauhan loved the startup's proposition, and subsequently created a B2B arm, conducting successful trials with her top hedge fund clients. It was during this time Chauhan worked with an employee whose mother had dementia, and within a month Chauhan's own aunt was diagnosed with Alzheimer's. Chauhan's aunt was too ashamed to ask her friends, family or wider community for help, all while her cousins were in denial about the illness – of which devastated Chauhan.
In light on the founder's own personal struggles, RiseIQ was built to help support employees and their families by relieving them of the emotionally draining and time-consuming search for the best medical treatments after a health diagnosis. Chauhan co-founded RiseIQ in 2018, and is also the startup's CEO.
After a diagnosis, RiseIQ will work with employees on a personal level, providing both practical and emotional support throughout. Under Rise IQ, Chauhan gathers data insights to monitor the impact the platform is having on its users. The startup plans to roll-out into other BAME or local community groups nationally.
49) Youssef Darwich – Hapi
Name: Youssef Darwich
Company: Hapi – an account dedicated to financing your child's future.
About: Youssef is originally from Egypt and moved to England when he was 8. He graduated in 2011 from LSE and after 4 years working for RBS and Evercore, decided to transition into tech. He taught himself product management whilst building a recruitment tech platform before joining Tide, where he held senior roles in product and operations. In his three years there he helped the business scale from just 3 people to a business with over 70k customers and 100 employees.
Youssef then joined Octopus Wealth as Head of Product. It was there that he saw the inefficiencies of financial advice and its inaccessibility for the majority of people. When he met Sigurjon at Entrepreneur First they decided to build Hapi to solve this. Hapi is initially targeting parents – helping them make better financial decisions when saving and investing for their children's future. Users tell Hapi about their goals – e.g. school/uni fees – and Hapi gives them a personalised plan to get them there, managing it automatically, reacting instantly to any changes in their circumstances, and keeping on top of any changes to regulations for them.
Over time Hapi will broaden its offering – helping users with all of their important financial goals and allowing everyone to benefit from the sophisticated advice that is currently exclusive to the wealthiest.
48) Chika Russell – Chika's Food
Name: Chika Russell
Company: Chika's Food – a range of healthy, natural snacks inspired by the flavours and exotic foods of Nigeria.
About: Chika Russell is the founder of the startup Chika's Food – inspired by her love for cooking and ability to create recipes using African ingredients. After realising that African food was still massively under-represented in the snack market, Chika Russell left the world of finance in 2013 to share her passion for West African inspired food. It was at this time that Chika's, the brand, was born.
Russell secured £800,000 in funding from eight investors, after turning down £30,000 from Peter Jones on Dragons' Den. Russell was able to create delicious treats inspired by her experiences of Africa – surrounded by traditional street food made by local women to snack on.
Chika's Food works directly with communities to grow its ingredients, such as Epa nuts which are dried beneath the hot African sun. As well as creating jobs in the region, Chika Russell supports all her teams in sending their children to school and ensuring that they receive an education just like she did. By using the profits from her luxury nuts to support the education of children in Nigeria, Russell is helping to empower these children to learn and have a better start in life.
47) Anu Panesar – Aspiring Women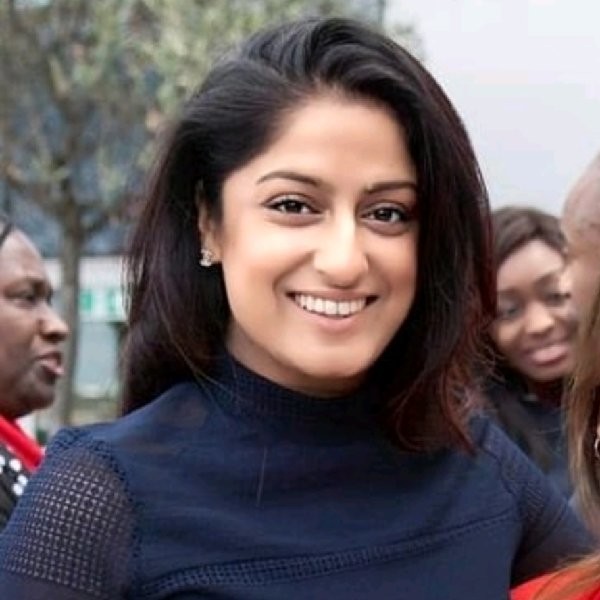 Name: Anu Panesar
Company: Aspiring Panda and Aspiring Women – a digital resource for women in search of encouragement and role models to inspire them to succeed.
About: Digital marketing and tech specialist Anoop is a well-known figure in the Harrow and North London community. Currently the Operations Director for Aspiring Panda, the company uses cloud and development expertise to solve some of the toughest business challenges – which has recently included consulting with East African nations to provide sustainable farming.
Panesar is also the founder of Aspiring Women, a search engine and platform for female entrepreneurs, which offers regular events and support for women from all backgrounds, particularly BAME. Members get access to discounted tech services and business support, helping them to build their profile and break into the market.
The entrepreneur's other roles include Hertfordshire Business School Mentor and Member of the Board of Advisors for Hertfordshire University International Business Programme.
46) Dee Saigal – Erase All Kittens
Name: Dee Saigal
Company: Erase All Kittens – a game designed to teach young children transferable digital skills.
About: Dee Saigal is the CEO and co-founder of Erase All Kittens (EAK) – a multi-award-winning game designed for young children, teaching them transferable digital skills while inspiring girls to code and create. Through solely word-of-mouth, EAK has 150,000 players in over 100 countries, with 95% of girls wanting to learn more about coding after playing.
Saigal's background is in creative advertising, however, the co-founder states that when she was younger: "I was obsessed with playing games, and wanted to be a games designer – however, since I didn't see anyone like me making games, I thought that I wasn't smart enough and that it was more for boys." After seven years of working in ad agencies, Saigal left her job and started to attend meetups in gaming and education. It was during this time Saigal was introduced to her future co-founders.
Since March this year, the startup's B2B traction increased 500%. EAK raised £235,000 in May, and are now in the process of closing a further £400,000 from an Educational Publishing house. The startup have also recently won a $100,000 grant from The Mozilla Foundation, and have hired six team-members in the past 6 months, growing the team from 4 to 10. Looking to the future, EAK are planning to launch their 6-8 hour coding game in April 2021, which they will sell to parents and schools.
45) Lee Chambers – Essentialise Workplace Wellbeing
Name: Lee Chambers
Company: Essentialise Workplace Wellbeing – offering Functional Life and Business coaching.
About: In 2014, Lee Chambers lost the ability to walk through illness and had to relearn. Through his recovery, the entrepreneur realised that in order to be an example to other BAME entrepreneurs and scientists, he had to run a business that had an impact. Chambers decided to enter an industry with low levels of BAME representation and engagement: Wellbeing.
By September 2019 Chambers was ready to pre-launch Essentialise – a life and business coaching company specialising in Functional Coaching. Chambers launched in December, self-funded. The physical delivery was hit by COVID, however Chambers was agile and built a digital framework to ensure he was able to deliver value and coach digitally. The founder has his first international clients and is continuing to grow and offer support through these challenging times. Chambers states:
"The future is challenging but I have faced adversity and know that it's vital to keep making a difference. We are delivering a Veterinarian wellbeing program, a new careers guidance course as well as taking our wellbeing offering to larger SME's. My aim in 2021 is to double revenue while tripling impact, setup my Young Black Mentorship Scheme, and continue to try and be an inspiration for the next generation and my children."
44) Monica Shafaq – Kaleidoscope Plus Group
Name: Monica Shafaq
Company: Kaleidoscope Plus Group – a leading health and wellbeing charity in the Midlands.
About: Monica is responsible for the overall strategic, operational and financial management of The Kaleidoscope Plus Group charity. She has led the Charity to be included in the prestigious Sunday Times '100 Best Companies to Work For', for the sixth year running.
Monica has dedicated much of her career to promoting the role of women and Black and Minority Ethnic individuals in leadership roles. She has chaired the Association of Chief Executives of Voluntary Organisation's national Black and Asian Leadership Special Interest Group, and has also been involved in a national group addressing Governance in the Third Sector.
Established in 1973, The Kaleidoscope Plus group supports thousands of people all over the UK each year, promoting positive health and wellbeing, and is committed to making sure that the services and facilities they provide are of the highest possible quality. The charity offers a wide range of services for those experiencing mental health difficulties including: community outreach initiatives to provide opportunities to people who want to improve their wellbeing, counselling for young people and adults, corporate mental health training, as well as residential care homes and supported houses for the most venerable in society.
Name: Nessa Keddo
Company: Munch Free – a free from food brand offering vegan and organic products for babies and toddlers.
About: Nessa Keddo started her business plan for Munch Free in August 2018, when the entrepreneur struggled to find vegan and free from baby food for her 8 month old baby who suffered from allergies. Keddo found that there was a massive gap in the market for free from baby food, being non-existent in supermarket shelves, which, Keddo claims, "was mind-boggling considering 1 in 13 infants have food allergies and vegan diets have risen 327% in the past year." 
2 years later, Keddo has moved from PhD to entrepreneur. Munch Free claim to be the UK's first allergy friendly, vegan baby food brand. Keddo says the biggest challenge has been finding allergy friendly and vegan premises. This led the startup to do things their own way, setting up their own factory.
Munch Free has secured listings pre-launch, having just exclusively launched into all Whole Foods Market UK stores. This year, the startup plan to expand on their national listings and secure funding for new product development, as well as help other BAME entrepreneurs in their journey – a key part of Munch Free's mission.
Name: Keisha Ehigie
Company: Imagine Me Stories – a monthly subscription box providing black children's literature as well as African/black history activities to inspire and educate. 
About: Imagine Me Stories was launched after founder Keisha Ehigie's own personal frustrations, struggling to find representative books for her daughter in mainstream bookstores. Ehigie founded Imagine Me Stories with £1,000 investment from her own personal savings. To further minimise costs due to this limited funding, Ehigie completed all of the tasks associated with the business herself – this was particularly challenging as Ehigie was heavily pregnant when the business launched, and had to work immediately after her son was born so that her subscriber's deliveries were not disrupted.
Imagine Me Stories was then officially launched in September 2019, with the objective of addressing the lack of diversity in the UK children's book industry. Imagine Me Stories also works with schools to help them diversify their libraries with customised book packages, aiming to ensure their libraries are reflective of the pupils in attendance. As of 2018, only 1% of UK children's books featured a black main character (4% BAME in total) compared to 33.1% BAME UK school children.
In spite of these resource limitations, Ehigie has been able to grow the business to the point where it is generating in excess of 500 orders a month, and has been featured in several mainstream press publications such as BBC News, Forbes, Metro Newspaper,The Voice, The Strategist, and Stylist.
41) Rahel Tesfai – FroHub
Name: Rahel Tesfai
Company: FroHub – an appointment booking platform for black hair and beauty.
About: Rahel Tesfai is a front-end developer later-turned-marketer who had a rewarding career heading up digital and strategic marketing in global, established and disruptive start-up businesses. However, in 2018 personal frustration and a gap in the market led Tesfai to start FroHub. FroHub strives to raise women up through technology, allowing a fragmented and traditionally-offline industry to move online. Tesfai states:
"I have faced several challenges in life; be it because I am black, a woman, a black woman, or a refugee. Since starting my entrepreneurial journey there have been several events with rooms filled wall-to-wall of white men; getting the confidence to go up and start talking took some deep breaths and positive mantras but they were useful experiences."
FroHub has already successfully taken part in Google for Startups first female founder accelerator in 2019. They are a bootstrapped business, but have recently raised a small crowdfund which will, amongst other things, go towards their website relaunch in Q4. This will allow FroHub to increase the amount of services they can offer their Community, which will further facilitate the startup's ability to uplift and empower black women both in the UK and globally.
For questions or comments, please contact the TechRound team here.
40) Andrew Okun – MILHUB
Name: Andrew Okun
Company: MILHUB – a co-living platform for people to connect, collaborate and create through shared spaces.
About: Andrew Okun is the co-founder and CEO of MILHUB. Okun took a strong interest in Real Estate during his final year at university, and very soon realised how outdated the processes in this industry really were. After exploring how the industry operated through the eyes of an agent, Okun then decided he wanted to build a business focused on the customer, and improved the way homes are rented throughout the country.
Okun's startup MILHUB was founded in 2017, focused on forming connections and advancement through shared spaces in the housing sector. The startup's goal is to benefit the modern-day tenant in areas such as habitation, career advancement and socialisation. The next phase for MILHUB upon reaching the goal of 50+ units is to raise funds and acquire spaces to convert into large co-living hubs. The startup claim: "At scale, we see MILHUB providing solutions to our members who wish to benefit from homeownership, career opportunities and social connections.
"With the effects that COVID-19 has had on the real estate industry, we firmly believe that there are potential opportunities to acquire commercial spaces to accelerate this process."
39) Sonya Barlow – Like Minded Females
Name: Sonya Barlow
Company: Like Minded Females (LMF Network) – a not for profit social enterprise, connecting, educating and empowering women and minoritised groups in entrepreneurship and tech.
About: Sonya Barlow is a former data analyst, award winning entrepreneur, TEDxSpeaker and globally recognised leader in diversity and inclusion. Barlow started her career in the tech industry during 2015, where she led large transformation projects in big data, fintech and digitalisation with a range of companies; including O2, Lloyds Banking Group and Volkswagen. It was in this role that she realised there was a lack of community, confidence and connection in the industry, and this made the Barlow reframe her understanding of technology and data to incorporate issues she felt were overlooked in the sector: under-representation of the BAME community and the stigma surrounding women in technology.
In 2018, Barlow founded Like Minded Females (LMF). Through workshops, community building and corporate training, the entrepreneur has worked with globally recognised businesses to foster an atmosphere that includes and empowers those underrepresented in the industry.
The community has gone from strength to strength, with LMF Network's female-friendly events fostering collaborations and partnerships with the likes of Taboola, Vodafone and Santander. With a mailing list of over 3,000, it now spans more than 20,000 women, with 3 global chapters in London, Madrid and Toronto. Through the LMF Network Barlow has delivered over 200 workshops to clients including Barclays Bank, Royal Mail and Google. It is through this work the LMF founder has been recognised as one of Computer Weekly's "Most Influential Women in Tech" as well as winner of the "Rising Star" award.
38) Fateha Majid- Biye Biye Ltd
Name: Fateha Majid
Company: Biye Biye Ltd – the first family matchmaking app for Muslims.
About: Entrepreneur Fateha Majid has developed the first family matchmaking app for Muslims called Biye Biye. This online platform connects Muslim families for marriage whilst fully involving loved ones in the process.
6 years after Majid's short-lived marriage back in 2012, the entrepreneur conducted research into the process of finding love within the Muslim community. The three emerging themes she found were:
Families are not very connected with families of the same origin.
Process of finding love through family is stressful.
Single Muslims become disenchanted with finding love (single parents, divorcees etc).
To help address these issues and take a whole family approach to finding love, Majid developed Biye Biye Ltd. The app is in line with traditional, cultural and religious values, with key features including Family Video Chat, to allow Muslim families to safely get to know other families. There is also a Share Profile feature that allows the single Muslim to share their comments on each potential suitor sent to them before introductions are made.
Biye Biye is the first 'Halal' matchmaking app to receive religious authority, and currently has a MVP across 4 platforms: website, web-app, iOS and android. Fateha was nominated for 4 awards (Businesswoman of the Year; Startup of the Year; Technology Business of the Year; and Digital Leader) and is the Digital Leader finalist for the Future Stars of Tech 2020 Awards.
37) Swakara Atwell-Bennett – BetterShared
Name: Swakara Atwell-Bennett
Company: BetterShared – a global art marketplace for contemporary African Art.
About: Frustrated by the fact that African and Caribbean artists were largely underrepresented in the art world, Swakara Atwell-Bennett wanted to create a platform that accurately represented black artists. Swakara Atwell-Bennett launched BetterShared in 2016 as a blog, and relaunched as an art marketplace in 2019 – enabling up and coming artists from the African diaspora to showcase and sell their work at scale. Today BetterShared is home to more than 200 talented artists, from 14 countries worldwide.
Swakara Atwell-Bennett prides herself on delivering outstanding customer service and this has remained a core value of the BetterShared brand. For Q4 customer acquisition in both the UK and the US is the biggest focus, introducing a referral scheme alongside marketing the 'virtual art advisory service' that has been tested and well-received by existing buyers.
36) Abena Poku-Awuah – Legacy Events
Name: Abena Poku-Awuah
Company: Legacy Events – a sustainable events agency and consultancy.
About: Abena Poku-Awuah is a sustainable events producer and consultant and the founder of Legacy. Poku-Awuah has worked in sustainability for 15 years, and founded Legacy in 2016 striving to make environmental sustainability intrinsic to event management, across nine strategic themes. Such themes include Energy and Carbon, Food and Drink, Materials and Waste and Community. The startup's mission is to help organisations plan and deliver sustainable events that create positive change in the world.
Legacy have now run many successful events for a range of clients including Clean Growth UK, Fabriq and Essex County Council. Events include a 3 day community festival run completely on solar power, and a sustainable exhibition design at Sustainable Brands Paris. The startup are also on the leadership team of the Sustainable Events Alliance, a professional guild for event sustainability practitioners, specialists and experts.
35) Aramide Adebanjo – Gist Mobile
Name: Aramide Adebanjo
Company: Gist Mobile – a digital service provider for messaging and calling.
About: Aramide Adebanjo is the co-founder of Gist Mobile. Adebanjo came up with the idea for the startup alongside co-founder Ola Ikotun when they realised a number of their friends and family travelled a lot, and had to deal with the hassle of frequently changing their SIM cards. Out of the dream to provide African diaspora and Africans on the continent the opportunity to connect in ways otherwise not possible (or if possible, expensive) – Gist Mobile was formally launched on the 3rd April 2020, after a year in planning, design and implementation.
Gist Mobile democratises telecommunications, being a purely digital mobile virtual network operator. It provides access to mobile numbers from international and multinational countries virtually without needing a physical SIM card.
Due to the pandemic, cross border travel has been completely shut down. This has affected the startup's key market, as Africans travelling to the UK need UK mobile numbers that will still work back in Africa. Gist Mobile have needed to adjust their marketing strategies to align with the physical social distancing mantra, to encourage their subscribers the need to communicate and make their businesses visible globally. Aramide Adebanjo hopes this is a winning strategy!
34) Justin Beekye – Watch Africa Now (WAN)
Name: Justin Beekye
Company: Watch Africa Now (WAN) – a subscription streaming service for African video content creators.
About: Entrepreneur Justin Beekye has created a platform which has, as the founder himself states, "the ability to become one of the leading subscription streaming services amongst the top players in the industry." 
Over the past few years, YouTube has seen a wave of content creators streaming in from Africa. However, not all have had the opportunity to experience success through their channels in terms of views and followings. WAN streaming offers a permanent infrastructure to house such talents. Content creators also receive an upfront licensing payment making it attractive and worthwhile.
Watch Africa Now (WAN) has emerged as the beacon of hope for undiscovered video content creators across the 54 countries in Africa. The streaming service, launched on the 6th September 2020, champions independent short and feature films, documentaries, children programming, music and more from award-winning and up-coming creators in Africa.
WAN has experienced ongoing investment in Africa from some of the world's largest tech companies such as Facebook and Netflix. Within 1 month of launching WAN was featured in the Sahara Weekly press alongside Amazon Prime, for premiering Nigeria's multiple award-winning animation series, Turtle Taido.
Name: James Omisakin
Company: Compare Ethics – a platform helping to verify sustainable products.
About: Compare Ethics was founded in 2018 alongside partner Abbie Morris (a sustainability and policy expert).
Compare Ethics is a data-driven startup using technology to verify sustainable products, establishing trust and transparency between consumers and retailers. The startup works to create MVP iterations of their technology, ensuring the best possible opportunity for success and market-fit. The technology assesses products and brands across ten crucial categories, spanning supply chains, governance, circular economy, certifications and more.
In its short time, Compare Ethics has been named in Forbes' 30 Under 30 in the Ecommerce and Retail space, and selected for the highly competitive Google for Start-ups 1st Accelerator Program. In April, Omisakin and his team managed to secure pre-seed funds to scale their B2B offering. Over the next year, the startup will focus on continuing to utilise sustainable innovation technology to increase their impact, working with both independent SME brands and exploring the opportunity to work with larger retailers.
Name: Mohammad Afridi
Company: Delikart – a retail-tech platform on a mission to provide small retailers with an online presence.
About: Delikart is a retail-tech platform that aims to provide an online presence to sustain small retailers and reach a higher customer base. Their aim is to sustain all small retailers on the high street who do not have a website or any other online forum except social media. 97% of local stores or small retailers at the high street are expected to close by 2035 due to lack of online presence, which is estimated to be a market of £37 Billion (KPMG, 2020) – Delikart believe it is high time to support such businesses.
Delikart are seeking to decrease the hassle of customers' shopping experience. For example; if someone needs a pair of headphones from a store in the city, the app would have additional functionality, allowing the customer to pre-order and pick up instantly from the shop.
31) Ijeoma Ogah – Kwusi
Name: Ijeoma Ogah
Company: Kwusi – offering a monthly subscription box of tasty African snacks.
About: Launched in August 2019, Kwusi curate a monthly selection of handpicked healthy and tasty African treats, delivered directly to your door. Customers can buy one box at a time or subscribe for a monthly delivery which includes a 'free gift' and a drink or beverage, as well as product information and even recipe options.
At Kwusi-box, the team of snack experts scour the globe for the most interesting snacks.Every month there is a new snack, giving you a snapshot of unique tastes from a new country.
Kwusi are hoping to expand their distribution base and locations next year, which will be important for growth and scaling the business. The startup are also planning to employ staff to work in various roles as part of this process.
For questions or comments, please contact the TechRound team here.
30) Kaushal Shah – envoPAP
Name: Kaushal Shah
Company: envoPAP – making sustainable, planet-friendly packaging and paper.
About: envoPAP was founded in 2015 during Kaushal's postgraduate degree at the University of Southampton. Appalled by the problems of waste he saw in his home country of India, Kaushal felt compelled to do something about it. envoPAP's aim is to raise standards in sustainable packaging and paper, and make an impact both commercially and socially. This is achieved by making better use of abundant sugarcane waste to create high-quality, environmentally friendly and ecologically viable printing and packaging products. This waste would otherwise be burnt, causing severe pollution.
envoPAP boast clients including some of the world's most recognisable brands and blue-chip companies, including L'Oreal and Südzucker – the largest sugar producer in Europe.
envoPAP has been backed by angel investors, venture funds, and also had support from accelerator-turned-incubator, Founders Factory. In September 2020, they were shortlisted in the inaugural Sunday Times BGF '10 Green Tech to Watch' list and earlier this year gained B Corporation status, something only 3,300 companies have achieved. envoPAP has the maximum 4-star rating by Support the Goals for our support of the UN SDGs and in November 2018, the UK's Minister for Investment said their products have "huge long-term environmental benefits both in the UK and abroad."
To date, they have innovated with reusing agricultural waste to create new materials, focused on using waste from India. In the coming year, envoPAP aim to identify other geographies with agricultural waste and convert that into locally produced products, moving towards a model of localisation, being a local company but using waste from across the world.
29) Priya Shah – BAME In Property
Name: Priya Shah
Company: BAME In Property – an organisation for BAME and non-BAME professionals that are passionate about increasing ethnic diversity in the property and planning sectors.
About: Priya Shah is an Urbanist, exploring the built environment from political, social and diversity perspectives through her roles as a communications consultant and founder of BAME in Property.
Priya was inspired to create BAME in Property after seeing the impact on recruitment and planning delivery, with developments not being reflective of, or suited for, the communities they were built for. Since launching in December 2017, BAME in Property has grown to become one of the leading ethnic diversity networks in the built environment sector. Using her communication skills, Priya has grown the organisation's social media presence significantly, and during the first 100 days of the COVID-19 lockdown, she reached 370,000+ people on Twitter, LinkedIn and Instagram.
Priya has been listed as one of the RTPI Planner Magazine's Women of Influence since March 2018 and in September 2018 was shortlisted as one of Estate Gazette's Rising Stars. In September 2019, Priya Shah was listed as one of Property Week's RESI Trailblazers for shaking up the UK residential sector with BAME in Property.
28) Rene Perkins – CityMaaS
Name: Rene Perkins
Company: CityMaaS – Using innovative technology to achieve digital inclusion and inclusive travel for people with disabilities.
About: Rene Perkins is a serial entrepreneur dedicated to using technology for the good of society and the environment. She holds a MSc in Finance and investment, is a qualified chartered accountant with E&Y and has 8 years' investment banking experience with HSBC. Since 2013, Perkins established two start-ups around sustainable transportation solutions in smart cities. She is now focusing on CityMaaS, using innovative technology to achieve digital inclusion and inclusive travel for people with disabilities, as well as their friends and families.
CityMaaS' vision is to personalise the way the disabled community consume accessibility data and services. Businesses benefit from improved engagement through increased revenues and decreased customer service costs. CityMaaS provide a digitally inclusive data and mobility platform to help achieve that vision, with its cutting edge technology backed by the UK Department for Transport and EU funding.
CityMaaS was named one of the top EU startups, striving to solve the most pressing problems in society through innovation and dedication.
27) Harish Malhi – Diaspo
Name: Harish Malhi
Company: Diaspo – offering live, interactive cooking classes.
About: Formerly of Google, Harish had seen first-hand how people of his parent's generation were retired for too long, prematurely losing the stimulation, social network, sense of purpose, and income that a job can bring. In an ageing population, it means older adults spend 2 or 3 decades being under-occupied, under-funded, and under-connected.
When the pandemic hit, older adults were hard hit and existing issues such as isolation and ageism were amplified. Recent research from The Centre for Ageing Better, the Institute for Public Policy Research, and University College London, found Black, Asian and minority ethnic (BAME) people in their 50s and 60s are more likely to be poorer, less likely to have retired and less likely to own their home outright.
Diaspo started running free, live cooking classes in March, taught by ethnic minority older adult home cooks. In a small group class, these home cooks teach the steps, stories and secrets behind their family famous recipes.
Featured on Sky News, BBC, Metro, Telegraph, and more, Diaspo ran a class with Michelin Star Chef Atul Kochhar to raise money for British Asian Trust. To date, Diaspo has run over 150+ classes, 1000s experiences globally, totalling over 60,000 hours. The next step for Diaspo is to finalise their pre-seed round, onboarding new teachers and 10,000s more engaging, authentic and affordable experiences.
26) Dr Jossy Onwude – Bold Health
Name: Dr Jossy Onwude
Company: Bold Health – a digital health tech startup on a mission to improve the health and quality of life of 1 billion people living with poorly-served digestive illnesses.
About: To fill the gap in digestive care, Bold Health was co-founded by Jossy Onwude MD. Leading research and product development, Dr Onwude has a particular knack for developing digital health therapies: having realised how inaccessible traditional treatments can be, Dr Onwude understands the value of diversity in producing inclusive technologies.
Bold Health has several products in its digestive suite pipeline, aimed at various gastrointestinal conditions. Their first product, Zemedy, is a mobile app that delivers a self-management program for irritable bowel syndrome based on cognitive behavioural therapy (CBT).
Zemedy is the first evidence-based CBT program explicitly developed for IBS. It was created in collaboration with world-leading academic and clinical institutions, including the University of Pennsylvania. By providing a personalised, fully-digital program that can be accessed 24/7, the app aims to address the underserved sector for individuals with IBS.
The startup are about to release a brand new version of the app. The new Zemedy offers a condensed, 6-week CBT program and a variety of tools and exercises to help users learn about their condition, their triggers and emotional health, as well as relieve the symptoms and alleviate IBS once and for all.
25) Dr. Hinnah Rafique – Generation Medics
Name: Dr. Hinnah Rafique
Company: Generation Medics – a non-profit social enterprise supporting the careers of both current and future health professionals.
About: Generation Medics is a social enterprise that leverages technology to improve social mobility, creating a future pipeline of talent for the NHS whilst reducing health inequalities. The award-winning online community provides up-to-date health careers information, advice, opportunities and networks for people from all backgrounds. Generation Medics are recognised by, and work with, NHS England and the Department for Education.
After years of doing school-talks on a voluntary ad-hoc basis with a group of friends, Dr. Hinnah Rafique looked to see if there was an organisation to provide more structured support to students and schools. Sadly what was available in the sector was far from ideal – from companies charging a lot of money for out-of-date advice, to those run by motivational speakers or students with little experience. She decided to formalise the organisation in 2013 whilst working as full-time as a doctor, with their first event selling out all 250 tickets within 2 hours!
This year, Generation Medics are expanding their provision of virtual support for those looking to explore and pursue a career in healthcare, uploading more content including e-courses and extending provision from young people to include adults who are looking into new careers.
24) Ranjan Singh – HealthHero
Name: Ranjan Singh
Company: HealthHero – offering a range of primary care services via digital tools.
About: Patients increasingly have to deal with long waiting times and barriers to accessing certain parts of healthcare. This was something Ranjan Singh, CEO and Founder of HealthHero, had himself experienced when he suffered mild concussion the day before he was due to fly. Unable to get an appointment with his GP to confirm he was safe to travel, Ranjan used Medical Solutions to consult a GP, who used a series of remote diagnostic tests to determine Ranjan's health.
Singh founded HealthHero in 2019 with MARCOL, a pan-European investment house with significant assets in healthcare. The startup was built to provide that same level of access and assurance to people for all their healthcare needs – not just GP appointments but musculoskeletal consultations and mental health needs as well.
Through its buy and build model, HealthHero is acquiring companies, like Medical Solutions, with an established history of offering a great service to patients, providers and organisations. The extensive human expertise and experience at these companies is what HealthHero will marry with digital convenience – unlocking a supply pool of doctors, giving users seamless access 24/7, providing an ecosystem of offerings for a range of cases, and using the latest tech and unified data to ensure treatments are not siloed.
23) Vincent Amoah – Hutch Renovation
Name: Vincent Amoah
Company: Hutch Renovation – A design-led construction start-up utilising technology as a key enabler to enhance and streamline the home renovation experience.
About: Vincent Amoah, a serial entrepreneur has always had a natural flair for entrepreneurship, and as early as aged 13 was delivering food from home cooks to local businesses for a small fee.
After finishing University, equipped with a First-Class Business Degree, Vincent started his career within Management Consulting, quickly climbing the corporate ladder, leading multi-million-pound IT and Strategy projects within firms such as KPMG, Capita, and Marsh & McLennan.
After 18 months of grinding, earning well and working with some of the "brightest people he had ever encountered", Vincent began to stray back to the thrill of entrepreneurship experienced whilst delivering food to his growing list of customers.
In 2015 Vincent joined forces with 2 friends and co-founded his first official start-up. A co living start-up providing all-inclusive, affordable shared living for early career professionals.
A spark of an idea quickly turned into a passion and all hours outside of a full-time role were spent on making this a reality, 2 years later and £0.5(m) in turnover Vincent left a high paying-career to pursue his start up full-time, successfully growing it to a 7-figure business.
4 years on with staff taking care of other business, Vincent has recently launched a new venture Hutch Renovation, a London based start-up which aims to use technology to disrupt the traditional home renovation market which is currently worth £26 billion in the UK alone.
The construction industry significantly lacks representation of diverse founders, but Vincent wishes to use his experience to challenge that head on. "I'm keen to discuss how we can level the playing field particularly within the property and construction technology sectors".
Name: Lauren O'Donnell
Company: Oatsu – offering customers delicious, 100% plant-based overnight oats.
About: Throughout her four and a half year corporate career, Lauren struggled to find an affordable, nutritious breakfast on supermarket shelves. In response to this, Lauren instead started to make her own overnight oats for breakfast.
It was through this that the entrepreneur spotted a gap in the plant-based, breakfast-to-go market, and decided to leave her full-time job to launch the UK's first plant-based overnight oat product. Since then, Lauren O'Donnell has made more than 1,500 breakfasts for hundreds of customers across the UK – her online store enjoying a huge growth in sales since it launched in April, with products now stocked in coffee shops across London and Essex.
Oatsu was started from Lauren O'Donnell's home kitchen with less than £1,000, which she invested in branding, graphic design, jars and packaging to complete her first order run. Pre-lockdown, Lauren was selling and taking payment through Instagram, and delivering to London homes by hand. When sales started to slow, Lauren built an online store and partnered with a nationwide courier, which has allowed her to reach the entire UK market.
In 2021, Lauren O'Donnell plans to partner with a manufacturer to produce her overnight oats, and secure listings with larger retailers, such as Planet Organic and WholeFoods Market, as well as further independents. Lauren also wants to double the 2,500-strong community of oat lovers she has on Instagram.
21) Nadia Kadhim – Naq Cyber
Name: Nadia Kadhim
Company: Naq Cyber – a bespoke cyber security solution tailored to small businesses.
About: Having been forced to leave home at age 14 as the daughter of an Iraqi refugee, Nadia started specialising in Children's Rights, encouraged that she could make a difference for others who desperately needed help. This led Nadia into the world of Cyber security.
Cyber security is about securing the windows, doors, and tiny cracks in the walls to reduce the risk of someone breaking in and exploiting what's valuable – protecting everything you have worked night and day to achieve; everything that represents the livelihoods of small business owners.
The cost of cyber crime can bankrupt a fledgling business or ruin their reputation overnight. Naq Cyber understands the importance of a reliable service that takes the legwork out of businesses having to research GDPR and security jargon. Naq Cyber has been selected as one of the six UK start-up's for the prestigious NCSC (National Cyber Security Centre) Accelerator Programme, which supports the growth of innovative start-up cyber companies.
For questions or comments, please contact the TechRound team here.
20) Olivier Cottin – drop24
Name: Olivier Cottin
Company: drop24 – the hyperlocal 24/7 online department store, delivered sustainably within 1 hour.
About: In early 2019 Olivier became a pre-seed investor, digital strategy advisor and is now a board member for one of London's most exciting new startups, drop24 – which could be set to rival Amazon over the next decade. drop24 is the first 24/7 department store chain, delivering premium products within one hour, and catering for the last-minute lifestyle of city dwellers. The company is hoping to accelerate retail's adoption to sustainable, cleaner operations and reduce the impact of consumption on the planet, believing that sustainability and profitability can co-exist.
In October 2020, Olivier launched his own VC firm, VOC1715. Through this firm the entrepreneur hopes to work predominantly with SME's and startups which are run by BAME founders, aiming to access funds for this underrepresented and underfunded demographic. The name of the firm is eponymous with the vessel name and date of when the first French vessel arrived in Mauritius, the beginning of Olivier's family story. He is 32 years old and lives in London.
19) Vishal Singhal – Flexie
Name: Vishal Singhal
Company: Flexie – a platform making UK workspaces more accessible to employees.
About: The Covid-19 pandemic has fundamentally changed how companies are thinking about their office spaces. More companies than ever are realising that employees want to work remotely as a way to save time and money, usually spent on commuting. Employees however, are also feeling lonely whilst working at home and oftentimes, the home is failing to provide the right conditions to work in.
That's where Flexie comes in. Flexie is a platform that gives employees at companies access to workspaces (e.g. hot desks, private offices and meeting rooms) all across the UK.
Singhal founded the Flexie platform in July 2020, beginning this journey by better understanding the problems at hand. This involved carrying out customer development to understand what problems business leaders and employees were facing in light of Covid-19 when it came to office spaces.
Flexie are currently at the point where they have partnership agreements with some of the biggest space operators in the country, and many other agreements are close to being signed. Their plans are to begin onboarding customers over the remainder of 2020, with a view to raising a pre-seed funding round in Q1 and Q2 of 2021. This money will allow Flexie to invest in better technology, marketing to clients and building more partnerships with operators in the UK and beyond.
18) Jamal Edwards – SBTV Global LTD
Name: Jamal Edwards
Company: SBTV Global LTD – a leading online youth broadcasters, providing a platform to discover emerging artists and unearth incredible talent.
About: Starting out with a YouTube channel from his bedroom as a teenager in London, SBTV has grown immensely. With 1.18 million subscribers and over 764 million views, the channel has grown from featuring Edwards friends rapping to attracting major names in the music industry.
Starting in 2007, at age 16, Edwards uploaded his first video to a then-new online channel called YouTube. Within a decade, SBTV had become arguably the UK's best known, and certainly the most influential, music and lifestyle platform. It helped break artists ranging from Dave to Ed Sheeran and gave a powerful platform to talents like Kano and Skepta.
The channel has recently passed 330 million views and Edwards wants to expand his business in other areas like marketing, PR, and merchandising. Alongside this, Jamal has campaigned for activism around HIV, crime, entrepreneurialism, mental health, and social engagement. Jamal even became a Member of the Order of the British Empire in 2014 and received The St Vincent Business Award.
17) Tushar Agarwal – Hubble
Name: Tushar Agarwal
Company: Hubble – An online platform for shared office space.
About: As an ex-banker, a previous employee at Barclays and RBS, and Economics graduate at London School of Economics (LSE), Tushar Agarwal is obsessed with efficient markets. After spending 2 years working in investment banking, Tushar realised how much spare space businesses had on their books, and how painful commercial real estate was. Agarwal also saw the boom in startups, with companies looking for office and desk spaces.
This led to Hubble, an online marketplace for finding and renting office space for startups and SMEs. Hubble lists all the major co-working spaces, shared offices as well as more typical leases space.
The mission of Hubble is to build the world's first Artificially Intelligent Office Broker that can decrease office search time from 3 months to just 3 days.
Hubble is Deloitte's 26th Fastest Growing Technology Company in the UK and Winner of Property Week's Best Places to Work 2 years in a row, across 4 categories. HubbleHQ is also the UK's largest online marketplace for office spaces, and are unique in their offering of serviced, managed, and leased options all on one platform.
Hubble uses Office Search Alchemy to take the complexity and guesswork out of finding your perfect office space. Their Office Alchemists (expert property advisors) have helped thousands of companies, including Trustpilot, Trussle, Monzo and PWC find their perfect workspaces, combining cutting-edge tech with unrivalled data and property expertise.
16) Nadeem Siam – Fund Ourselves
Name: Nadeem Siam
Company: Fund Ourselves – a new and innovative peer-to-peer lender, offering affordable loans to borrowers and returns of up to 15% per annum for investors.
About: Siam, who was born in Egypt, previously designed computer systems for space satellites for NASA and the European Space Agency (ESA) before founding Fund Ourselves.
Siam set out to change the UK's short-term lending sector, which has developed a poor reputation for its unscrupulous lending practices. The short-term lending sector has been dominated for years by the likes of QuickQuid and Wonga, but both have since fallen into administration following regulatory shakeups. The former lending giants collapsed due to a wave of compensation claims and payouts from customers.
Siam is providing a strong alternative to high cost lending through Fund Ourselves, offering much lower rates for people looking to borrow £50 to £500 over 3 months. If customers are struggling to repay, they can extend their loan for up to 12 months with no fees, allowing borrowers to get back on their feet.
On the peer-to-peer lending side, investors can put money into unsecured loans of Fund Ourselves customers, earning rates of 5% to 15% per annum, with AutoDiversify used to spread your investment across multiple borrowers.
The startup completed a gigantic funding round earlier this year and is expected to be one of the fast-growing fintech companies in 2021. Fund Ourselves was listed in the Fintech Power 50 and was placed 22 in the TechRound 100.
15) Dr Rangan Chatterjee – Podcast Host (Feel Better, Live More), Author (The 4 Pillar Plan and The Stress Solution) and a Media Doctor for BBC News
Name: Dr Rangan Chatterjee
Company: Wellbeing Influencer, Podcast Host (Feel Better, Live More), Author (The 4 Pillar Plan and The Stress Solution) and a Media Doctor for BBC News
About: Dr. Rangan Chatterjee is regarded as one of the most influential doctors in the UK and wants to change how medicine will be practiced in years to come. Dr.Chatterjee is known for finding the root cause of people's health problems and has highlighted his methods in the ground-breaking BBC television show, Doctor in the House, which has been shown in over 70 countries around the world.
In just two and a half years, Dr.Chatterjee has sold over 500,000 copies of his books worldwide. Each of his first three books were Sunday Times Bestsellers. His first book, the international best-seller, The Four Pillar Plan has already become one of the top selling Health titles in the UK over the past 10 years, and this book was released in the US  under the title How to Make Disease Disappear. His third book, Feel Better in 5, launched in 2020 and has already been a Sunday Times Bestseller in the UK.
Dr Chatterjee hosts the iTunes #1 podcast, Feel Better Live More, to help empower listeners to lead healthier, happier lives and has over 18 million downloads to date. It is the most listened to health and wellbeing podcast in the UK and Europe with 300,000 downloads every week and episodes are regularly 'prescribed' by doctors to their patients.
14) Victoria Olubi-Ademosu – The Tutoress
Name: Victoria Olubi-Ademosu
Company: The Tutoress – helping to tutor children in a range of different circumstances, whether its to build up confidence, prepare for an exam or get support with homework.
About: Victoria Olubi-Ademosu is one of the leading figures in tutoring in the UK and was an early influencer, starting her business in 2010.
Facing discrimination and questions over 'what a good tutor should look like,' she has rapidly changed perceptions of modern day tutors by delivering exceptional lessons and structure.
She has worked and consulted for diplomats, high net worth individuals and celebrities – and has trained up over 2,000 tutors to start their own tutoring businesses and sell their educational literature.
Victoria's plans are to run more classes and sessions for children from under privileged groups and to collaborate with other businesses in the year ahead.
13) Nickyl Raithatha – Moonpig
Name: Nickyl Raithatha
Company: Moonpig – offers personalised cards, gifts and flowers.
About: Nickyl Raithatha is the current CEO of greeting card juggernaut, Moonpig. The personalised card company, originally founded by Nick Jenkins, saw revenues soar to over £100 million in 2019.
Raithatha's background includes an MA from the University of Cambridge and an MBA from Harvard Business School.
Previously, Raithatha worked for Goldman Sachs, Arrowgrass Capital Partners LLP and in 2014 eventually set up a womenswear brand called Finery, which was named UK Etailer of the Year with revenues under £50 million.
12) Pae Natwilai – Trik
Name: Pae Natwilai
Company: Trik – providing software that uses drone photography to create real-time 3D mapping of buildings and other architectural structures.
About: Pae Natwilai is a cutting-edge innovator, technologist, and thought leader in drone innovation and digital construction. Pae completed a BEng. in Mechanical and Robotic Engineering at Chulalongkorn University in her native Thailand. She started her career as an inspection and maintenance engineer at the Thai national oil and gas company, PTTEP, before winning a scholarship to study an MA/MSc. in Global Innovation Design at Imperial College London and the Royal College of Art (RCA).

The genesis of Trik, which Pae describes as "Google Maps for buildings", began when she researched intuitive ways of controlling drones for her Master's graduation project. After graduation, Pae set about developing Trik and taking it to market, winning a host of awards that enabled her to launch her own company. Further funding then followed, including a £500,000 grant from the Department for Transport through InnovateUK, as well as smaller amounts from Ordnance Survey and the Royal Academy of Engineering. The technology, which represents a revolution for the structural inspection industry, has won Pae a host of accolades, including selection for the Forbes 30 Under 30 Europe Industry list. 
11) Max St Hill, Taylor Campbell and Yasin Ali – Orthors
Name: Max St Hill, Taylor Campbell and Yasin Ali
Company: Orthors – an independent video games studio that challenges the way people look at different cultures in entertainment. 
About: Orthors was founded in London in 2015 by two best mates, Max St Hill and Taylor Campbell, and later joined by Yasin Ali. From a team of designers with no development experience to having released 2 games to the App store, they are proud to call themselves game developers.
Orthors is a rising black owned gaming company bringing authentic black narratives to life. 
Breaking through the glass ceiling in their industry, Orthors have managed to connect with individuals like Dan Gray, lead Creative Officer at Ustwo games, who created games such as Monument Valley & Assemble with Care. The company generated huge traction after being named "App of the Week" on the Apple store with their recently launched game Dodgecrafts. 
Orthors aim to build a safe productive environment for the future generations of black and ethnic minorities with the vision of giving them the opportunity and inspiration to build a career in the gaming industry. Dodgecratfs Season 2 is their first footprint in this industry, which will allow them to grow and gain the traction they need to create narratives they would like to see succeed.
10) Shivvy Jervis – FutureScape 248
Name: Shivvy Jervis
Company: FutureScape 248 – a forecasting lab focused on sustainable innovation.
About: Currently working with likes of the  Mayor of London, the United Nations and Microsoft, FutureScape 248 is a forecasting lab founded by Shivvy Jervis, one of the world's few female, Asian Futurologists.
Despite the hit from Covid, during 2020 Shivvy has worked tirelessly to help FutureScape 248 receive commissions to envision the London of the Future, craft a Future of Learning: 2020-2025 investigation and address the United Nations on employability.
Originally from Bangalore, India, Shivvy moved to the UK 14 years ago and cut her teeth originally as a broadcast journalist. She then spent the next eight years studying micro trends for a global telco where the wider industry found she had a knack for identifying the forces, trends and themes that would impact business and society. This served as the catalyst for Shivvy to strike out on her own in 2017. She launched FutureScape 248 just before her daughter was born, and whilst caring for her firstborn toddler – all with no family in the country.
Since then, Shivvy has become a globally recognised Futurist and broadcaster. She is one of only a handful of women trailblazing a career in this unique, high-stakes field.
Shivvy's research has seen her recognised for a Britain's Asian Woman of Achievement award and voted one of the UK's female Role Models for 2020.
9) Jidé Maduako and Mustafa Mohamed – Yoke Network
Name: Jidé Maduako and Mustafa Mohamed
Company: Yoke Network – one of the UK's largest social media networks through influencers.
About: Entrepreneurs Jidé Maduako, 26, (CEO) and Mustafa Mohamed, 24, (CTO) of the Yoke Network, started the business in the summer of 2018 with the vision of driving value to brands and apps through social media Influencers, while also helping those Influencers monetise their social media activity.
Jidé and Mustafa have since created a powerful network of influencers on all of the largest social media platforms, bringing together the world's top creators on the likes of TikTok, Instagram and Snapchat, then matching them with the coolest brands – including PicsArt, Warner Music Group, Revolut, Pretty Little Thing and Badoo.
Yoke was launched with set up costs of around £1,000 for the website. It signed the first client within three weeks and has been profitable since launch. Initial funding of £40,000 was raised to hire staff and fund growth, then in August 2019 the founders secured £250,000 in seed funding.
The business has expanded to become a team of 17 based at its Farringdon, London, office and has amassed more than 2,000 hand-picked Influencers from around the world across TikTok, Instagram and Snapchat.
Yoke's business model generated revenues of £250,000 in 2019. Jidé and Mustafa doubled that in the first quarter of 2020 and expect to turn over £2 million ($2.5 million) by the end of this year. Many of their team are young Londoners from diverse backgrounds who have been trained in tech and marketing skills since joining the business.
8) Josh Wilson – Wilson Worldwide Productions
Name: Josh Wilson
Company: Wilson WorldWide Productions – making television and media as a whole more inclusive for everyone of all diversities.
About: Josh Wilson was first in sales and marketing communication teams across Europe and Canada in financial services, energy, and charity, and then became a journalist at KFTV and The Knowledge – which are now both part of MBI who own Broadcast and Screen. Wilson is an executive producer, entrepreneur, and philanthropist with a proven track record in business and television. Today, he executive produces TV programmes for broadcasters and runs campaigns for major brands around the world through his companies Wilson Worldwide Productions and The Film Corporation.
An experienced producer, whose programmes have been aired in over 150 countries worldwide, has executive produced Mission Mudder and Chasing the Dream for Sky, and has credits for major companies including Jeep, Lucozade, Wilmington PLC, The ARK Group, Advanced Vision Care, The Chrysalis Programme, International Compliance Association, International Compliance Training and more, Wilson is achieving it all. On the whole, one of Wilson's main objectives is to make the U.K. TV industry more inclusive; with 80% of Wilson's full-time staff identify as black, Asian, or minority ethnic.
7) Gurhan Kiziloz – Lanistar
Name: Gurhan Kiziloz
Company: Lanistar – a polymorphic debit card providing a customer-centric alternative to online banking.
About: Frustrated with the UK's banking sector, Gurhan Kiziloz, founded Lanistar, a new way for customers to think about and manage their money. Keeping the customers at the heart of every decision made, Kiziloz has been able to provide the safest, securest, and simplest financial product available anywhere on the market. From a burden to a personalised, exciting experience, Lanistar is looking to transform people's relationship with finance. The company raised £15 million in 2020.
6) Chieu Cao – Mintago and Perkbox
Name: Chieu Cao
Company: Mintago (a financial wellbeing solution that makes both you and your employees financially healthier) and Perkbox (employee benefits platform).
About: As a dual UK/US citizen, Chieu grew up in Houston, TX, but has lived in the UK since 2000. Trained as a marketer, Chieu spent the early years of his career at global businesses such as Yahoo, Amazon and Microsoft. Having been raised by entrepreneurial parents, he decided to start his first business in 2010 as a cofounder and CMO. The business spent the first few years getting product-market fit, and was rebranded in 2015 as Perkbox. Perkbox has gone on to become one of the UK's leading brands, and is an employee experience platform with revenues of £53.6 million in 2018.
In 2019, Chieu founded and launched his latest business called Mintago. Mintago promises to be the UK's go-to platform for unbiased employee financial wellbeing support. Mintago is a holistic financial wellbeing platform that helps employees understand, plan and achieve their financial goals and dreams. Chieu is also active in the entrepreneurial and wellbeing community. He spends his time supporting other entrepreneurs and discussing the issues of wellbeing at the workplace.
5) Nitin Passi – Missguided
Name: Nitin Passi
Company: Missguided – fashion eCommerce giant.
About: Nitin Passi was born in Cheshire, but grew up living in Surrey, Hong Kong and New York. After graduating from Newcastle University in 2005 with a degree in Business Management, Passi set up his first business, Missguided, at the height of the 2008 recession. Passi was able to secure a loan from his father in 2008 for £50,000.
The founder picked and packaged all products, wrote all the product descriptions, and even handled customer cases as the sole employee. He started with clothes from wholesale supplies that were ready-made and, after the first year or two, he started to build his own product team for the brand.
Today, that team has over 120 people working in design, allowing Missguided to be bold, unique and trend-setting in everything they do. Today Passi has a team of over 400 people in the Manchester HQ office, and in 2018 reported revenues of £187 million.
4) Manjit Sareen – Natterhub
Name: Manjit Sareen
Company: Natterhub – free social media platform for children.
About: Manjit Sareen is the founder of Natterhub – a safe, secure and immersive social media platform for children, created specifically for use in primary schools across the globe. This fully-gated learning environment empowers educators to teach online safety, at a time when digital communication is at the heart of our social connections.
Natterhub successfully secured an investment of over £1 million in cash and services from leading global education publishing company Twinkl.
With their backing, Natterhub officially launched in April 2020 to help children stay connected in a safe environment at the height of the COVID pandemic. Natterhub launched earlier than expected to help classrooms connect during the pandemic. The platform is free and will continue to be kept free until the end of this year.
The appetite for Natterhub is incredible, and it is already establishing itself as the trusted safe social media teaching solution for primary schools – the company now has 2,500 sign-ups from 40+ countries around the world.
Natterhub prepares children for the responsibility of owning their own devices and the challenges they'll face across a lifetime of digital citizenship. Embedded into the company philosophy is the belief that children have a right to live happily both with, and through technology. Natterhub prepares children to thrive online.
Natterhub are the NSPCC lead sponsor for the How Safe conference next year, and have recently joined IWF to help raise awareness of the horrific increasing statistics of child sexual abuse online.
3) Eric Yuan – Zoom
Name: Eric Yuan
Company: Zoom – bringing people together to get more done through video meetings, voice, webinars, and chat functions.
About: A BAME list of entrepreneurs would not complete without Zoom-founder, Eric Yuan. The video conferencing app and platform has been the standout business of 2020, and is currently valued at $120 billion, rising fast.
Chinese-born Yuan earned a bachelor's degree in applied mathematics from Shandong University of Science and Technology before getting a visa to move to California after nine attempts.
Whilst working for Cisco in 2011, he pitched the idea of a smartphone-friendly video conference system to his management – but was denied. Yuan left to set up Zoom Video Communications and initially borrowed money from family and friends to get the idea off the ground.
Today, through its popularity during covid-19, Zoom is arguably the fast-growing company of the year, with Yuan owning 22% of the company. His accolades include being named one of the Most Powerful People in Enterprise Tech by Business Insider. Additionally, he was named the #1 CEO of a large US company by Glassdoor and EY Entrepreneur of the Year in Northern California (software category) in 2018. Also in 2019, he was added to the Bloomberg 50, as a leader who changed the game in global business. Eric is a named inventor on 11 issued and 20 pending patents in real-time collaboration.
2) Ousman Touray – Phioneers
Name: Ousman Touray
Company: Phioneers – providing affordable housing in sub-saharan Africa.
About: Ousman Touray is a 2nd generation British civil engineer and project manager based in London. At the age of 10, Touray and his family moved back to The Gambia, which is where his family are from.
During his time in The Gambia, Touray experienced life in a developing country. All of the challenges he witnessed and faced inspired the Phioneers founder to become an engineer, so that someday he could improve the lives of The Gambian and Africa people through sustainable engineering solutions to improve their quality of life.
Touray returned to London at the age of 17 and began studying. Fast forward to now, Touray completed his BSc and MSc, and went on to work on major infrastructure projects in the UK, Europe, Africa and the Middle East.
Phioneers was started in January 2020 and this includes The E-S-E Living Project, an affordable housing project that can create homes for just £5,000 each in The Gambia.
Touray mentions in his application:
"My end goal is to use this to provide affordable housing for the millions of Sub-Saharan Africans who cannot afford it."
"At a time where the World is experiencing many signs of a damaged ozone layer and the loss of so much natural habitat, we are here to help reverse that and become a part of the solution, hoping to inspire others to do the same."
In parallel, Touray and his team are also working as sustainability consultants on a planned city project in Senegal, a town project and an eco-village project in The Gambia. One of their main challenges has been getting the buying of government officials and key stakeholders who are so used to the normal, unsustainable way of planning and developing.
This year Touray intends to finalise all the design models/feasibility studies for the projects he and his team are working on so that they can begin to test (material testing for affordable housing project) and develop/build next year.
In Touray's spare time the entrepreneur volunteers as a STEM ambassador in London and a Mentor for the PMI UK chapter, mentoring younger budding engineers and project managers.
1) Dr Rajarshi Banerjee – Perspectum
Name: Dr Rajarshi Banerjee
Company: Perspectum – delivering digital technologies that help clinicians to provide better care for patients with liver disease.
About: Oxford graduate Dr Rajarshi Banerjee developed the magnetic resonance imaging techniques for rapid non-invasive liver assessment in Oxford, and commercialised the method as LiverMultiScan, which is now FDA cleared and used in over 200 sites.
Dr Rajarshi Banerjee set up imaging diagnostics company Perspectum in 2012 – it is now the biggest life science start-up to come out of Oxford University. The company has won 18 grants, had $11m direct funding and $100m funded for global research. They are one of the fastest growing life science company's in the UK with ambitious plans to play a vital role in the race against liver disease using cutting-edge LiverMultiScan technology. They specialise in products and services to enable better diagnosis and monitoring, by using computer aided vision.
In addition, they have been running an ongoing study using their imaging technology to map the long-term health impact and legacy of COVID-19 on survivors – COVERSCAN. The primary objective is to determine the prevalence and degree of lung, heart, kidney, liver, pancreas and spleen injury in patients recovering from COVID-19 disease, using multi-parametric magnetic resonance imaging (MRI).
For questions or comments, please contact the TechRound team here.