Getting a malware infection on your device can be disastrous. As an internet user, the responsibility is on your shoulders to protect your device from malware. Luckily there are lots of great options for vendors of malware protection and removal software. Free malware protection  and removal software can get the job done, but often a paid alternatives as well worth the fee, we've included both to give options no matter what your financial situation. 
Paid-for malware removal software – top picks:
Norton 360

Total AV

Avast anti-virus

Kaspersky
Malwarebytes Anti-Malware
Free anti-malware protection software – top picks:
Bitdefender Antivirus Free Edition

Avira Free Security Suite

AVG AntiVirus Free

PC Protect

Panda
Here is a list of the 10 best malware protection and removal software options. 
1. Norton 360
AI Malware detection

Secure VPN and parental controls

Three-tier pricing system
Norton 360 is a great choice for anyone looking to purchase anti-malware software. Norton 360 uses artificial intelligence as part of its malware detection engine and is able to protect your device against ransomware, spyware, and many other viruses. Norton 360 also has an excellent range of additional features, including; Parental Controls, Secure VPN, Privacy Manager, Cloud Backup.
These additional features mean Norton 360 is great value for money giving you more than just basic malware protection. In particular the secure VPN offers good speeds and a wide range of server locations meaning you can search the web securely.
For families, Norton represent a great choice, its parental controls are an excellent feature, offering some of the most comprehensive parental controls around.
A three-tier pricing system means that Norton 360 can be a fantastic option no matter your budget. 
2. Total AV
Powerful malware fighting capabilities

Great reputation

Scanning engine designed by Avira
Despite being a relative newcomer to the anti-malware space, TotalAV  offers powerful malware fighting capabilities. In the short time it's been on the market it's already had fantastic reviews and gained a high reputation in the world of cybersecurity.
As well as being able to offer full malware and virus protection, TotalAV also comes with extra features like; a VPN with unlimited data, Performance & Optimization Tools to clean up your hard disk and keep your device running smoothly, and a Password Vault, to keep login details organised and secure.
TotalAV's real-time protection engine is one of the fastest and most secure anti-malware defences, because TotalAV's scanning engine was designed by market-leading antivirus company Avira.
TotalAV can be a little on the pricier side, although for new customers they regularly offer a discounted first year. This product is so thorough and quick, that even with a bigger price tag it's a fantastic choice for anyone looking into anti-malware software.
3. Avast antivirus
Innovative sandbox tool

Award-winning company

Real-time scanning
Avast antivirus software offers all the security you will expect from a great anti malware software. Alongside what you'd expect, avast offers some new and innovative tools including a 'sandbox' tool. The 'sandbox' tool allows users to run a file within a confined controlled virtual environment. This means if you're concerned about file you can run it in 'sandbox' mode and it won't cause any damage to your device. Avast also offers more common features like real-time scanning, password manager, quarantine and a browser security tool.
Avast software is always evolving but the company has a reputation for great software and plenty of awards to suggest the same. The company also offers 24/7 support, meaning if you ever run into trouble with your software where there will be someone at the end of a line to support you.
4. Kaspersky
Protect multiple devices

24/7 customer support

30-day money back guarantee
The standout feature that Kaspersky affords its customers, is the ability to protect multiple devices from malware. Kaspersky offers the same anti-virus protection you would expect from any good anti malware software, but certain plans with Kaspersky  allow users to protect a range of devices.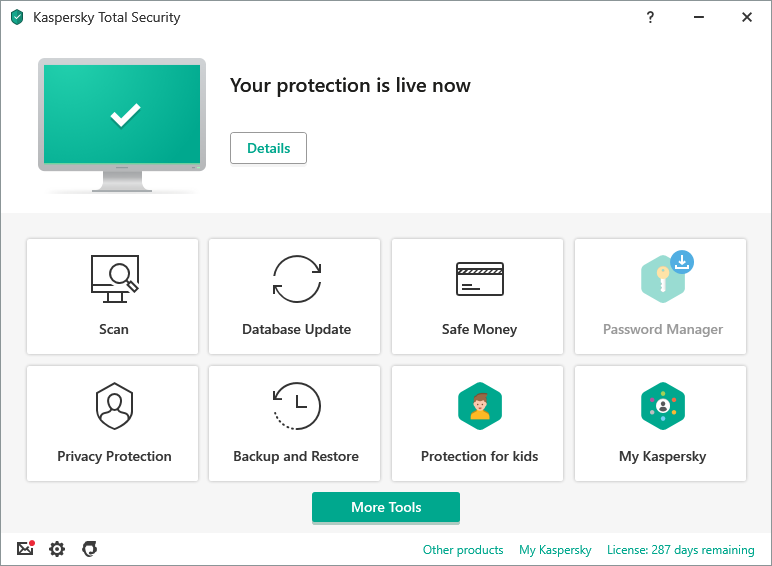 Kaspersky is incredibly easy to set up and the company offers  24/7 support for anyone struggling. The program is intuitive to use and has many valuable features including additional privacy tools, helping you to protect your online purchases with its secure VPN. When put to independent testing Kaspersky  always performs well and a 30-day day 'no questions asked' money back guarantee with online purchases means there's no risk in exploring Kaspersky's software.
5. Malwarebytes Anti-Malware
Daily software updates to catch new threats
 14-day trial period
If you think you might have a malware infection, Malwarebytes Anti-Malware is one of the best options for malware removal. It's updated daily, which means you'll have peace of mind, knowing that any threats will be identified and  removed the minute they appear.
As well as offering fantastic removal software, Malwarebytes Anti-Malware includes preventative tools like real-time scanning and specific protection from ransomware. 
Malwarebytes Anti-Malware also offers a free software, the first time you install Malwarebytes Anti-Malware, you're given a 14-day trial of the premium edition. Once two weeks is over the program will revert back to the free version. 
Recently, Malwarebytes brought out a new software called Adwcleaner, which targets and removes annoying programs that hijack your browser. It's available for free and is a great addition to your security toolkit.
6. Bitdefender Antivirus Free Edition
Ad free
Automatic boot up scans
Scans links from the web to detect scams
Bitdefender Antivirus Free Edition is one of those programs you will probably forget is running. It doesn't ask questions, it doesn't clog up your home screen, it just quietly does exactly what you needed to do. It identifies and removes anything that poses a risk to you and your device. As anti-malware software goes, Bitdefender is the hassle-free option.
Bitdefender scan apps and links on the web to keep your device safe and  if has proactive malware and spyware scanning that can even detect never before seen threats. Better still, the software automatically scans your computer every time your PC starts up.
Bitdefender Antivirus Free Edition is completely ad-free, it is a great option for anyone looking for free anti malware software, it runs quickly and silently while you get on with the important things.
7. Avira Free Security Suite
Decide which features you install
As a free service, Avira Free Security Suite is one of the most comprehensive security packages available. This software provides standard anti-virus protection, as well as scanning your network for vulnerabilities and helping you fix them. Avira Free Security Suite also offers safe browsing and safe shopping options. In addition, Avira Free Security Suite comes with a free system optimiser to speed up your PC, something you often have to pay for with other packages.
As if these features weren't enough, Avira Free Security Suite also has a free VPN included for up to 500MB per month, a password manager and privacy settings manager.
Best of all, how many of these features you want is completely in your own hands. Avira Free Security Suite  gives you the option to choose which features you install.  While this malware software is incredibly generous, not every user will have need for all its features, so being able to pick and choose will free up space on your device.
8. AVG AntiVirus Free
Scan your PC from your phone
Scans for both downloadable threats and links
If you're looking for a quiet, 'run in the background' kind of anti malware software AVG Antivirus might not be the best call. AVG Antivirus Free is quite vocal with its notifications. However, in terms of its anti-malware ability AVG Antivirus Free is a great piece of software. It has a very user-friendly interface and protects your device from downloadable threats as well as scanning links. AVG Antivirus Free even allows you to scan your PC remotely from your phone, so you don't even need to be at your computer to remove malware.
While the free version doesn't have all the security options of the paid-for Pro model, it does offer decent protection for anyone looking for a basic anti-malware software.
9. PC Protect
Fast protection that won't slow up your device
Technical support 24/7
Real-time scanning and protection
PC Protect is a good option for anyone who needs free malware protection. The main selling point of PC Protect is that this program will not slow down your device. PC Protect runs real-time scanning, meaning that you're always protected from malware.
With over 500 million users, PC Protect  is a trusted and widely used anti-malware software. Not only will it provide protection for your device, but it's system scans will suggest ways in which your PC might be improved. This software also provides advanced firewall features to keep your device protected. PC Protect is also compatible with both Apple and Android devices, meaning you can keep all your devices protected.
10. Panda Free Antivirus 
User-friendly
Free VPN
Powerful protection
Panda Free Antivirus is a great program, offering lightweight, secure, and easy-to-use  protection software. The software has as well laid out dashboard and is easy and intuitive to use. If you are new anti-malware software, or don't feel confident choosing settings, Panda free anti-virus is a great place to start.
Panda is not a particularly well-known brand,  however, its antivirus scanner has scored exceptionally well in online testing and with reviewers. The  software includes a powerful firewall, which will be able to block viruses and protect your computer.
As well as providing exceptional  protection for your device, Panda free anti-virus also comes with a free VPN, great option if you're concerned about your privacy. Pandas free VPN has a data limit of 150 MB per day, which will be enough for small tasks like sending emails or checking websites. If this won't be enough for you, you could always look in to pandas paid product; Panda Dome Premium, which offers unlimited VPN.