Opening a café or coffee shop is a great dream for so many around the world. They provide the opportunity to trade the commute and the rat race for the 'daily grind' of one kind or another. Many of us dream of being our own boss and starting a business of our own. However, unless you're careful, the ultimate dream can quickly turn to feeling nightmarish.
Whether you're dreaming of starting your own café or looking to make an existing venture more profitable, the experts at Pelican Rouge Coffee have provided a number of valuable and insightful insider tips on making your café as profitable as possible. With coffee being as popular as it is, making a café or coffee venture go further, is more straightforward than you might have thought.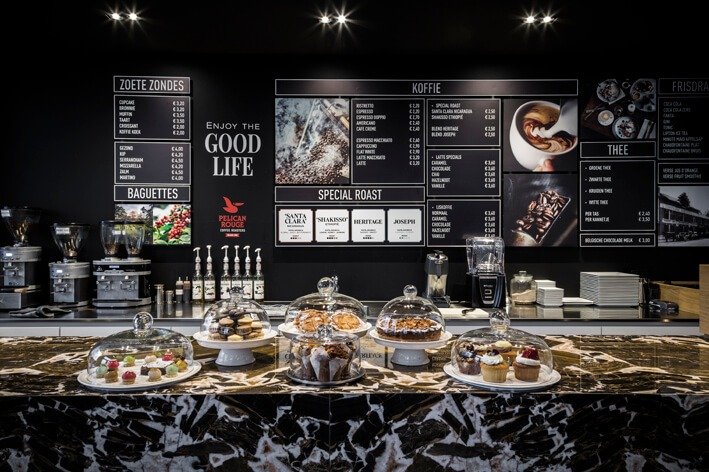 Streamline your Menu
A common misconception is that you need a massive menu with a huge deal of choice to attract customers and trade.  Truth be told, you don't need to offer 7 cup sizes, 4 milk choices, 12 syrup flavours, bespoke sandwich offerings or 25 types of cake, muffins and croissants. In fact, too much choice can create anguish and confusion for customers. For the sake of efficiency, cost control and in the interests of optimising the quality of your offering, the key is to aim for slickly executed efficiency. Cover the necessary categories with limited yet strategic choices.
As well as the menu itself, streamlining the ordering and payment processes; allowing cashless and contactless payments will allow customers to order and purchase their beverage and/ or food item of choice faster than with cash only options. This will also help to increase footfall by allowing customers to get in and out and on their way much faster.
Understanding your Costs and Overheads
It probably seems incredibly obvious but it is impossible to know if you are making profit if you don't know how much it costs you to make each individual item on your menu. Furthermore, overheads like the rent for the premises, bills and other expenses should be well accounted for in addition to your underlying costs; all this will also help you understand your business' margins.
For example, calculate the cost of each espresso, the amount of milk each drink requires, the cup, the lid, the sugar and any other ancillaries required. To maximise profit, it is crucial to know which items make you the most money and to strategically drive sales of these items, whilst still pushing all others.
Promoting Add On Sales
Can you imagine how many additional sales McDonalds and similar chains makes by encouraging their staff to ask hungry customers: 'would you like fries with that?' If you could encourage every customer through the door to take one additional line – one slice of cake, one biscotti, one sandwich, even an extra shot of espresso – your revenue line and your business would grow considerably, even if you never managed to attract another new customer for months.
In addition, consider that in the UK over 50 million cups of coffee are consumed every day, meaning that there is a lot of scope for profits to be made from the humble but hugely popular beverage of choice for so many.
Targeting Takeaway Trade
Experienced café owners understand that it is possible to serve up to 10 takeaway drinks in the time it takes a seated customer to finish one. Takeaway customers pay the same price as your seated customers without any of the occupancy costs. This helps keep basic running costs down. Rather than focussing your energy on building comfortable seating areas, table service and offering free Wi-Fi, consider looking for ways to drive the takeaway side of your business through all seasons.
Drive Loyalty
Regular customers have the potential to be your lifeblood. Not only does it cost considerably more to attract new customers than to care for existing ones, loyal and happy customers will very often turn out to be ambassadors for your business and your brand; spreading the word and recommending you to others. Consider loyalty cards: research shows that they really do work and encourage returning customers. They also help tip customers 'over the edge' if they aren't sure where to get a product from.
Alternatively, find other ways to treat your customers and keep them coming back- the occasional drink on the house, the opportunity to sample new items and recipes before the rest or a 'recommend a friend' type scheme.
Above all else, if we could only provide one piece of advice to our customers it would be this; don't consider yourself in the coffee business. Rather, consider yourself in the retail business. Your passion for coffee may have inspired you to open a café in the first place but it will be your sharp commercial acumen, promotional creativity and unparalleled customer service that will keep you in business and going from strength to strength for many years to come.