The team at TechRound has collected industry expert predictions on what 2022 could look like for SEO.
The COVID-19 pandemic has impacted all major industries in both 2020 and 2021, meaning that more people have been online than ever before – but what has this meant for SEO?
Here, we explore the predictions for what is to come this year in the SEO industry, with opinions offered from a variety of SEO consultants, company founders and experts.
Our Experts Include:
Mordy Oberstein – Head of Communications at Semrush
Philip Petrescu – CEO of Advanced Web Ranking (AWR)
Chris Godwin – Head of Marketing at Jim and Tonic Distillery
Natalie Arney – SEO Consultant
Paul Friend – Head of SEO at The SEO Works
Aled Nelmes – CEO and Founder of Lumen SEO
Itai Sadan – Co-Founder and CEO of Duda
Michael Ryan – Director & Founder of Mr. SEO
Martin Harris – Head of Digital at Tank
David Westby – Senior SEO Strategist at Distinctly
Amit Raj – Founder & CEO of The Links Guy
Jenny Abouobaia – Head of SEO at Session Media
Maryum Sheikh – B2B SEO Expert at The Digital Voice
Gary-Eoghan Gallagher – SEO Team Lead at Loud Mouth Media
Beu Smith – SEO Lead at 43 Clicks North
James Munro – SEO Lead, Extreme Creations
Gregg Turner – Head of Performance Marketing at UNRVLD
Daniel Rawley – Growth Marketing Service Manager at Honeycomb Search
Jamie Indigo – Senior Tech SEO Analyst at DeepCrawl
Tessah Aihara – Founder of The SEO Mama


Mordy Oberstein – Head of Communications at Semrush
In an age where Google so heavily relies on machine learning it's important to align with how Google sees topics and content. Here, the fundamental goal is to align with what Google sees as topically comprehensive and what it sees as quality content. How Google sees both of these things are going to change. More and more it appears that MUM (which Google describes as being 1,000 times more powerful than BERT, its previously most powerful machine learning construct) is making its way into the algorithm.
Practically speaking, and based on how Google themselves have described MUM in the context of their search results, this means a greater parsing of what content and search terms mean. What you thought to be a simple and straightforward query might soon be broken down into multiple interpretations with content geared towards each showing on the results page. Take a simple case, in fact, one Google which used the term "prepare" in the context of hiking. What does it mean to prepare for a hike? With MUM Google will be able to parse its meaning into multiple pathways (for example, "prepare" can mean getting the right gear or adopting the right fitness regiment, etc.).
This means that aligning with how Google sees a topic is set to fundamentally change. Aligning to how Google sees what a topic consists of will become far more nuanced and diverse. This means, all things being equal, sites that rank well will have content that does the same. At a minimum doing so will give your site more opportunity to rank as Google will have content from you that aligns with the various topical pathways it will present to users.
Philip Petrescu – CEO of Advanced Web Ranking (AWR)
What I can tell you though is that there will be a major shift in the way people will track their organic search results in Google in 2022.
So even though you might be ranking in the 1st position in Google, that doesn't mean you will have the same visibility that you had when the SERP was made of only 10 blue links.
This is because, even in the first spot, you might still be below four rows with ads, or a Featured Snippet, a Local Pack, or a People Also Ask block, all of which push your organic result well below the fold.
So knowing exactly how far you are from the top of the SERP becomes a crucial way to measure SEO visibility. Why? Because it has a direct impact on the clickthrough rate.
How can you measure your CTR and position from the top?
You look at the pixel position, which is the actual distance from the top of the SERP. Then you look at the SERP features that are shown above you and see if it's feasible for you to rank in one of those features.
Chris Godwin – Head of Marketing at Jim and Tonic Distillery
2022 will be the year that Google My Business becomes the single most critical driver of search rankings for businesses with physical locations.
For those businesses, it will become a necessity to collect Google reviews from customers, with the frequency of positive reviews (4 or 5 stars) a huge factor in whether you rank above a similar company or competitor. Those who aren't actively collecting reviews can expect to be out-ranked by those that do.
Moreover, the more up-to-date businesses can make their profile, with new images and news announcements, the more favourable Google will look to rank your business over a competitor with a stale, stagnant profile.
Here at Jim and Tonic, as we head into 2022 we are doubling down on our efforts to collect customer reviews on our Google profiles for our 3 London Gin Bar venues, as well as update our profiles with our latest menus and announcements.
Natalie Arney – SEO Consultant
There will be more demand for our services – in particular, quality SEO services. At present there seems to be a slight skills gap, and also business owners frustrated at cheaper services they've used in the past having a poor impact on their site – a poor ROI on cheap, poor quality (but well sold) services that have zero impact on the site. That, combined with promises some developers have offered business owners and marketing teams that sites will be 'SEO friendly' when a WordPress or Shopify plugin has been installed and that's it. The pandemic has definitely highlighted that knowledge and experience in SEO are in even more demand than before, as many businesses have had to move online.
For SEOs, the 'basics' will continue to remain relevant SEOs can often be distracted by what's new and trendy, especially those working in agencies that chase trends to show that they continue to be relevant. However, we all know that the same issues will occur; whether that's site hygiene, poor quality content, and a poor quality backlink profile affecting the site. SEO is all about accessibility of information and products, and removing barriers to that information and those products.
And then expanding on the second point above, accessibility of information and products on a site will increase in importance. I don't think search engines are ready to penalise content that's inaccessible if we're talking about it from a more specific ranking factor, however there will be elements of content that will be penalised – eg images without alt text or Javascript elements causing content to not be read by screen readers or search engines themselves.


Paul Friend – Head of SEO at The SEO Works
Core Web Vitals seemed to steal the limelight in 2021. But although the rollout was well publicised by Google, in broad terms, it doesn't look like the update itself has (yet) had the seismic impact on rankings many people expected. Still, page experience signals will continue to be meaningful throughout 2022 and there will be updates and tweaks aplenty in this area. Ensuring a snappy, intuitive experience for the user will remain high on Google's priority list.
Google's ever-expanding comprehension of search queries will likely be a major consideration for SEO strategies in 2022. The better search engines get at understanding complex search intent, the more opportunities this presents for SEOs – whether that's thinking about the whole search journey or what sophisticated search tasks Google can now help with where it couldn't previously. Validating your content ideas and grounding them in data is going to be more important than ever before.
SEOs should also be thinking more about where their clients' target audiences are discussing their brands. Are they on Reddit, Discord, Facebook? What issues are being discussed and what pain points can you see? Let this intelligence inform your SEO strategies.
And, as ever, expect new or tweaked SERP features to vie for attention with traditional organic results. Showing consistent brand messaging across all channels and platforms to help cut through the noise should be a focus in 2022.
Aled Nelmes – CEO and Founder of Lumen SEO
In 2022 I believe we will see the search results page rapidly change. Today, around 90% of website functions require the user to click-through to the website to complete. Over the next 12 months I'm expecting to see this percentage decrease to 60% as specific industries see their call-to-actions integrated with the Google search page.
For example, restaurant, hotel and entertainment reservations will be able to be made without having to click on the website at all thanks to integrations between booking systems and Google My Business/Google Maps.
This way, the consumer will be able to see current features like reviews, facilities and busy times alongside where they can book. This could be pivotal for struggling hospitality businesses who could see a huge increase in conversion rate with this simplified and easy-to-use system.
Itai Sadan – Co-Founder and CEO of Duda
We're expecting to see long-form content take centre stage on website pages in 2022. Throughout last year we saw multiple agencies gearing up for this with their website designs, and with Google prioritising content that has a word count upwards of 1,500, it feels like a natural trend moving into the new year.
Long-form content with rich media offers much more value to a user, while also allowing for seamless keyword integration, as well as the opportunity for one page to rank for more keywords.
Of course, structure, quality, and relevance are key. Users are demanding higher quality content, and that's going to be a key part of 2022. Text should be exquisitely structured, have a natural flow, and all meta tags need to be optimised. It's SEO basics, but a big part of how 2022 will play out.
More website designs should be developed to encourage video and gallery integrations too. Social media is already proving the value of video, where the likes of TikTok and Instagram are dominating. High-ranking pages will undoubtedly have video integrated into their builds this year if the search query suits them.
Ultimately, 2022 will see a step towards a more immersive online experience. This time next year, we may well be predicting a wider roll-out of AR and VR within the space, as part of SEO's natural progression into Web 3.0.
Michael Ryan – Director & Founder of Mr. SEO
I think firstly we will continue to see search engines expanding their own footprint this year, and SEO's will need to follow to ensure they stay up to date with any new products released. We're at a point where tools such as Google My Business (Soon to be retired and named Google business profile) can effectively do most things for a local business – without them even having a website!
As we know google will continue to make updates and change the goalposts across a range of areas. In 2021 we saw a major push towards users experience in the form of the 'page experience' update, which meant 'core web vitals' was the buzzword for the year. I can see Google continuing to develop these areas which I believe will mean SEO & CRO will become aligned in the same way SEO & Digital PR has in the past. It's becoming as important to test page experiences for SEO and as well as CRO.
Google will also continue to clamp down on link spam and following their update on this although I predict no-one will follow there guidance tagging links appropriately.
I can also see Google increasing the amount of SERP features as well as the amount of search results that have this. IF this does happen, along with changes to how ads are displayed, there will be a massive shift towards CRO (again) and maximising CTR as well as your SERP position.
The last couple of years we've heard about PR / digital PR being the way to turn the dial on SEO. In 2022 we will continue to see campaign that invest in this, without doing the basics, fall behind. Keyword research, having a keyword sitemap and strategy will continue to harness the best results as Google's continue to move towards user experience. This mean aligning your over arching keyword strategy across all your standard SEO rankings factors such as on-site optimisation, link, content and so on….
P.S. 2022 will still not be the year for voice search!


Martin Harris – Head of Digital at Tank
My prediction this year: a site's authority will be determined less by individual links and more by the engagement with those particular links, unlinked brand mentions and co-citations.
Google has created several iterations of its 'determining a quality measure for a resource' patent, which basically measures link value by looking at how much traffic it brings. If the link isn't getting clicked on by actual users, then no value is passed to that page. This should theoretically stop link builders spamming links on sites with a high DA rating, and instead push brands to focus more on building referral traffic to the linked page.
The topic of implied links has been doing the rounds for years in SEO, after Google released a patent back in 2014 to start measuring 'implied links'. This essentially means references or mentions of a brand and/or website without an explicit link.
The weight of followed links is still far too strong a ranking signal to ignore — there's a reason digital PR is becoming one of the fastest growing disciplines in digital marketing. However, with the evolution of Google's machine learning and semantic search, it makes me think it now has the tools to start balancing the scales.
The same can be said for co-citations — when a website is mentioned by two different sources without a hyperlink involved between the sites, but the two are linked by a third party website. There's nothing new about Google using this signal to rank websites, but the evolution in its content clustering algorithm tells me that it can better understand context and tone, and understand how to associate mentions without a link.
I still expect links to still hold weight for many years to come, but the quality of linking traffic will become a big factor. At the same time, Google's ever growing understanding of brand and keyword association between websites will put less of an impact on backlinks.
David Westby – Senior SEO Strategist at Distinctly
The fundamental role of SEOs is to match the different search intents of users tied to your specific product, service or offering. A really important part of this is aligning your content with the different "pain points" of users at different stages of the funnel. Tools such as Ahrefs and Semrush are great for being able to pick out the broader questions or queries as users navigate towards a decision.
Moving into 2022, harnessing first-party data as much as possible can really help you to target those more specific "pain points." These will often be queries that will not show up on keyword tools but are still really important in the user journey. This first-party data can be gathered in numerous different ways – my favourites are using Google Search Console, analysing users searches on your site, and running surveys on the site.
Let's cover these:
Google Search Console allows you to see which queries users are searching for that your site is getting clicks and impressions for. Filtering for question words such as "what, where, when, who" etc is really useful for filtering through the noise to find any specific pain points.
Looking at what users are searching for on your site using Google Analytics often uncovers a range of unexpected queries or searches. Looking back over a longer period of time, categorising the searches and filtering through them can unpick potential blind spots on the site.
Finally, running a survey or questionnaire on specific pages can be really useful in finding out what users feel may be lacking on the site or on the page. Hearing first hand their specific needs or pain points can help guide content creation.
Amit Raj – Founder & CEO of The Links Guy
Influencer marketing continues to become an influential tool in everyone's marketing toolbox, and I believe this flourishing marketing strategy has found its way into the SEO 2022 top spot. One benefit is that it is far more inexpensive than traditional marketing and shortens the time it takes to reach your target audiences as influencers already have their own follower base in place, which businesses can benefit from. Also, many top influencers are very innovative when it comes to creating imaginative content and can be good collaborators in your business marketing strategy.
Mobile and voice are a powerful combination, voice search, is expected to rise even more as it's extremely intuitive. Why type in your question when you can easily just ask using your own voice! Google voice search shows remarkable accuracy and is spiking in SEO led by Generation Z who use voice search daily. Experts predict that in 2022, voice-based shopping is expected to grow to $40 billion. If these statistics emerge, it's clear that there's no slowing down for voice search, as this trend continues to grow, changes to SEO will be continuous. As we embrace NPL (Natural Language Programming), voice search will become more intuitive. With Web 3.0 on the way, there will be a whole lot more than websites and search engine optimisation.
Jenny Abouobaia – Head of SEO at Session Media
Over the past 12 months, Google has released a number of algorithm updates that specifically targeted websites with a lack of expertise, authority, and trust. So, websites that had little information on the people behind the company, their experience, and qualifications. We saw this hit a lot of niche affiliate websites in particular, but also eCommerce and B2B.
There is more pressure than ever on Search Engines to be responsible and prevent users unknowingly falling on low-quality websites spreading "fake news" and general misinformation. With that, Google wants to ensure that all of the top results promote experts, especially for those searching for advice-based keywords.
For example, if someone is searching for advice on their pet, search engines want to ensure anything at the top of the search engine results pages (SERPs) is coming from an authoritative source, like a qualified vet.
I think there is going to be more and more focus on E-A-T and we will see similar to the "medic update" we had a few years ago across all sectors and niches. The medic update was the start, making it so that to give advice on topics that could potentially affect your money or your life (YMYL) could only be offered by qualified experts. But Google now wants to ensure any advice, regardless of the nature, is expertly given.
With that in mind, every company is going to need to implement digital PR alongside or as part of an ongoing SEO strategy to build up their digital footprint and establish the people behind the brand as experts and thought leaders within the niche. I think we will soon be saying goodbye to the traditional "Mommy blogger" and companies will need to make sure their leaders are not only established as experts on their own site but across the web.


Maryum Sheikh – B2B SEO Expert at The Digital Voice
Looking back on the patterns and developments we saw from Google throughout 2021 it is safe to say that SEO will change significantly in 2022 with various influential trends some of which I have predicted below:
This year I predict one success that is set to continue to flourish will be the development of SEO and marketing automation tools. Throughout 2021, the transition from manual SEO to AI SEO automation and content creation tools such as Jarvis, Copysmith, and Frase proved that the use for automatic search engine optimisation is becoming more prominent within digital spaces and with clever AI automation tools the whole process can be more fast paced and effortless. But with these, Google will be more stern towards relative backlinks and will nullify websites which have irrelevant, bad or spammy backlinks with ill-fitted anchor text and their domain rating will significantly decrease.
Secondly, visual content seems like the biggest thing Google wants to push this year. As image and video become more prominent online and proved to gain more authority by Google's algorithm we can expect to be seeing a lot more image and video content on our screens, each personalised for a great user experience on desktop and mobile.
I also expect semantic search will prevail throughout 2022. Google will determine the intent and contextual meaning of a search query rather than the keywords. Google will attempt to perfect its ability to provide its users with the exact results that they are looking for with fulfilling their goal and user satisfaction without having to scroll for a successful user journey.
Last but not the least, I expect personalised content to receive more authority by Google, according to Google, personalised search gives them ability to customise search results based on a user's previous "180 days of search history" which is linked to an anonymous cookie in your browser which helps Google to personalise your search query even if you're not logged in under a Google account. If personalised search is to prevail in the coming years, then SEO will drastically change throughout various analysing metrics and the common trends will become outdated.
Gary-Eoghan Gallagher – SEO Team Lead at Loud Mouth Media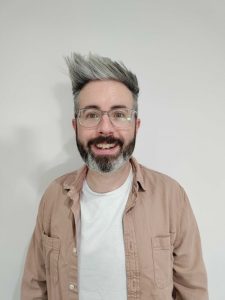 SEO has taken many steps forward with the acceleration of new technologies such as artificial intelligence, machine learning and voice assistants.
Voice search has quickly become a critical element in SEO, with more than 43% of online consumers making purchases through voice-enabled devices and around 60% of shoppers using it to find local businesses. As its popularity soars, voice-enabled device sales has surpassed that of tablets in 2021.
The need to optimise a brand's online presence to be compatible with voice search is now more crucial than ever before, and while it is still considered an emerging trend, it is no secret that it fuels SEO and has transformed the way people use the internet. There has been a rise in demand for incorporating voice search into websites, with content marketers and SEO professionals having to devise several methods to accommodate it, starting from how the content is created and the way we speak. The trend is becoming more popular because voice searches are easier for longer queries, with most typed searches typically coming in at around six words.
Internet users are seeking particular answers when they use a voice search command, with precise or definite long-tail keywords giving users the most accurate answers to their queries. This trend is showing no signs of slowing down, so how can content be optimised for voice search? Tips include making content conversational, being concise, opting for longer content with long-tail keywords, making sure data is updated frequently and adding an FAQs page to websites.
According to Google, FAQs account for 2.68% of voice search results, with most voice searchers using 'who, what, when, why or how' in their questions. With this in mind, a well thought out strategy should include FAQ content that can tackle such voice queries within your niche.
Beu Smith – SEO Lead at 43 Clicks North
As much as I want to go full mystic Meg and consult my crystal ball, SEO for 2022 will remain largely the same with Google throwing the odd curve ball here and there.
The core focuses will be; content, those who invest time in fully optimising their site to answer users queries and deepen their ranking pool using content strategies will improve market share and organic visibility making them more likely to drive more traffic to the site.
User experience has been a huge focus in 2021 with multiple updates focusing on page speed, mobile first and functionality, so focusing on improving Core Web Vitals metrics will help align your site to Google's guidelines and improve signals which can give you the edge over your competitor set.
Lastly technical SEO; this underpins all SEO strategies and is a continual maintenance requirement. Improving the quality and clarity of your sites signals removes guess work for Google, giving them more trust in your site.
Recently there has been a lot of focus on anti-spam with 4 separate updates happening between July-Nov '21, so review your backlink profile and ensure any spam links are removed and updated in your disavow file.
With the online eCommerce market experiencing rapid growth over the numerous lockdowns, more people are choosing this as a default way to shop. This brings new audiences and demographics along with behavioural trends which can create opportunity and new gaps in the market.
Some predictions based on experience and recent landscape changes would be, brand ethics and sustainability; the importance of using brand messaging (CTAs, banners, content) to highlight your brand is being conscious of its impact on the environment helps users feel reassured with their decision when purchasing something online. It can reduce purchase guilt and begin to build trust with the users which can be converted into brand affinity when retargeting to create a lifetime customer.
Utilising Google's new features could also tap into undiscovered traffic and bring a new stream of users to the site, in 2021 Google showcased its advancements in AI to understand the context of what a user is searching by combining Google Lens with MUM (Multitask Unified Model). This feature allows you to search an image with text refinement, for example a picture of bicycle gears and the text "how to fix", or use a picture of a pattern and add "shirt with this pattern" to display results that match. This feature is still in its infancy and therefore has lots of potential within the market.
With search always evolving, new mediums like Google Lens, voice search and AR create new queries. Combine that with BERT and improved AI understanding of word context, Google estimates that around 15% of search queries each day are new. This creates opportunity to target more granular keywords and phrases with refined intent which is likely to drive a higher CTR and revenue levels due to specific user intent.
Search is always changing in the pursuit of providing the best result for a user's query, but this doesn't mean you, the retailer/service provider. Some of the features announced in 2021 like In-Person Shopping, about this result, and Visual Browsing/Rich Results, scrape content from your site, only to be displayed as dynamic content in Google's platform. My fear here is that this adds to the "no click" culture and allows Google to answer the query using your content while not attributing the search or click to your site.
Google never discloses specific details around it's updates and normally gives fair warning of any pivotal SERP changes, so I don't foresee any big changes to organic search in 2022, but that doesn't mean it won't be a bumpy ride.
James Munro – SEO Lead, Extreme Creations
My first prediction is that like with every new year, many SEOs will obsess about trends where they look for whatever's new rather than focusing on developing a clear SEO strategy coupled with solid technical SEO. Do those things well and the results will come.
We've seen signs already with Google's MUM update that they're placing more importance on search journeys than individual search queries and I'd expect this to continue in 2022.
Google will do more to serve users' answers directly with richer, more interactive search results. We'll see future algorithm updates taking on more of a user-centric focus, much like we did with core web vitals in 2021. Misinformation is prevalent in society and in search results too. Google will work harder to provide more evidence based, fact-oriented results.
Long-form content designed to serve user needs will continue to grow and in most cases should be the norm for content creation. Any content that still places SEO ahead of users should and hopefully will fail. Google will continue to rewrite title tags and meta descriptions shown in search results as it works harder to identify the intent behind users searches.


Gregg Turner – Head of Performance Marketing at UNRVLD
One of the trends for 2022 which the SEO team at UNRVLD have been discussing is the continued shift towards Google understanding increasingly more complex questions from users (and still delivering useful content). All of this is being driven by an increased use of AI within search and is a trend we're really excited about.
Google's MUM update is a good indicator of this shift. MUM stands for "Multitask Unified Model" and has the potential to transform how Google helps users with complex questions and tasks.
In essence, Google wants to deliver more exact search results to users by answering multiple questions in a single search. Rather than the user having to carry out lots of different searches in a row and reading many different results to get all the information they need.
Google said that MUM is "1,000 times" more powerful than Google "BERT", another substantial change to Google's search in 2019, which changed how it understood natural language, connections between words and searches that are more conversational than traditional queries.
What is interesting is that MUM is "multimodal", which Google says means that it understands information across text and images and will expand to video and audio in future. This reflects what we've seen over recent years now with increased use of voice search and use of video.
Google has said that MUM is trained across 75 different languages and can transfer knowledge across languages. E.g. what it learns about the way people search in the UK will be applied to other regions, so might have implications on multi-lingual/international search.
Overall, the implications on what this means to content businesses, agencies and for their content creators could be huge, especially if MUM is able to pull in relevant audio, video and image content in the coming years.
Daniel Rawley – Growth Marketing Service Manager at Honeycomb Search
The days of being able to successfully 'game' Google for SEO benefit are basically over. All of Google's recent algorithm updates have had one main aim: to improve user experience.
This means rewarding sites that load quickly and punishing those that frustrate users; getting better at recognising when a page genuinely answers a user's question; and valuing a small number of relevant backlinks.
So any changes to your site with the aim of improving user experience are increasingly likely to benefit your SEO, too. In 2022, I'd expect to see more changes to SERPs to help users decide which result will best answer their query.
Google has already trialled an "About this Result" panel which gives users clues as to why they have ranked particular websites highly for a search – for example, it's a domain that has been well-established for many years, or lots of other websites writing about this topic link to it.
Search engines are likely to get smarter at reading user intent: when people want to be shown forum discussions from others having the same problem, or when they want a video tutorial as opposed to a text-heavy article. If your content does a great job of meeting the need behind a search, you'll be more likely to be rewarded with higher ranking positions and organic traffic. Hopefully that will open up opportunities for smaller sites to outrank the internet giants if their content is a better fit for the user's need – as someone who works mainly with small businesses, I certainly hope so!
It's a cliché in SEO that, every year, voice search is tipped to disrupt the industry and revolutionise how people search – but while that may not have materialised, there will be dozens of smaller shifts that present opportunities to adapt your SEO strategy and drive additional traffic this year.
Jamie Indigo – Senior Tech SEO Analyst at DeepCrawl
As we settle into 2022, here are three major predictions for SEO to keep an eye on as the year unfolds:
1. The proliferation of misinformation online will push Google toward more fact-oriented SERPs that will likely be created by training language models on WikiData.
It's clear that misinformation spreads easily online. This has had some dire real-world consequences on both an individual and a global scale in recent years, and Google is well aware of the power it wields (and the responsibility it holds) as a first-line gatekeeper in today's digitally-driven information ecosystem.
Late last year, Google held a summit on fighting misinformation online. And the company has said directly that the fight against misinformation "starts with raising up authoritative sources across our products."
It's likely Google will continue to build out these efforts in 2022, and the published information on Google's KELM (Knowledge-Enhanced Language Model Pretraining) initiative suggests that the search engine will be training language-based AI models on WikiData as a method to identify more trustworthy content and rank it accordingly.
This prioritisation of trustworthy and factual content will also shift the work we do as SEOs; ensuring that your site's content is accurate and useful will be more important than ever, not only as a moral concern, but also as an increasingly important requirement for success in organic search. In 2022, building up your site's authority and trustworthiness in relation to your core subject areas will be key for winning over the more fact-oriented SERPs to come.
2. As SERPs become more visually browsable and intuitive, image SEO will become more important.
Google announced a push to make SERPs more visually oriented at their Search On event last year, and both Google Lens and Google Discover are leveraging images in ways that suggest we all should take a closer look at our image optimisation practices.
Google Lens is essentially a reverse image search that lets users upload a photo from their phone to search for products they can shop for on Google. This alone makes a pretty strong case for image optimisation (particularly for eCommerce sites), but there's more to consider here. Google also began including Discover data in their Search Analytics API in 2021. As Discover is another Google offering that prioritises images in the content it delivers to users, this addition to the Search API may suggest that image SEO is about to take on a whole new level of importance in the months ahead.
3. SERP layouts will evolve to be more interactive and dynamic based on query intent.
Google's MUM algorithm started rolling out to the SERPs last year, with additional roll-outs planned for 2022.
MUM, or Multitask Unified Model, is a machine learning model cross-trained using entity data in 75 languages. The result is the ability to pivot a response to match the intent, language, and best content to return for users across query types and search result formats.
Future updates will strengthen the use of 'rich snippets' and other enhanced search result features to better align the content delivered with the user's actual search intent. I think this year we'll see more dynamic layouts for the SERPs, making better use of these enhanced results and features and, ultimately, making it more intuitive for users to find the information they're looking for.
Tessah Aihara – Founder of The SEO Mama
My prediction for 2022 is that it's all about building sites that nail down search intent.
Google's updates in the last few years have been all about the user experience with a heavy focus on search intent to provide the user with the best content that is out there, so really SEO specialists and site builders need to understand how to build sites that are geared towards the user. It's important site owners understand EAT – which stands for Expertise, Authority, and Trustworthiness. Many sites are still missing out on this, but if you establish EAT, it will be much easier to rank your site.
The next most important thing for brands in 2022 is original research. The internet is full of fluffy information, and we need to make sure that our content strategy is providing searchers with extra information they will find genuinely useful. Doing that additional research will identify what people really want. When you do your original research, you naturally attract links or worthy placements because you provide something that is not yet out there, just by doing an extra step on your research.
People are naturally moving away from just wanting links and placements to finding placements that return measurable results and KPIs. Because of this, we must learn how to tie brand awareness and our link-building efforts. I believe creative digital PR is the way to go.
There's a lot of AI automation happening over the past year, a lot of tools being produced to replicate human thinking. This means there will be even more focus on the quality of the content. It is crucial for us SEO specialists to always check the quality of the output these AI tools produce.