This October, the Microbiome therapeutics firm Biotics Pharma announced that they had received $2.3 million in funding from the European Union (EU). This funding was provided so that that the firm could develop technology capable of delivering specific, personalised probiotics to tackle gut-related diseases.
The recent funding comes as no surprise. It has been estimated that by 2027, the total dietary supplements market will be worth in the vicinity of $230.7 billion. The dietary supplement market is thus a booming business – and a new facet of it, personalised supplement subscriptions are too on the rise.
Personalised supplement subscriptions all essentially operate on the premise that 'classic' vitamin packs you find in supermarkets, pharmacies of health-food shops provide little benefit to their users. Instead, personalised supplements promise to provide users with exactly what they need – tailored to their individual health and lifestyle choices.
It is true of course, that men and women need different nutrients. The same goes for adolescents vs the elderly. The following 10 startups have worked on exactly this – catering for the individual, not the masses.
1 – Numan
Company name – Numan
Founder – Sokratis Papafloratos
Website – https://www.numan.com/
Instagram – https://www.instagram.com/numan/
Numan is a Mayfair-based digital health clinic, specifically serving men in the UK. The clinic offers a variety of services for men, including dealing with specific issues such as fertility, hair loss. Numan claims to deliver game-changing digital healthcare, de-stigmatising several issues that affect men especially.
More recently, Numan has branched out to offer personalised supplement sprays, and this service is not just listed to its male clientele. The sprays are said to be 'personalised to supercharge your routine' – loaded with specifically selected nutrients to support individual needs. They are packed with up to 17 micronutrients dependent on individual needs, including vitamin B2 which targets fatigue reduction, and vitamin C which contributes towards the formation of collagen.
Service-users participate in a short online consultation, and are quickly presented with their results and personalised spray formulation. They can then choose from three flavours; lemon, peppermint and strawberry and the spray will arrive in monthly refills to be taken daily. Once taken for a while, benefits will include lifted energy levels, greater immunity and psychological functioning.
Specifically, Numan's choice to distribute these supplements in spray form differs from market competitors. Advantages of the spray form include that it delivers straight and directly to the bloodstream so it can be absorbed quickly. It is easy to swallow and comes in three flavours.
The men's digital health startup recently completed a £10 million Series A Funding Round led by Novator, Anthemis Exponential, Vostok New Ventures, and Colle Capital. Papafloratos responded by discussing the impact of COVID-19 on the supplement market, stating that the "crisis is motivating men to take better care of themselves".
2 – Get Nourished
Company name – Get Nourished
Founder – Melissa Snover
Website – https://get-nourished.com/
Instagram – https://www.instagram.com/get_nourished/?hl=en
Nourished is a new tech and wellness startup designed to revolutionise the supplement industry through innovation and personalisation. Established by Snover in October 2019, Nourished has taken on the personalised supplement trend in a different light to its market competitors.
The supplements consist of 3D printed stacks. Each layer consists of a different vitamin, and they are layered together to provide the customer with the necessary vitamins and nutrients that they individually need. From participating in a short online consultation, customers can choose seven different active ingredients to layer into a stack from a possible 28 options.
Designing your personalised stack configuration is an interactive process. The stacks are sugar-free and vegan and oppose the typical one-size-fits-all vitamins one might find in a pharmacy or supermarket.
Nourished additionally has outlined its commitments to the wider environment. The vitamins arrive in plastic-free packaging and are completely vegan.
3 – Heyoo
Company name – Heyoo
Founders – Kashyap Karia, Jahnvi Karia and Vyoma Karia
Website – https://www.heyoovit.co.uk/
Instagram – https://www.instagram.com/heyoovit/
Launched just this month, Heyoo defines itself as the provider of vitamins for those who 'live' a little too hard. Their vitamins help to enable a better you. The ranges claim to be the difference 'between running for a train and watching the doors close in front of you, and making the train'. The latter is what we want – and what we get with vitamins.
Heyoo is a family startup inspired by their healthcare background, driven to provide useful supplements at an accessible and affordable price. There are several different packages including Mastermind Multivitamins, Busybee Multivitamin effervescent tablets and Sleepyhead High Dose Vitamin C effervescent tablets. The products can be found on Amazon, as well as in-person at Londis and Budgens in the UK.
4 – Cuure
Company name – Cuure
Founders – Hugo Facchin and Jules Marcilhacy
Website – https://cuure.co/?lang=en_gb
Instagram – https://www.instagram.com/cuurevitamins/?hl=en
Cuure operates under the ethos 'Make tomorrow a better day'. Cuure is Paris-based wellness tech startup founded in early 2019 by Facchin and Marcilhacy. The startup provides customers with a quick online questionnaire, then uses this data and information to generate their needed supplement package. They then receive daily sachets of their optimal mix of vitamins, and are advised to continue for 2 months to see the 'cuure' effects.
Unlike other vitamin brands, Cuure encourages frequent observation and checks to ensure the personalised are updated so that consumer need cycles are routinely adjusted. The founders hope that this will optimise the efficiency of their personalised treatment, providing these further personalised experiences and interactions through additional, follow-up ongoing questionnaires.
This September, Cuure landed funding of around €1.8 million from Kima Ventures and Newfund Ventures. The startup so far has around 10,000 customers, and the founders hope that this funding will allow them to expand the customer base throughout Western Europe, as well as offer personalised nutritional support advice services.
5 – Vitl
Company name –Vitl
Founder – Jonathan Relph
Website – https://vitl.com/
Instagram – https://www.instagram.com/vitlhealth/?hl=en
Vitl, founded by former investor Jonathan Relph, is a personalised nutrition startup. Vitl provides customers with at-home nutrition tests, taking their competitor's online questionnaire's one step further.
Vitl provides both DNA and vitamin blood tests that can be taken in the comfort of your own home, at your own pace. For instance, the Vitamin DNA Test, priced at £49.95, utilises a simple cheek swab to advise customers on which supplements they require. These tests allow Vitl to take nutrigenetics to new heights by utilising DNA results with personalised consultations to recommend specific supplements suited to individual lifestyles and needs.
Vitl has claimed to source the most bioavailable form of each base nutrient, for instance using methylated folate instead of standard folic acid. Further, all formulations are non-GMO and 100% free from synthetic fillers, bulking agents, sugar, gluten and colours.
While online quizzes and questionnaires can certainly be useful in providing an insight into one's lifestyle and health choices, they can only go so far according to Vitl. Micronutrient testing, coupled with an actual consultation with a registered dietician allows for a totally unique and fulfilling personalised experience. It is thus no surprise that since founding, Relph's startup has attracted the interest and funding from notable investors and backers, including the founders of Zoopla, ZPG, Bloom & Wild and LoveFilm.
6 – Clear Health Program
Company name – Clear Health Program
Founder – Piet Hein van Dam
Website – https://www.theclearhealthprogram.com/
Instagram – N/A
The Clear Health Program is a Dutch health and wellness startup founded last year by Piet Hein van Dam. The premise of the startup is a 3-week programme where participants wear a discreet glucose monitoring patch. In the first week, participants log their lifestyle patterns including food, mood, exercise and sleep. This allows the program meto understand their baseline. In the second week, they are encouraged to diversify their diet and exercise and in the third and final week, the service offers its recommendations with a consultation. This includes offering diet adjustments, a data analysis, supplement suggestions, recipes and so on. It is a totally personalised experience.
The programme's services enable participants to use their data analysis to interpret the biology of their own bodies and works to highlight the importance of prevention – simple changes made to one's lifestyle can prevent ailments later down the line. Especially in such uncertain times, the notions of preventative treatment have seen a rise in demand.
Earlier this year, the startup received €780,000 in a seed funding round led by Healthy.Capital and Antler.
7 – Care/of
Company name – Care/of
Founders – Craig Elbert and Akash Shah
Website – https://takecareof.com/
Instagram – https://www.instagram.com/careof/?hl=en
According to Care/of, 'Healthy doesn't have to be hard. We make it easy'. Founded in New York together by Elbert and Shah, Care/of is a New York-based startup that utilises an AI-powered quiz to provide personalised vitamin recommendations based off an individual's answers. This can then be consequently generated into a monthly, personalised supplement subscription.
Care/of goes further than some of its other monthly subscription competitors, by not only providing vitamins, but also protein and collagen too. The service offers additional add-ons to one's personalised subscription package, for instance, quick sticks filled with targeted nutrients to tackle issues like stress, with Chill Factor at an additional  $5 and Gut Check at $5 to promote healthy digestion on-the-go.
As of April 2019, the startup made adjustments to their packaging to promote sustainability, designing their vitamin packs to be made from plant-based film. These packs are recyclable.
In August 2018, Care/of was valued at $156 million having raised funds from global investors including Goldman Sachs.
8 – Personalised Co.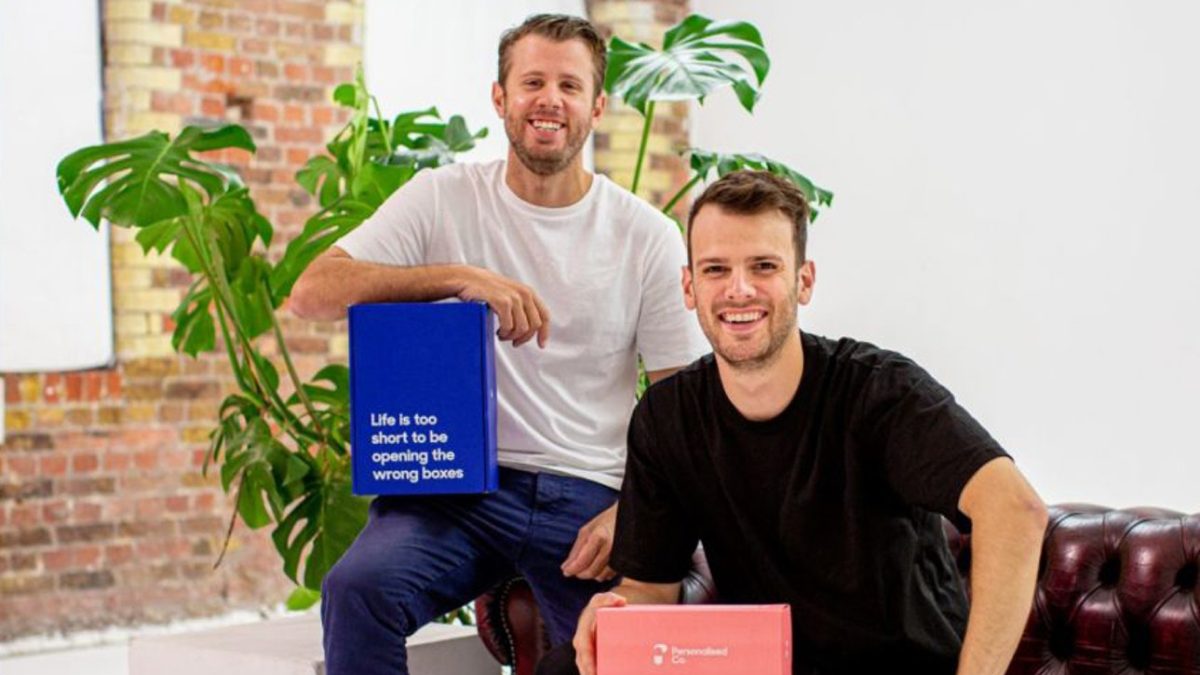 Company name – Personalised Co.
Founders – Sam Zappi and Christian Samuel
Website – https://personalised.co/
Instagram – https://personalised.co/
It's all in the name. UK-based startup Personalised Co. provides a monthly subscription of personalised vitamins, protein and minerals. The startup originally started up with just protein blend packages back in 2018 but has since expanded. Through organic marketing alone, the startup saw an influx of over 1,000 customers in its early months.
Zappi and Samuel understood that each individual holds different goals for their personal health in mind. Personalised Co. aims to champion what is 'just right' – the right amount of the vitamins needed to help achieve your personal goal. Personalised Co. acknowledges that demand for personalised wellness products is surging, but at an unaffordable and unattainable price for many. Their personalised vitamin and powder packages start at low prices.
What appears to be the most interesting about the startup is their pledge and commitment to transparency and honesty. The startup doesn't claim their research is entirely top-tier. Instead, they are entirely honest with customers. Next to each vitamin title, there is a reference to the research behind it, ranging from mixed bag research, to on-point and timeless research. For instance, CoQ10 has emerging research behind its value, while there is strong research supporting B Complex.
The startup is currently crowdfunding to fulfil its mission. Key future and incoming investment areas include the companion-app development and category expansion to CBD and collagen packages.
9 – Vitamin Buddy
Company name – Vitamin Buddy
Founder – Armin Ghojehvand
Website – https://www.vitaminbuddy.co.uk/
Instagram – https://www.instagram.com/vitamin_buddy/?hl=en
Vitamin Buddy was inspired by founder Ghojehvand's passion for all things health and wellness. For Ghojehvand, the process of trying to decide which vitamins you needed to purchase was long, confusing and tiresome. Additionally, the generic multivitamins just didn't seem to cut it, with no consideration for individual health needs and lifestyle choices.
Once customers complete an online questionnaire, they are provided with resultant advice and an optimal blend of vitamins to cater for their individual needs.
There are several different package options customers are able to choose from. This includes both 3-month and 6-month options, as well as a 28-day guarantee. Within each package lies 28 convenient daily packs filled with only the vitamins you need.
Importantly, Vitamin Buddy has ensured that all their supplements are vegan-friendly, gluten-free, pharmaceutical grade and made in the UK. Further, to aid absorption, the supplements come in capsule form as opposed to tablets.
10 – Bioniq
Company name – Bioniq Balance
Founders – Vadim Fedotov and Konstantin Karuzin
Website – https://www.bioniq.com/en/balance
Instagram – https://www.instagram.com/bioniqco/?hl=en
Bioniq is a research health-based system. Bioniq Balance aims to deliver a bespoke, supplement service – their focus solely lies with personalised solutions. Customers first discuss their aims and lifestyle with a member of the Bioniq team, and are subsequently referred for a blood test to be taken. The results from this blood test appear on their online dashboard within seven days and the team designs a targeted and personalised supplement plan to cater to these results. The system operates under a three-month cycle where a new blood test is taken at the end of each cycle mark to ensure the plans are completely up-to-date.
Bioniq utilises AI-powered technology to power its bespoke supplement service. The unique algorithm developed by Bioniq is based on the biochemical analysis of over 2 million data points taken from 30,000 blood tests. This works to support the health team expert's recommendations to customers together with access to their individual data. Thus, Bioniq operates with accuracy and effectiveness.
What places Bioniq on a pedestal is both their quality and 24/7 activity. The component's within Bioniq's supplements are suitable for vegans, gluten-free, colourant-free and preservative-free. Further, their active ingredients are released over a sustained 12-hour interval. Thus, when taken twice a day the vitamins operate throughout the whole 24-hour period.