Today, we're excited to be celebrating STEM/STEAM Day – a day dedicated to helping kids advance in the fields of science, technology, engineering, art and maths.
Creating conversations around STEM/STEAM is important for a number of reasons. It raises awareness for these fantastic fields whilst making knowledge on them more accessible – helping people to learn and become inspired.
With this in mind, TechRound explores advice and opinions from inspiring people in these industries, learning about their experiences and motivations along the way:
Our STEM/STEAM Figures:
Ashley Kramer – Sisense Chief Product Officer and Former NASA Executive
Felix Ohswald – CEO and Co-Founder of GoStudent
Catherine Diyakonov – Founder of Girls Will Stay
Dr Patience Mpofu – Founder and CEO of Peak Performance
Dr. Moira Gilchrist – Vice President of Scientific & Strategic Communications, Philip Morris International (PMI)
Robert McGregor – Founder and Director of STEAM Powered Education Limited
Njeri Watkins – BI & Data Analyst
Julia Taylor – CEO & Founder of GeekPack
Zoë Morris – President at Frank Recruitment Group
Suren Aloyan – Co-Founder/CEO of PopUp School
Nabila Salem – President at Revolent Group
Melissa van der Hecht – Field CTO at Kong
Sivan Tafla – Co-Founder and CEO, Total Media Solutions
Anna Curzon – Chief Product Officer at Xero
Brian Waterfield – Head of Immersive Production at Falmouth University Immersive Business Lab
Sophie Clark – HR Business Partner at Jagex

Ashley Kramer, Sisense Chief Product Officer and Former NASA Executive
"Throughout my career, I never hesitated to make bold career decisions and as a result, I feel like I ended up in the perfect role. I always tell people, don't be afraid to try something new. Just because I was a computer science major didn't mean I had to write code for the rest of my life."
"Writing code wasn't my passion, but there were elements of building a product that led me to speak to people in different types of roles – from product to marketing to sales. I concluded I was a product person at heart. Taking the time to step outside of your comfort zone and network to hear other people's experiences is an invaluable part of any career journey."
"Be fearless in your pursuit and don't get discouraged if you're the only woman in the room. Reach out to other leaders in the industry and seek out a mentor to be a sounding board based on their experience."
"Finally, never stop learning as it can be tough to thrive in a fast-paced industry. By keeping your skills sharp, not only will you strengthen your confidence, but it can increase your credibility with others too."
"One of the first things is to ensure exposure to opportunities within the industry early – even as early as elementary or high school. There are some cool things going on within AI but too often women don't think they are qualified because they discovered it later on."
"Training programs are important but visibility and supporting passion for this industry is a required first step. I'm living proof that pivoting your career is possible but would've loved to have discovered some of the opportunities earlier. It also goes back to women supporting other women and not letting our background, experience or even gender define us."
Felix Ohswald, CEO and Co-Founder of GoStudent
Felix Ohswald is the CEO and co-founder of GoStudent (www.gostudent.org/en). GoStudent provides students with 1:1, personalised online tutoring. The company, founded in 2016, became Europe's first EdTech unicorn in June 2021.
"Learning is all about inspiration. When you are fascinated by something you want to learn more about it. My passion for mathematics came from my grandfather, who was a science teacher. I was always a curious child, and from an early age I loved to learn. My grandfather taught me how to think logically through chess lessons, and would always take time to explain the how and the why. He would take mathematical and scientific theory and apply it to real life situations, teaching me how to overcome challenges or solve problems in a measured way, which led me to want to study mathematics at an advanced level."
"I believe that technology allows us to teach and learn STEAM subjects in a more innovative and engaging way, and I'd advise educators in these fields to explore this idea. You can use video games, for example, to illustrate how the concepts learnt in subjects like mathematics or physics can apply to the real world. This triggers a fascination for the subject – inspiring kids to want to know more. Games in themselves teach solution-oriented action, concentration, and cognitive stamina, but their benefits can also be extended to classic school subjects, making them exciting to the digital-first generation, and inspiring these students to want to pursue education in these fields further."

Catherine Diyakonov, Founder of Girls Will Stay
Catherine Diyakonov is only 17 years old, but already representing women in the STEM field. She has already won international prizes for her research on oxidative stress and degenerative diseases, including the Molecular Frontiers' Inquiry Prize, where she was judged by a scientific advisory board of world-leading scientists including thirteen Nobel laureates.
Not only that, but her organisation Girls Will Stay strives to encourage girls to fight back against gender stereotypes and pursue underrepresented careers. At first, it was a school club, but now it has expanded across Vancouver and California.
Diyakonov comments the following: "Representing women in STEM has made me realise how supportive many individuals are in our endeavours. It is incredible to hear how many people resonate with our mission, as well as how many young girls are impacted by seeing women in STEM-related fields. On the other hand, I have realised that society can certainly be judgmental of women in STEM. Some people become visibly confused when a woman loves both fashion and STEM. However, these stereotypes are something I am determined to break."
Dr Patience Mpofu, Founder and CEO of Peak Performance
"I have often been asked by many women, 'what would you tell someone who is struggling to navigate the STEM professions which are male dominated?' My book is a compelling and inspirational memoir filled with profound stories, wisdom, and lessons learned the hard way about succeeding in the tough, male-dominated mining industry for over 25 years."
"In my book, I have gleaned recollections from my life experience and offer women with advice and encouragement for ambitious women, especially those involved in, or considering, careers in the varying aspects of STEM. I also included my background and how I navigated my way to leadership positions despite limiting belief systems about women's career potential in an industry largely controlled by males."
"In summary, my wisdom and advice to succeed in STEM/STEAM professions, include; the importance of setting clear, actionable career goals; building networks of female mentors and co-workers who can help one another weather male-dominated workplaces; cultivating a humane leadership style; avoiding feelings of inadequacy and imposter syndrome and projecting confidence; and persevering through setbacks with sheer grit. Most importantly my quote below summarises what I believe will help women succeed."
"You need to unleash something extra to be the change you want to see in the world. It's about having a sense of purpose, stepping out of your comfort zone, using your voice to inspire others, and being a catalyst for change. Women have superpowers and it's time to unleash them! Wathinta umfazi, wathinta imbokodo is a Zulu saying that means, 'You strike a woman, you strike a rock.' Let us all shine our lights and help others shine theirs."

Dr. Moira Gilchrist, Vice President of Scientific & Strategic Communications, Philip Morris International (PMI)
"My advice for anyone starting out in STEM would be to have the courage to be yourself, and expect to be accepted. When I first started my career in the pharmaceutical sector, I was often the only woman in the room and I sometimes felt I had to change the way I acted to fit in."
"It wasn't until much later in my career that I realised you simply can't pretend to be someone else at work; it stops you from unleashing your full potential. So, I made a conscious decision to bring my whole, authentic self to work. Not only that, I started to expect that people would accept me — and they did. We all look at things through different lenses; that's what makes us unique in our working and leadership styles. I think if had known this when I was younger, I would have been happier and progressed much more quickly, so I would challenge anyone working in STEM to make sure you are bringing your whole, authentic self to work every day."
"In addition, find a mentor who not only advocates and supports you, but also challenges you and holds you accountable for your actions. One of my best mentors really challenged me to do things I didn't like to do and set deadlines for me so I kept to the tasks. Mentors can be people senior to you, your direct reports or your peers. Importantly, this must be a bi-lateral relationship. You need to understand their business problems and consider how you can help them, not just how they can help you. This will help you develop your career."
Robert McGregor, Founder and Director of STEAM Powered Education Limited
"I started my company in November 2019 and was a Primary teacher for 25 years. I spent 12 of those years on the International Schools circuit teaching in Rome, Mexico City, Lilongwe (Malawi) and then Al Ain in the UAE before returning to the UK in July 2019."
"My initial intention was to run after school clubs, Design Technology Training for Schools, Holiday Workshops and Teaching Supply cover for teachers."
"I am currently in 3 schools teaching after school STEM/STEAM activities such as Robotic, Coding, Carpentry, Scenery building and Model making. A maximum of 10 children in the club keeps it manageable."
"The lessons I have learned so far are too numerous to collate but some of the main ones are:"
"Never take for granted how many children will turn up to the clubs. Almost never is there a compliment of 10, therefore, calculating your income is difficult as a result."
"Don't think that a particular investment in a product will always be the answer to educating the children for a large period of time. My Lego WeDo boxes is an example. There are so many activities with the Lego WeDo, however, the children are done with it after about half a term or 6 sessions. Perhaps it's this generation of children."
"Build up a variety of products and activities so you have the flexibility to change and adapt to the needs and wants of the school."
"Regularly, sift through your products to check that all is in order. Don't leave it too long or you will find that the activity is difficult to complete if parts are mislaid, misplaced or lost."
"Constantly, research products by buying one and evaluating it carefully before committing. An example of this is buying a product that is great, full of features and technical aspects that would challenge the children. However, the rechargeable batteries provided have let me down again and again and it has to be returned."
"Be extremely careful not to upset your clients in any way. Offer discounts or free sessions if you make a mistake. My bookings through Wix let me down and I upset a parent about whether she had paid or not for several sessions. It turned out to be an issue with the App which Wix eventually sorted. I did take responsibility for the mistake and offered a free session for both her children plus a refund for sessions not attended. This had a positive affect on the parent and they were willing to continue with the clubs."

Njeri Watkins, BI & Data Analyst
Njeri Watkins is a Catalytic Leader, Business Advisor, Corporate Trainer with expertise in Business Intelligence, Data Analytics and Cultural Innovation. Njeri has been an Instructor with The University of British Columbia for over a decade and presented at over 100 conferences, digital technology events, academic institutions and government programs in Canada, United States and the Caribbean. Njeri is recognised nationally as one of the "100 Accomplished Black Canadian Women" and a "Thought Leader in Innovation" with INNOVATE Vancouver for the city of Vancouver, British Columbia where she resides.
"The impact of STEM/STEAM is all around us, shaping our everyday experiences. It is never too early or too late to begin your journey in this ever-expanding sector! After working in the industry for over a decade as a BI & Data Analyst and Digital Technology Instructor, I started my coding journey in Python, then completed the MIT Data Science & Machine Learning Program. Today, I am embracing my inner AI (Agility & Ingenuity) and leveraging technology to solve everyday problems like automation of daily tasks and complex business problems with predictive modelling."
"There is extreme uncertainty in our world today. The road ahead is challenging and disruption is the new normal. There is no better time than the present to embrace STEM/STEAM to design, innovate and lead the way forward to a more equitable and sustainable future!"
Julia Taylor, CEO & Founder of GeekPack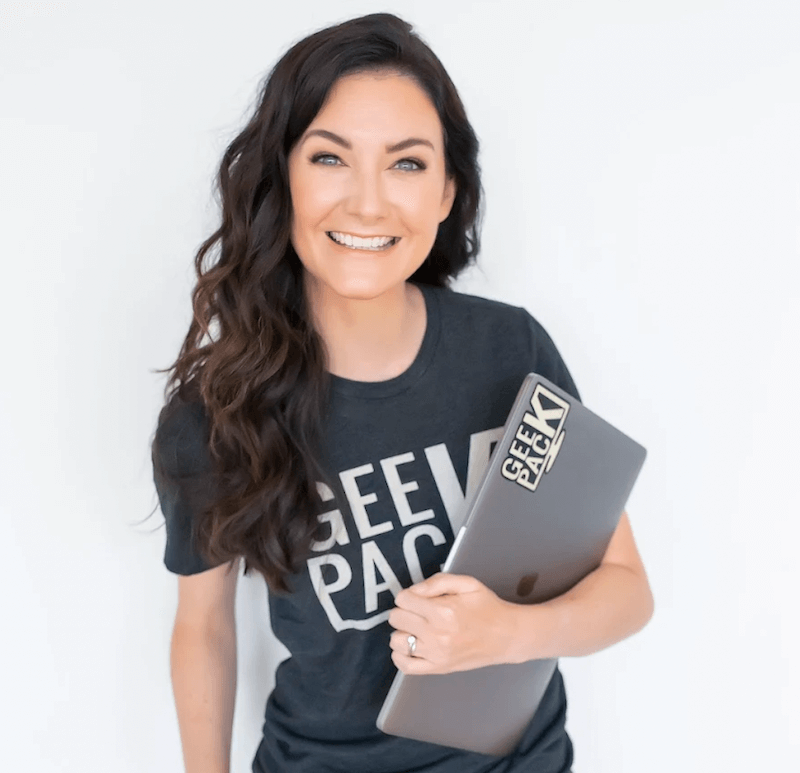 Julia Taylor is a self-taught web-developer and online business owner who founded GeekPack® in 2018. She is passionate about empowering women and girls everywhere to create better lives for themselves by teaching them how to code and manage their own businesses in the digital realm.
"We believe STEM Day is more than a celebration of Science, Technology, Engineering, and Math learning. It is also a celebration of the immeasurable things all women can achieve in STEM fields, regardless of their age, professional experience, or educational background. STEM Day is a reminder that any woman can be a part of these fields, because STEM is not a college degree, but an ever-growing knowledge we carry within us."

Zoë Morris, President at Frank Recruitment Group
"STEM subjects are perfect for inspiring innovative and proactive young adults who are unafraid to ask those big questions. We must foster minds that actively pursue new possibilities and nurture voices that ask "What if?" rather than accept the status quo.
"To unlock children's futures and allow them to take advantage of the enormous opportunities that STEM industries offer, we must give them the tools to open their minds. Using specialised days like STEAM Day, we can help build a future for STEM that celebrates inclusivity, creating industries that flourish in their diversity.
"This day is a great opportunity to tackle gender disparity in these industries. With National STEAM Day, we can shake the outdated dreams often imposed on young girls. There's nothing wrong with wanting to be a princess—I'm sure looking back, lots of us had this ambition at some point—but this is the perfect time to show how much more is available. By taking the time to champion inspirational females in these areas, we can give young women role models that inspire their potential and feed their confidence to reach for it!"
Suren Aloyan, Co-Founder/CEO of PopUp School
"Technological development and innovations drive our lives in the 21st century. As the world increasingly becomes more complex and sophisticated, so do our problems. To deal with the challenges of today and tomorrow, we need more creative thinking. To be successful, we need to equip the next generation with skills and knowledge that enable them to address the new challenges more effectively and efficiently."
"Embracing STEAM education in schools is key to educating the new generation of workforce, capable of dealing with complex issues and challenges. The STEAM disciplines provide an outstanding synergy making problem-solving more targeted and impactful–whether faced with small or big issues. Highly successful modern companies and organisations across the globe have proven that technological advancement is closely related to Science, Technology, Engineering, the Arts and Math. This is the reality of our world today."
"STEAM education is also critical for social justice. In a sense, it can be an equaliser for boys and girls, students from different social and economic backgrounds, and from different parts of the world."
"Education has the power to change and improve things for the better, and the STEAM education empowers the learners to think out of the box, and makes education more applicable for solving real-world problems."

Nabila Salem, President at Revolent Group
"As a woman who's worked in tech all my life, I've watched many women struggle in male-dominated environments, being kept out of board rooms and leadership meetings, and eventually leaving the industry altogether. Today, many companies are actively striving to improve their gender ratio, ethnic diversity, and overall equality within their organisation."
"That being said, there's still a lot of work to be done. For example, we recently conducted some research at Revolent* and found that less than one-fifth of FTSE500 CIOs are women. While I was disappointed at the findings, I can't say I am surprised."
"My advice to women out there who want to succeed in a STEM-related role but worry their gender will hold them back, if you put in the hours and dedicate yourself to becoming the very best at what you do, nothing can stop you from achieving your career goals. And don't let anyone tell you otherwise. We are only truly limited by our imagination and multiple roads lead to the same place, so keep going until you get there."
"Once upon a time, after years of hard work, I got fed up with being the minority in leadership, so instead of just accepting it, I decided to change it. I went on to join Revolent as President, built a senior management team of 50%+ women (two-thirds of whom are working mums) and 63% of employees that identify as Black, Asian, or Minority Ethnic; one of the most innovative and inclusive companies in our ecosystem."
"The truth is, you can be whatever you want to be, as long as you believe in yourself and are willing to put in the hard yards. Resilience, commitment, and hard work is what it takes."
Melissa van der Hecht, Field CTO at Kong
"The world of STEM is fascinating. Regardless of which field, innovation is a daily pleasure, pushing human and machine achievements to always do more and do better – and to try new ideas that fundamentally change our world. Watching this unfold whilst knowing you're a part of it is exhilarating."
"The benefits of diversity are well-proven, whether looking at team dynamics, higher revenue through innovation, or the sheer genius that a fresh perspective brings. For example, the ability to physically represent hyperbolic space confounded mathematicians for hundreds of years, until Daina Taimiņa, a Latvian professor of Mathematics at Cornell, was able to crochet it. Her creations are now the standard model for explaining hyperbolic space – and this would not have happened without her combining her interests in crochet and mathematics."
"This is where true innovation comes from, but not everybody is gifted this pleasure. Many companies now have DE&I initiatives, but we still have a long way to go. By the time we get to working age, it is arguably too late to show young women that they can study for a career in STEM. And once we get there, always being the only woman in the room makes you feel so exposed and under pressure, it's hard to want to stay there sometimes."
"But we must keep opening our own minds, as well as others', to the fact that you don't need to conform to the stereotype, and we must keep supporting everyone around us that we see breaking the mould. Because these are the people that are going to change the world."
"A few weeks ago, my 6-year-old niece started telling me about nebulas. She wants to be a scientist. And we need the world to show her she can be."

Sivan Tafla, Co-Founder and CEO, Total Media Solutions
"Female founders are still few and far between in tech, which is something we should strive to change to foster a more varied and innovative economy. My own experience setting up two businesses: Ad4ever –a media platform for advertisers – and Total Media Solutions – a technology company that helps publishers manage their revenue – has taught me that there are both internal and external drivers that encourage entrepreneurism across society."
"Firstly, tech entrepreneurs need curiosity and ambition. It requires seeing an opportunity to solve a challenge where others don't and then having the follow through to deliver this solution. For example, my first business Ad4ever came about in 1998 while I was still working in investment banking. I identified the potential to create rich media ads rather than static banner ads online, set up the company with this unique proposition, brought international brand clients on board, and eventually sold to a larger firm."
"Secondly, the tools need to be accessible for curiosity to be acted on. This largely comes from education, so it is critical that high quality science and tech teaching is available to everyone regardless of gender, race, or background. It's also important to see education as a lifelong experience. At my current company Total Media Solutions I'm constantly surrounded by smart people with vast technological knowledge; I continually strive to learn from them and complement my own skills. For this year's STEM Day, we should aim to address inequalities in the tech industry by giving curious individuals the confidence to act, and investing in education to provide the tools for success."
Anna Curzon, Chief Product Officer at Xero
"My advice to STEM professionals is simple. Stay curious, know your value and take deliberate action."
"By virtue of working in STEM, you have a curious mind and this is one of the most under-rated leadership traits. The more we continue to ask questions (of ourselves and others), the more likely we are to surface opportunities for change and growth – two things we've never needed more of as we take on a post-pandemic world. There has never been a better time for STEM to thrive."
"If the global pandemic has taught us anything, it's the sheer value of STEM industries; they are key to us solving some of the world's greatest challenges. But without equal participation, the problems we solve are only ever going to help a small portion of the community."
"As STEM expands, we must make sure the representation of minority groups expands with it. Therefore, my advice to those already working in these fields is 'know your value.' I learnt early in my career that being the odd one out in the room meant that you were probably the most valuable because of your unique perspective. We need to make more room for diversity of thought in STEM and everyone needs to shoulder this responsibility. This means shedding more light on the issues we're facing, activating advocates and stimulating discussion that everyone feels safe participating in. This starts with understanding your unconscious bias (we all have it), your ego (we all have one), and the privileges afforded to you. Our privilege is a powerful tool and when used correctly, it can unlock real change. Don't hesitate to speak up and own the power of being different. We will all benefit from the richness of ideas, skills and perspectives that can only truly come from a diversely populated industry."
"Finally, take deliberate action. As we face a global talent shortage across STEM industries, we can't afford to sit on our hands – we have to act with purpose and intent. Think of all the untapped potential we're yet to discover simply because we haven't taken the steps to broaden our scope and do things differently. Think of all the important problems we could solve through true diversity of thought. I believe technology will help us solve some of the most important problems humankind is facing right now – but only if we unlock access to it."

Brian Waterfield, Head of Immersive Production at Falmouth University Immersive Business Lab
"It's exciting to see how far we've come in terms of information, technology, design and creativity coming together. Information has never been so accessible or democratised and STEAM Day reminds us that we get the best results when we work across disciplines and boundaries."
"Every day, I'm inspired by the imagination, energy and vision of the young people around me who teach us all that there are endless possibilities out there if you are curious enough to go after them. It's a privilege to work with businesses and unlock their potential using digital experiences – it's a wonderful and powerful way of forming connections and simulating real reality, virtually."
"Here at Falmouth's immersive business lab, we help bring together innovators and creators and bring in business and enterprise to expand the reach and impact of our tech. We're at the coalface of true collaboration and exploration, pushing the boundaries, exploring possibilities and inviting others to take advantage of the incredible opportunities that are in abundance when our disciplines work together to make things happen."
"This STEM/STEAM day, we're celebrating the fantastic achievements of the entrepreneurs, coders, designers and creatives who support one another here in Cornwall and help pave the way to make us the UK's leading rural, creative economy. Anything is possible…we truly believe that."
Sophie Clark, HR Business Partner at Jagex
"The world of STEM holds endless possibilities – it's so exciting to think that job roles that don't even exist today will become the norm of tomorrow, and as the world becomes more and more reliant on technology, the opportunities provided by STEM careers will only continue to grow in number and importance. STEM has a home in every business which is what makes the career path so exciting for me – it's the perfect way to combine your interests with your skillset. Contrary to popular belief, STEM skills often allow you to pursue the most creative lines of work. Take the entertainment industry for example – without vast teams of skilled technicians, we would not have the films, games, or even Mark Zuckerberg's Metaverse to enjoy."
"Being a HR Business partner within the Games Industry at Jagex – leading British living games developer behind cult-classic game RuneScape – our people are at the heart of the whole operation. From desktop support to server complications and game programming, we ensure that our games run smoothly for 250 million players worldwide, and that our 500-strong team can continue to build what our community loves. With RuneScape entering its 20th year in 2021, our work is all about modernising legacy technology and planning for the future to make sure our game is the best it can be."
"My advice to budding STEM-ers out there is to find your passion – no matter the topic – and train yourself with the technical skills to become invaluable to that industry. Remember that creativity and technology go hand in hand, so make sure to research your options widely. If you're completely new to the field, then asking for a mentor or volunteering on projects are great starting points."