With the effects of the pandemic still prevalent for many smaller businesses and startups, the team at TechRound thought it was important to recognise those in the fashion industry creating beautiful, unique and sustainable products or finding ways to upcycle and interchange garments during February with the month being internationally renowned for fashion.
The team at TechRound have ranked the companies internally, and are thrilled to be able to recognise so many companies each contributing to making the fashion industry that little bit more sustainable.


27. Pattern Project
Instagram: @patternprojectuk
Founder(s): Simon Johnson & Shruti Grover
Pattern Project is a micro-factory startup with a mission to transition the UK from sweat-shop overseas mass-production of clothing to on-demand, distributed, local and smart production. They have developed lightweight machinery and a patent-pending software pipeline to make garment customisation and on-demand production cost-effective, clean and quick.
This means that garments no longer need to be mass-produced before they are bought – Instead – they can be produced moments after they are ordered. Interested? They are prototyping their first Microfactory/store in Brixton where garments by designers including Phoebe English, Katie Roberts-Wood, and Sophie Hawkins.
26. Dylon Dyes
Website: www.dylon.co.uk
Did you know that re-dyeing a pair of jeans rather than purchasing a new pair saves up to 20 kilograms of carbon dioxide production, which is the equivalent of a one-way flight from London to Madrid? Instead of buying from the shops, it is possible to upcycle your wardrobe using DYLON Dyes Machine Pods.
To use, simply place the ready-to-use pod in your washing machine. savvy fashionistas can revamp staple or glum garments from their closet to transform jeans, denim jackets, t-shirts, dresses, joggers, socks and more to keep up with the latest trends with minimal effort and time.
The pods come in a variety of colours including Jeans Blue, Olive Green, Espresso Brown, Sunflower Yellow and Intense Black. Alternatively, get creative and brighten your bedroom or living room by using DYLON Dyes on your bed sheets, table napkins, pillow cases or towels. The best fabrics to dye are cotton, linen and viscose, as they will maintain the full vibrant colour of the pack.
DYLON Dyes is available from Dunel, Hobbycraft, the range, John Lewis, groceries and DIY stores nationwide. When using any dye, follow the instructions on the package.
25. Modistyle London
Website: www.modistyle.com
Founder(s): Nathalie Wakim
The Modistyle London brand represents a new wave of fashion branding. Caring for the planet through thoughtful design, they have full control over the supply chain process and labour conditions. They also produce zero waste for landfill.
For too long, the fashion industry has taken its toll on the planet. Through ensuring that their haute couture capes do not have an end-of-life use, Modistyle London support the recirculation of the capes.
This enables them to offer their capes on a rental basis after their first year. Existing customers are the lifeblood of the company, so they offer any additional capes at a reduced price.
They also care about their customers' individuality, which is why their 6 week process allows for a bespoke approach to their products. Customers can choose the colour, the style and the beading, creating a highly personal and individual cape.
24. Pop London
Website: www.poplondon.co.uk
Founder(s): Shazia Saleem
Pop London is a sustainable fashion brand for people who love fashion. The brand was created in 2019 by sustainable fashion expert, Shazia Saleem. Pop London collections include extensive clothing categories and complimentary accessories, designed exclusively in-house. Pop London could be described as a pre-circular sustainable brand that works conscientiously re-using and reducing waste at every stage in the design, sourcing, production and sales process including aftercare.
The collections are produced between the UK and India from surplus fabrics and trims and, with the exception of faux furs, all fabrics are 100% natural. Shazia's aim with Pop London collections is to lead with design. In a stroke of luck, Shazia found a start up retail unit in London enabling the new brand to begin online and bricks & mortar presence simultaneously. Pop London is a more affordable sustainable fashion clothing brand predominantly aimed at professional and ambitious women has helped the brand gain excellent exposure and reputation.
As a fashion designer, Shazia has a rather unusual background with a degree in Accountancy and Masters in Marketing. Following this, Shazia studied fashion in Florence, Italy before working at a renowned luxury brand in London where she was exposed to head office roles and gained an insight into luxury retail. Shazia has been sponsored twice by the Harris Tweed mills to produce collections, she has represented the UK on international design projects, was a panellist at COP26 in Glasgow discussing sustainable fashion and is a regular contributor to BBC Radio.
For a small, independent start up, Pop London has gained significant media exposure. The boutique was selected as London's only sustainable fashion destination by Conde Nast Traveller and as one of the best independent boutiques in London by Stylist magazine. Pop London is a sustainable fashion brand with a real wow factor merging design, quality and price with ethics and the environment at its core.
23. Onesta
Website: www.onesta.uk
Founder(s): Gabriella Diana
Onesta is a conscious lifestyle brand that provides high quality, timeless clothing for men and women, while not damaging the planet. Onesta means honest, and they approach every aspect of their work with total transparency: from the way they source
and make clothing, to the way they protect our workers, care for the earth, and uphold animal welfare.
They don't compromise style for sustainability. They create timeless, stylish staple pieces that can be loved for a lifetime. Onesta began in a small studio in South Wales where founder, Gabriella Diana, had a dream of doing business differently. The UK has a rich textile history that has sadly been depleted over the years. Having once been a hub for textile manufacturing, Wales has felt the impact of factories closing and manufacturing being outsourced overseas.
Proud of their Welsh heritage, Onesta is bringing manufacturing back to the UK, creating jobs and reducing our emissions on the planet. Their goal is to make a positive impact on the fashion industry from the ground up because it's their responsibility to look after the world.
Every element of the business has an environmental or social purpose. They source natural fabrics, use biodegradable packaging, partner with charities, are committed to becoming zero-waste, offer a lifetime repair guarantee, and manufacture in the UK by skilled British makers to ensure safe and ethical working conditions. They're committed to giving back by donating a portion of proceeds to three carefully selected charities who are making a difference with environmental recovery, human rights, and animal welfare. To date, Onesta has donated 20% of our revenue to these charities.
22. PrimaBerry
Website: www.primaberry.com
Founder(s): Susana Teixeira & Amin Khan
PrimaBerry is a UK based sustainable online clothing and accessories store for men, women and children, featuring collections inspired by the diversity and culture of multiple countries from around the globe.
Susana and her partner Amin met in England and together em 2021 they created PrimaBerry, a dream come true that combines what they love most: fashion, travelling, and people.
PrimaBerry is the combination of the Portuguese word "Prima", which means "top quality". It is also associated with "primavera" (the Portuguese word for "Spring"), with the English word "Berry", associated with health, youth and kindness. In just two words, PrimaBerry combines the fresh ideas that the brand brings to the market, colour and quality while hinting at the interculturality that is part of each of our products.
They knew from the beginning that they wanted their business to be as sustainable as possible: They use sustainable and recycled materials, seed tags, avoid plastic as much as possible, fund tree planting, support small artisans and do not support work slavery. Being always involved in national and international volunteering projects, they want to continue to give back.
At PrimaBerry, they donate 5% of their profits to causes and projects mainly related to education and animal welfare. For the future, they want to introduce more sustainable items and measures to their business and demonstrate to their customers that sustainable fashion can be affordable.
Every country and place you visit has a story, countless memories and something special that you can never describe. Their mission is to capture all that and express it through fashionable clothing and accessories that you will be proud to share with the world. They are starting with the United Kingdom and Portugal, but they won't stop there. You will soon find new items inspired by a variety of other countries from around the world.
21. Babble & Hemp
Website: www.babbleandhemp.com
Founder(s): Charlie Thomas
Founded in 2019 with a stall at London's Portobello Road Market, Babble & Hemp is a new men's shirt brand on a mission to reintroduce hemp to men's wardrobes. Featuring classically designed shirts across a range of exciting colours – all named after locations where hemp has been grown throughout its tempestuous history – the fabric resembles a luxurious linen which holds its shape well and softens with each wash.
Growing organically requiring only rainwater, hemp clothing has a minimal footprint on the environment. "Whereas a cotton shirt requires around 2,700 litres of water to make throughout the whole growing and manufacturing process, a hemp shirt requires 500 litres of water" explains the brand's founder, Charlie Thomas, who discovered the exhaustive environmental impact cotton growing was having whilst on an Edinburgh University Sustainable Fashion trip to India in 2018 as part of his Business and Geography degree.
Hemp's fascinating history saw it first turned into cloth from a wild plant in 3000 BC, since then it's been used in building the Egyptian Pyramids, as sailcloth for naval fleets and was one of the most used fabrics in clothing until cotton replaced it in the 18th century.
Charlie explains that hemp's demise came about in the 1930s as a result of increased condemnation of the cannabis plant. "The combination of its link with cannabis smoking (hemp is a sister plant to cannabis) and the fact that oil and steel barons were becoming increasingly concerned at hemp's potential to provide alternative resources to their profitable industries proved a problem.
Before long, the oil and steel barons successfully lobbied the US government to criminalise it alongside cannabis, meaning farmers ceased to grow it, and no more fabric was made."


20. Lashes of London
Website: www.lashesoflondon.store
Founder(s): Joanne Jones
Lashes of London rebranded at the end of 2020, and the next collection (dropping on to ASOS in March or April) will have 30% of the collection made from fully recycled yarns. Printed tea dress styles will be manufactured with 100% recycled satin bases, and over the next year they hope to increase the amount of sustainable products they can offer in the range whilst still keeping their fun, bright, young fashion vibe.
They have recently sourced part recycled crepes for tailoring pieces which they hope to introduce in to the ranges in the next 6-8months, and are also sourcing biodegradable packing options for orders made through the website.
Pieces are affordable but they offer a point of difference through adding a cute design detail to each piece or a trim to give the product added value and make it the kind of item customers would want to wear more than once, thus moving away from the fast fashion throw away mentality.
The founder is very aware of the fast fashion/instagramable world we are living in, and part owns a supplier to UK online retailers such as the Boohoo Group, who she is working on sourcing sustainable cloths for. They very much love that this is the way fashion is moving and want that to be reflected in their own brand.
Whilst it has been a slow progress across the industry, Joanne now feels there are so many more material options available with the recycled yarns and the eco viscoses, making it more accessible for sustainable cloths with nicer hand feels and pigments of colour, especially on woven.
Upon graduating from London College of Fashion in 2009, the editor of Grazia at the time as they named Joanne the one to watch after her sustainable project – although she remembers all the cloths looking quite sack-like. She dyed a dress up in blueberries, and whilst it was a beautiful piece, at the time options were limited – especially on larger scale production, making it more about one off's. This was very expensive, not accessible for everyone and some of the clothes felt uncomfortable to wear.
10 years on, sustainable yarns are much more available and more affordable. So Joanne's aim with Lashes of London is to integrate this in to her collections and offer product that is sustainable – but not at the expense of the colour, the price or the overall look of the garment, thus reaching the younger and mass market and bringing sustainability.
19. TABBY.FIREFLY
Website: www.tabbyfirefly.com
Founder(s): Louise Lea
TABBY.FIREFLY is a Carbon Neutral start-up offering quirky clothing and wall art. Witty, colourful, and playful, their clothes and prints tell a story while being super sustainable. Every one of their items is made to order, reducing needless waste and ultimately, piles of clothing in landfill.
Their clothes are made using natural organic fibres – 100% certified organic cotton – and can be sent back for recycling at the end of their life. That's because each garment they make is designed to be recycled once worn out; they make new products from the material that's recovered, giving them a truly circular process.
The company offers t-shirts, vest tops, hoodies and sweatshirts for men and women as well as A3 art prints. From bold, graphic lightning bolts and an "Overthinkers Club" design, to a sleek anchor logo and the 80s inspired Good Vibes cassette tape, there's something for everyone in TABBY.FIREFLY's range.
The company uses renewable energy from the sun and wind to power production. They use water-based, low impact inks. Art prints are produced on high quality 300gsm 100% recycled paper. And all products are shipped in packaging made from plants, not plastic.
Giving back to nature is also high on the agenda and customers are encouraged to get involved too. The company offers regular tree and wildflower planting initiatives, as well as recovering plastic from the oceans. Customers making a purchase during one of these promotional weekends have the conservation carried out on their behalf automatically.
18. Sew Confident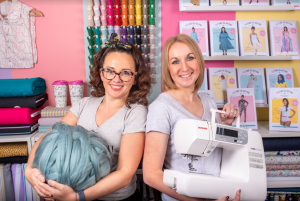 Website: www.sewconfident.co.uk
Founder(s): Jenny Drew
The Sew Confident team are keen to slow down the fashion industry by encouraging people to swap spending for sewing to create sustainable garments, gifts and more.
Sandra Cassidy, who runs the Dundee franchise, said: "In today's consumerist society it really is hard to buy gifts. If someone wants something, they go ahead and get it for themselves. The feedback we've had from our customers who attend classes learning to knit, crochet and sew everything from dresses to lampshades, is that giving a gift they have made really does have special meaning. Nothing says I love you like a handmade gift. It truly will be one of a kind which gives it special meaning, while also being kinder to the planet."
Jenny Drew, added, "The beauty of learning a skill like sewing is that it continues to help make green choices. We've seen people who were scared of threading a needle who can now make their own clothes with confidence. When you spend that much time and effort making something for yourself you absolutely cherish it and wear it time and time again. It's the definition of slow fashion."
Sew Confident are now offering Valentine's themed classes where guests can crochet their own heart decorations and sewing classes to create your own lingerie sets.
17. Re-Threads
Website: www.re-threads.co.uk
Founder(s): Liz McGreevy & Matt Roche
Re-Threads began their journey during the pandemic and wanted to address the huge issue of waste and lack of sustainability within the construction industry (particularly the clothing aspect). However, making sustainable clothing wouldn't even touch the surface of what they really wanted to do. Which was to bring skills, jobs and opportunity back to those who need it most, utilising the brand they were creating to bridge that gap.
They work in partnership with Rise Futures, a registered charity that works with young people in the care system looking to gain meaningful experience, skills and hopefully employment once they leave the system.
They are aiming to be fully circular – zero waste and net carbon zero with hopes of being carbon negative in the very near future. They have plans to bring to life various projects including a Re-Threads academy that will expose their Rise students to all aspects of the business, from design to delivery; community activations; workshops and events; their own brand of reusable packaging utilising construction waste that has been repurposed.
16. Nedap Retail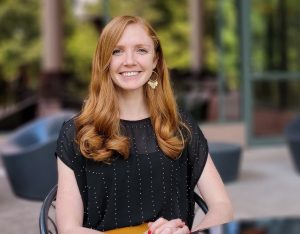 Website: www.nedap-retail.com
CEO: Ruben M. Wegman, RFID Project Manager: Jessica St. John
Nedap is the global leader in RFID-based retail solutions and helps retailers achieve perfect inventory visibility, with zero waste and no losses. Nedap's iD Cloud platform simplifies the multi-store retail and supply chain management using RFID and gives retailers real-time item-level insights into their stock levels and the exact location of each item. Using these real-time insights, retailers can be more agile, offer customers a better omnichannel shopping experience, and increase sales.
With millions of tons of clothes being sent to landfill each year, it's become essential for retailers and brands to find ways to reduce the number of items being produced. With retailers currently operating at 65% inventory accuracy on average, implementing RFID for inventory management can lessen the environmental impact by improving accuracy and preventing additional stock.
With 98% accuracy achievable with the right technology, more informed decisions can be made around stock levels. If items aren't selling, the amount being produced can be altered at the manufacturing stage to minimise the use of production materials and transport emissions. This process allows brands and retailers to determine that all the stock produced will be sold and fewer items will be sent to landfill. With more retailers making the pledge to reduce their inventory levels, the challenge they need to overcome is achieving this while still increasing sales.
With more sustainable retail on the horizon, brands are now under pressure to make sure the materials they use are having minimal impact on the environment. With this in mind, they need to take a closer look at their supply chain and start making small changes that over time will make a significant difference. An example of this is minimising plastic use in RFID tags and instead opting for a sustainable version, which allows RFID labels to be printed onto recycled paper without plastic layers and harmful chemicals.
As the conversation around sustainability and fashion picks up momentum, retailers are adapting to what their eco-conscious customers want and expect. Not only does this lead to increased social responsibility, but it enables retailers to attract shoppers to their brands while making a positive impact on the planet.


15. RELUV
Website: www.reluv.co.uk
Founder(s): Mollie Spurr
Mollie Spurr was born in Lincoln and with the help of Falmouth business incubator, has recently started a business that supports charity retail stores whilst they become part of their online marketplace community.
She founded 'RELUV' during the pandemic and believes they have a great solution to building an Online Charity community marketplace and future proofing the Charity Sector. They have soft launched their web application recently and are looking to the next stage of growth.
Their main goals are –
1. Revolutionise the charity sector with modern and accessible solutions
2. Educate the community in the many benefits of a circular economy of fashion
3. Lift, support and develop online UK Charities and their causes
4. Unleash the power of digital, making charity shop shopping accessible to all
5. Vitalise online, affordable shopping experiences that support the environment, reduce consumption and eliminate waste.
With the effects of COVID-19 still showing themselves within the charity retail sector, they would like to provide future online selling security. Their web platform is designed to host charities all in a non-competitive space, whilst they work with the charity community.
The platform takes a 9% commission for each item that is sold and a £5 monthly subscription fee for use of the platform. However, this subscription starts after a 3 month trial period and it is encouraged to post as much as possible during this time to really get the most possible from the platform.
14. Maalo Jewellery
Website: www.maalojewellery.com
Founder(s): Mon Alonso
Mon Alonso is the founder and designer of Maalo Jewellery, a sustainable slow-fashion brand handmade with recycled metals.
Maalo was born from the desire to create timeless and ageless jewellery for every occasion, whilst having a minimal impact on the planet.
All their materials are either made with recycled silver, recycled or Fairtrade 9ct gold and their gemstones are responsibly sourced, in order to minimise environmental disruption. Their packaging is recycled, recyclable, and plantable. Production-wise, all their pieces are handmade in small batches either by Mon in London or a small team of artisans in her hometown in Mexico, to avoid the unnecessary waste caused by mass production and to support the craft of local talent in Mexico.
Whilst the founder tries to create pieces that are comfortable and will last a lifetime, she also wants the customers to feel like they're wearing something unique. That's why she also offers a bespoke and, soon to be launched, a renew service, to help customers create a new piece that has a special meaning to them, or give a new life to an old jewel they already own.
13. Bare Kind
Website: www.barekind.co.uk
Founder(s): Lucy Jeffrey
Bare Kind is a bamboo sock company that donates 10% of profits to a charity that saves the animal on the sock. 2021 was a big year for them as they were able to contribute so much towards their goal of saving animals. Customers loved the Orangutan socks so much that they were able to fund the protection of 887 acres of tropical rainforest for a year through The Orangutan Foundation! They had huge impacts with other socks too, with all contributions available to see on Instagram or the website.
At Bare Kind, they believe it's really important to give customers the opportunity to have a positive impact with their purchase. More and more people are holding businesses accountable and 2022 will see more businesses – rightly so – putting in place more environmental and sustainable practices. If every fashion company donated a portion of profits to charity, we would be living in a world where the action of shopping has positive ripples across the globe.
This year Bare Kind will have more socks than ever, which means more support for charities. They hope to bring more smiles to people's faces as they put their socks on in the morning knowing the difference they have made!
12. Alyda
Website: www.alyda.co.uk
Founder(s): Abbey Gregg
Alyda is a contemporary womenswear brand that ethically produces garments exclusively targeting petite women under 5'4". Their aim is to fill the gap within the market, by targeting and empowering the modern-day petite women who often struggle to find flattering, high-quality and ethical clothing at an accessible price. All pieces are designed with the petite figure in mind, addressing the common fit issues head-on and are accessible to women of all shapes and sizes.
Alyda has a strong emphasis on slow fashion which involves slowing down the fashion cycle in the production and consumption loop. Throughout the garment's lifecycle, they take into consideration the ethical and environmental factors at each stage. Alyda values quality over quantity and is focused on creating high-quality, versatile and timeless garments that are designed to be cherished forever.
Furthermore, they partner with responsible, skilled manufacturers in the UK to produce carefully curated styles in a limited number of pieces to reduce waste. Throughout their collections, they prioritise the use of sustainable fabrics and trims, overall choosing low-impact options wherever possible. Their initiatives do not stop there, as all their packaging is 100% recyclable and they have recently partnered with rental brands to contribute to a more circular economy. Some targets are hard to achieve straight away, that's why they pledge to be innovative and continue to evolve.
Overall, Alyda aims to be an ethical and responsible challenger brand, tackling the common fit issues faced by petite women without compromising the stylish, timeless and high-quality clothes they want and deserve.
11. Infinite Closet
Website: www.infinitecloset.co.uk
Founder(s): Sarah Korich & Luisa Jimenez
Infinite Closet is a clothing rental service focused on independent ethical and sustainable designer brands, delivered right to your door. Their mission is to help women feel confident and fashionable while creating a more sustainable future. Infinite Closet's e-commerce platform allows customers to rent and buy independent brands while cutting their carbon footprint and supporting "slow" fashion – making it affordable for the average consumer.
They take the guesswork out of the fashion industry by partnering with sustainable, ethical, and minority and/or women-owned independent brands. By creating an "unlimited" designer closet, they allow women to feel great every day. Their values revolve around 4 main pillars: sustainability, inclusivity, diversity and affordability.
The UK produces 350k tonnes/year of clothing waste and the average garment use-time has decreased by 36%. Their clothing rental platform not only focuses on sustainability but gives consumers the chance to find new designers that are making real changes in the industry while making these brands affordable to the average consumer. The website/app is designed to educate consumers and make the fashion industry more transparent. It also makes it easy to shop from home and have rentals delivered directly to your door, using zero-emissions delivery and eco-friendly dry cleaning partners.
Infinite Closet's fully circular business model ensures the end of the lifecycle of the clothes is taken into account with a promise to give all of clothes have a second chance at life. When clothes are no longer able to be rented, they sell the clothes at a discounted price to their customers. Any clothes unable to be sold are donated to non-profit partners. Anything damaged or unable to be worn is donated to partner fashion schools that allow the students to use the clothes as materials for their school projects.


10. Minimal
Website: www.minimalfashion.co.uk
Founder(s): Maria Vasileva & Luke McAllister
Minimal is the UK's one-stop shop for sustainable fashion. Minimal was born in 2020, in the midst of the pandemic with the goal to raise the bar in exposing externalities to customers by using data and technology to give users what they need to make better decisions for people and the planet.
Inspired to move away from the fast fashion industry, co-founder Luke McAllister decided that the time was right to share the technology and innovation readily available to the industry giants with the broad range of truly sustainable brands to increase their exposure. He was later joined by Maria Vasileva, who brought her years of big tech experience and a passion for driving sustainability forward. And that's how Minimal began. Along their journey, they were joined by a collection of enthusiastic, smart, and talented people who helped to create and cement the foundation of Minimal.
It took more than a year to bring the idea to fruition and they officially launched in November 2021. What makes them different is their minimalistic design, fashion-focus and non discriminative approach to their brand partners and customers, whether it's price, style, sustainability parameters or special fit considerations.
Minimal's mission is to make sustainable shopping widely accessible and universally available for all, through technology and partnering with brands with a genuine ambition to create a better world. They empower independent fashion brands to compete on ethical performance, positioning sustainability as an opportunity, not a cost. They empower customers through personalisation features such as sustainable stylist, helping to save their time for building a sustainable wardrobe and minimising product returns.
They believe that sustainability is a spectrum. We don't need a binary distinction between good and bad, we need a clear view of the vast expanse between. Minimal are committed to help consumers dress better, protect the planet and improve the lives of the highly-skilled people that make the clothes.
9. ThisisUnfolded
Website: www.thisisunfolded.com
Founder(s): Cally Russell
ThisisUnfolded is building a brand new way to shop for clothes that is both sustainable and affordable. This new retail model focuses on removing waste at every stage of the process and using the savings made to pay garment workers better wages and to create positive impact in the manufacturing community through funding children's education.
ThisisUnfolded was started in March 2021 by Cally Russell and a small Scottish team who in 2020 managed to support over 113,000 garment workers and their families in Bangladesh during the Covid pandemic through clothing initiative – Lost Stock.
When the coronavirus struck billions of pounds worth of already produced clothing orders were cancelled by retailers – leaving foreign factories with piles of unwanted stock and no means to pay their workers. Lost Stock purchased these clothes, selling them direct to consumers as 'mystery boxes' based on size and style preference. Every box sold supported a garment worker and their family in Bangladesh for four weeks.
The response was amazing and within just 7 months of trading; 125,000 boxes were sold to 10 countries, 113,000 people were supported and thousands of products avoided landfill. Lost Stock was always a short term solution utilising the cancelled stock, ThisisUnfolded builds on lessons learnt and aims to end the inefficiencies and inequalities within the fashion industry.
ThisisUnfolded offers capsule collections of affordable sustainably made clothes, removing the waste and overproduction. This new way to produce and sell clothes is powered by data, community and a factory to consumer model. Clothes are only produced once orders are placed, removing overstock and ensuring demand is matched to production.
Launched in late 2021 with three collections to date, ThisisUnfolded is already supporting over 1300 children in education in India for the coming year through our local charity partner Pratham. Founder Cally has also won a range of tech, fashion and entrepreneurial awards and is an alumni of the Forbes 30 Under 30 European influencer list.
8. Neem London
Website: www.neemlondon.com
Founder(s): Nick Reed
The post-pandemic world has seen a shift in the way we live, work and dress. Homes have become transient environments within which many of us have had to combine working and living. Neem London explores the space between tailored, traditional corporate wear and a newly emerging casual sphere that requires both sharpness and comfort.
Nick's vision was to create a menswear range that met the changing needs of the modern man. He wanted to create a timeless, capsule collection that not only felt and looked good but also, did good. After many years in the fashion industry, he used his expertise to create a post-Covid uniform – they call it power-casual.
Elegant, versatile and comfortable, they work with recycled yarns and constructions on an exclusive basis, as well as the lowest-impact cotton fibres available and biodegradable packaging.
Every garment thread is carefully considered, from initial sketches to laser-like accountability across all logistic, manufacture, transportation and regenerative agriculture channels. Contrary to popular belief, luxury and sustainability can go together and Nick refused to compromise on either. The result is Neem London – contemporary clothing with a conscience, for men who want to invest in more than just how they look.
7. VYN
Website: www.vyn.one
Founder(s): Catherine Meuter & Stefan Mathys
VYN is the first sneaker brand that holistically examines all aspects of the life of sneakers. VYN stands for responsible materials and manufacturing, eco-innovation (designed for self-repair), care services, and at the end of life, responsible disassembly and
re-use of materials and resources, thereby creating a circular sneaker system.
VYN was founded by the Swiss Designers Catherine Meuter and Stefan Mathys in 2019. With their wealth of over 25 years of international experience (Giorgio Armani, Harrys of London, SWIMS, Reiss) in footwear design and development. They are
passionate about bringing a positive socioeconomic impact and circular thinking to the footwear industry. After 3 years of research and development, they achieved proof of concept of the first self-repairable sneakers in the world.
VYN offers highest quality, comfortable and contemporary premium sneakers with a unique eco-innovation. The most vulnerable parts of sneakers (heel piece and heel counter) are engineered and constructed in a unique new way, to become repairable and replaceable by the owners themselves. This allows for a three times longer lifespan, but also becomes a personal style feature that allows personalisation by the owner. The interplay of longevity and personalisation on a single pair of sneakers creates a value shift that follows the belief of the founders in buying less but better products.
6. eTHikel
Website: www.ethikel.com
Founder(s): Amerjit Briah
eTHikel is an environmentally conscious online retail destination on a mission to provide customers with the options they need to pursue an eco-friendly life. The British retail destination sources quality products from trusted sellers who share eTHikel's pro-Earth values, helping shoppers reduce their impact on the environment
The British marketplace aims at helping experienced and non-experienced eco-conscious buyers alike, by providing them with choices ranging from clothing, accessories and home, to beauty, food, gifting, health and wellbeing. Some of the fashion and accessories brands available on eTHikel include customer favourites 1 People, Votch, Sami-K, nude & not and Allkind.
The company was founded in January 2021 by Amerjit Briah, a successful fintech lawyer and mother of two with a passion for sustainable living. eTHikel was directly inspired by Briah's own journey with ethical living. Choosing the right lifestyle became a priority for her when she started a family, and the idea of eTHikel was born after seeing the result of plastic pollution first-hand during a trip to South Asia.
eTHikel only sources products from carefully vetted suppliers, with a collection of over 2000 products on site, directly sold and delivered by over 80 sellers. All products must fall under at least one of eTHikel's ethics categories, such as Carbon Reduced, Non Animal Tested, Organic, Plastic Free, Vegan, and more.
eTHikel also brings a luxury department store experience to its online marketplace, creating a beautiful hub for ethical customers. The company is also committed to data security, following its pillars of honesty, trust, respect and transparency.
Since its launch, eTHikel has won various industry awards, and added new sellers to the marketplace, such as Watson & Wolfe, Boody UK and Gooseberry Pink, diversifying its offering with more ethical options.


5. dotte
Website: www.wearedotte.com
Founder(s): Louise Weiss & Samantha Valentine
dotte is the UK's first fully circular peer-to-peer marketplace where parents can buy, sell, donate and recycle outgrown children's clothing. More than a marketplace, they are a movement of parents supporting each other to live a more sustainable family life.
dotte was born in the midst of the first lockdown, out of genuine parental frustration at the lack of circular options available for this life stage. Like most, co-founders Louise and Samantha had been aware of fast fashion and it's environmental impact for some time. But after having children they were both overwhelmed by how quickly their kids were growing out of clothes but also how few truly accessible options there were for selling them on. Shopping secondhand for their kids just didn't work. Too much time. Too much effort. Not enough choice.
dotte was created to provide a clear solution to the fastest area of fashion but has rapidly grown into a progressive, fashion-conscious community of like-minded parents. By opening up thousands of children's wardrobes with a family-to-family marketplace, they offer a simple one-stop-shop where parents can give their kid's clothes a second life and earn money to reinvest in the brands they love – but also reduce their family carbon footprint and protect the planet.
They believe that together we can slow fashion down, make every stitch count, and love every fibre of the fabric. With their curated edits and style discovery, featuring their inspirational community (think Alex Stedman, Yasmine, Franki and Mirlah), and resale collective (featuring perks and discounts on some of your favourite kidswear brands), they make shopping second hand feel like new.
4. Saywood
Website: www.saywoodstudio.co.uk
Founder(s): Harriet Saywood-Bellisario
Saywood is an ethically made, contemporary slow fashion brand, focused on colourful, wearable everyday essentials – the staples beyond the classics. Made in small volumes from responsibly sourced materials, each piece is elevated with beautiful attention to detail, designed to be worn and re-worn.
The first collection comprises a beautiful edit of shirts and shirtdresses – the ultimate wardrobe staple – elevated through colour and unexpected details, making each piece unique.
The brand was established in October 2020 by Harriet Saywood-Bellisario, a designer with over ten years of experience in the fashion industry, to prove that it is possible to work responsibly and fairly with a supply chain, producing desirable items without an excessive price tag. Harriet aims to change the face of sustainable fashion through an ethical lens, one piece at a time. To offer consumers the chance to build up their own sustainable wardrobe, adding to what they already have, slowly with consideration.
At the heart of the brand story is a desire to reconnect with the people and processes behind what we wear, and in doing so, press pause on throwaway fashion. Saywood collections are small, with an emphasis on quality designs that last, but leave as little mark as possible on the planet through all stages of their lifecycle, in every way.
Saywood works with ethical factories that pay well above the living wage, and work towards a more environmentally friendly way of manufacture, with an ambition for zero waste. Fabrics are an integral part of Saywood, ensuring a premium look with a sustainable approach. Natural fibres are used throughout the collection, recycled materials and deadstock fabrics are used as much as possible, with no new cloth produced. Even the buttons are natural, eco-friendly and biodegradable; Saywood uses buttons made from the corozo nut, or Codelite – made from milk casein – from British heritage button makers Courtney & Co.
Saywood's mission: Uniquely designed, thoughtfully made pieces you'll want in your life, always.
3. LOANHOOD
Website: www.loanhood.com
Founder(s): Lucy Hall, Jen Sharen & Jade McSorley
LOANHOOD is the fashion rental app for Gen Z, empowering uses to rent style over trend-led fashion. Our community is gender inclusive, creatively diverse and offers an accessible way to wear 'new' through renting personal wardrobes. It has been stated that 64% of British 16- to 19-year-olds admit to buying clothes they have never worn (The Guardian, 2021).
Yet Mintel data also shows that Gen Z claims to care more about the environmental impact of their purchases. This juxtaposition in mindset means that we must find ways to put fashion rental into practice that satisfies value as well as validation. LOANHOOD's hyperlocal social network for sharing wardrobes taps into Gen Z digital natives and connects Loaners and Borrowers, which can be scaled city to city.
Founded by Jade, Jen and Lucy in 2019, the three female co-founders decided to use their experience in the fashion industry and disrupt the traditional system. LOANHOOD is all about the consumers, empowering them to be less passive and create a more sustainable fashion future by owning less and loaning more. Not only do the founders want to help users of the app monetise their wardrobes, but support independent and sustainable brands to create a new revenue opportunity and limit the need for overproduction through renting items from smaller collections.
2. Satatland Ownership Free Circular Fashion
Website: www.satatland.com
Founder(s): Karishma Gupta
Satatland is a London based circular fashion tech brand. They believe they can see a positive change in their lifetime by taking a holistic approach to fashion. Disrupting how society produces, sells, consumes and disposes of clothing.
Their positively impacting sustainable clothing is offered via their disruptive e-commerce platform that offers freedom to shop based on how often customers repeat their outfits. They can either rent, lease or buy, and save more than money.
Once customers are done with their outfit, Satatland will happily take it back for responsible reuse or recycle in exchange of 10% discount on next purchase.
1. PLAINANDSIMPLE
Website: www.plainandsimple.com
Founder(s): Duco Bloemers
Duco Bloemers is the founder of circular clothing company PLAINANDSIMPLE based in London. He is an entrepreneur with a passion for creating a better planet through good business. He has created a new kind of clothing company that makes high-quality products, responsibly produces and then takes back it's old clothing to reuse the materials. Closing the loop on fashion, reducing waste and giving people a better choice.
They believe in doing the essential thing for a healthier planet by creating premium quality essentials that are Made to be Re-Made. Their GOTS certified organic cotton t-shirts are responsibly made in ethical factories, designed to last and come with complete transparency on pricing.
They offer free returns and a lifetime guarantee, that when they're worn out, you can send them back ans get £6.00 store credit before they then break them down and turn them into new ones.
As a circular clothing company, they know that not all of their t-shirts will come back to them, and that's ok because they have been made out of 100% organic cotton, with no plastic from the fabric to the label, and they are 100% biodegradable. They are fully circular and good for the planet.