Fellas, if there's one part of life that makes sense for a set-it-and-forget-it subscription service, it's male grooming.
Whether you like to stay clean-cut, sport some designer stubble or rock a look that's more rough and ready, the truth is it's always nice to have products on tap that can help you look (and smell) nice.
Here at TechRound, we've pulled together our list of the top 10 male grooming subscription boxes so you don't have to. Whether you want cheap and practical or something more indulgent, our list has you covered:
1) Absolute Collagen

Absolute Collagen's liquid formula provides you with a high dose of collagen in a concentrated daily dose in a convenient travel-friendly sachet. According to them, of all the supplements on the market, their formula contains the most collagen, in the smallest ready mixed dose, at the lowest possible price.
Collagen for men provides a naturally nutritious way of treating common skincare problems, ageing skin and thinning hair. Plus, Absolute Collagen contains a mighty 7.7g of protein, ideal for post-workout and muscle rejuvenation. Infused with vitamin C, for maximum absorption, their collagen supplements for men is packed with 8000mg of hydrolysed marine collagen, protein and essential amino acids.
What you get
To subscribe to 2x boxes of 14 sachets every 28 days, the subscription costs £53.98, which equates to £1.93 per day/sachet.
2) Dollar Shave Club
It wouldn't be a top 10 round-up without the OGs of male grooming on the list. Dollar shave club originally provided just shaving accessories to men on subscription, but have now expanded to a wider range of grooming products. Despite the name, the subscription no longer costs a dollar but can be customised based on individual preferences.
What do you get?
The service is a total mix and match, but a typical pack can include:
Razor heads (x4)
A razor handle
Shave butter
Post shave spray
Shampoo
Body soap
A typical subscription comes in around £30 for a box every two months.
3) The Beard Club
For the more furry-faced folk among you, look no further than the beard club for your one-stop shop to all things facial hair. The service provides a range of products for those looking to grow, maintain or groom their facial hair. Amongst the products is a 'growth kit' with growth shampoo and growth oil, and an 'advanced' kit that includes an array of products to help you maintain your newly-groomed chin mane.
What do you get?
In the 'ultimate' beard grooming kit includes:
Beard Oil (unscented)
Cedar Wood & Lime Beard Balm Cedar Wood & Lime
Peppermint & Tea Tree Beard Shampoo & Conditioner
Handmade Luxury Dark Wood Beard Comb
A subscription through Amazon costs £37.97 for a delivery every 3 months.
4) Toppbox
An alternative to dollar shave comes in the form of Toppbox, a service that also provides a range of personalised products based on skin type, hair length and beard length. The brand prides itself on helping people explore new products and mix up their grooming regime.
What do you get?
The boxes are personalised based on a variety of factors, but tend to include products for hair, body, skin and teeth.
A subscription costs £24 + £3.35 P&P and boxes are delivered once every 2 months.
5) CDLP
A slightly different side of male grooming – this subscription service that helps you keep things fresh beneath the layers. Meet CDLP, a Swedish brand that delivers a fresh pack of premium pants every quarter. Choose from a variety of shapes, then sit back and wait for them to arrive. You can even modify or speed up your subscription at any time. How's that for a neat package?
What do you get?
3x lyocell briefs in a range of colours
A subscription costs approx £60 for a delivery every 3 months.
6) Hanx
A tenuous link to male grooming but definitely worth a mention,
Hanx
provides on-demand condom deliveries. Founded by a gynaecology doctor and an investment banker, the sexual wellness brand has created handsomely designed wraps that are 100 percent vegan, ultra-thin and clean scented. Depending on your level of confidence, you can arrange deliveries anywhere from every week to once a month.
What do you get?
A pack of 1, 3 or 10 condoms
Subscription costs £11.04 for delivery of 10 condoms, you can decide how frequent you'd like this to be.
7) Stitch Fix
So we've got your skin, hair and urm…personal care covered. What about clothes? It can be difficult to motivate yourself to go shopping and buy new clothes, but clothing subscription boxes are a great time-saving hack. Stitch Fix is one of the biggest players in this space. All you do is answer a few questions and voila, a series of personal stylists will get to work selecting items based on your needs and preferences. The best part? it's a 'try before you buy' model, meaning you can return the items you don't like free of charge.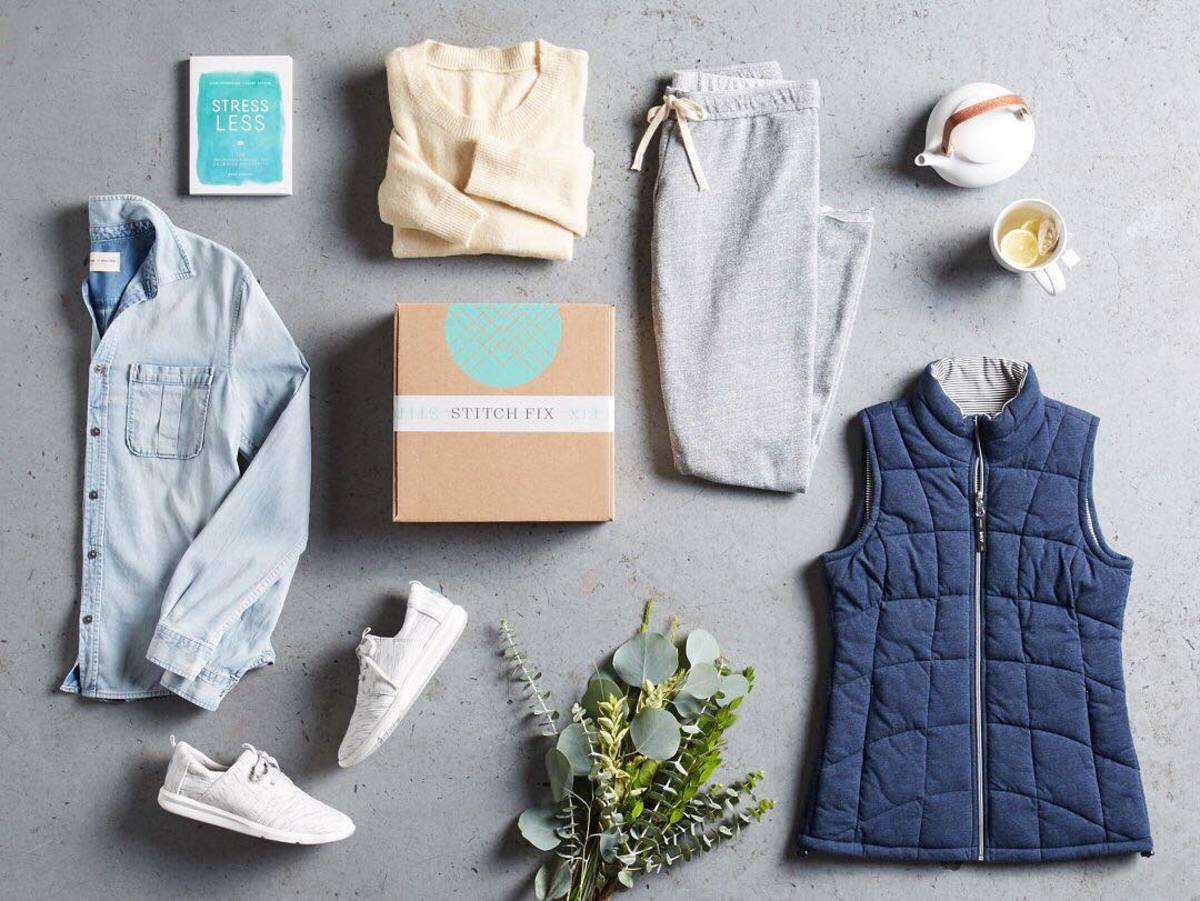 What do you get?
A personalised assortment of clothes based on taste and preference
The styling charge is £10 per Fix, which is deducted from the cost of any items you buy.
8) Scentaddict by The Fragrance Shop
It's no good dressing well if you don't also smell good. Whether you like to mix it up or fancy yourself a one-fragrance-fella, Scentaddict makes sure you stay topped up on all things smell. Powered by The Fragrance Shop, each month you'll be able to pick a new 8ml scent (enough for around 30-days) that slots into the travel-sized atomiser that comes with your first order. Though a number of companies offer similar service, few offer the range that Scentaddict does.
What do you get?
Subscription costs £12 a month for a 3-month membership.
9) The Skincare Guys
When it comes to skincare, let's be honest, we all want it to be simple, straightforward, and yield visible results – enter The Skincare Guys. The company has a range of packages, from anti-aging to anti-blemish and anti-fatigue, allowing users to customise to their own needs. The monthly subscription allows you to simplify your skincare routine down to an easy 3-step-system that will help you look and feel fresh.
What do you get?
A selection of products to help you wash, scrub and moisturise your skin.
Subscriptions start at £24 every 2 months.
10) Lifebox Food
Viva la wellness revolution! We couldn't finish the round-up without something to keep you feeling good on the inside. Started by a nutritionist, Lifebox Food's box for men provides the latest products to keep you feeling good and sporting a healthy glow. Depending on the season, delicious snacks are put together to keep those tastebuds wanting more.
What do you get?
A selection of healthy seasonal snacks and drinks
Subscriptions start at £22.95 per month.