There are 29 Costco wholesale sites across the UK. The American chain operates as a membership-only trading site and boasts a membership of 93.4 million worldwide. These numbers are astronomical, particularly in the US, and hence leaves one asking – Why do people love Costco so much?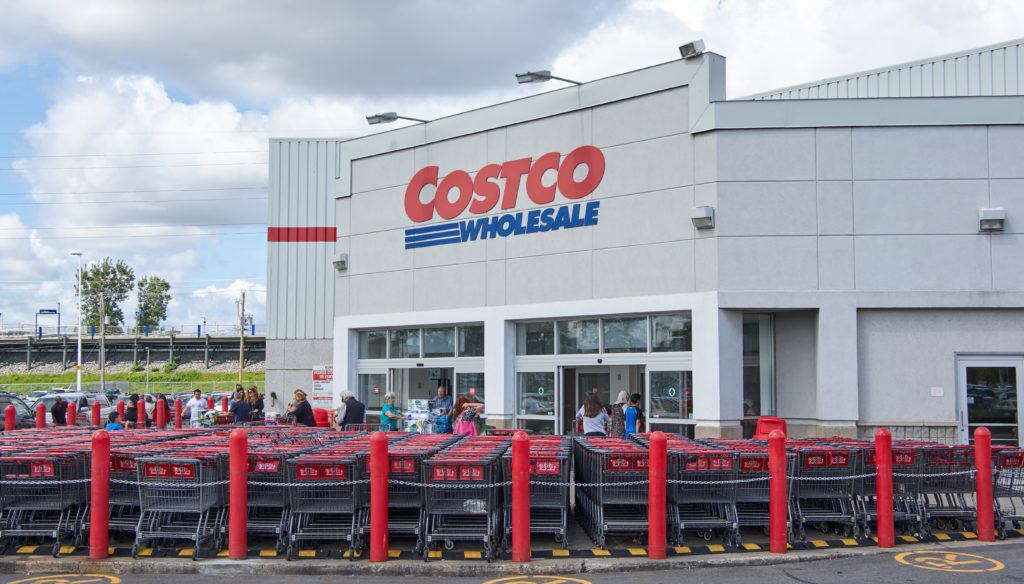 This article looks at the top 10 reasons why people choose to shop at Costco and begs to answer if a membership in the UK is even worth it. Ultimately however, the numbers do seem to speak for themselves. Shopping at Costco is a treasure hunt in itself, and certainly one that 93.4 million have bought into.
An interesting fact to note is that Costco does not have a PR department, or rely on external advertising. These funds are instead diverted to paying their workers more and prices lower, keeping both parties – workers and members alike – content.
1 – The Giant Cookies
Yes, we may have devoted an entire reason to the bakery section for number 5. But Costco's cookies in themselves are worthy of an individual mention. To put it simply, Costco cookies are addictive.
The signature Kirkland Chocolate Lovers Cookie Pack contains 24 cookies of three different flavours; white chocolate, milk chocolate and triple chocolate. As such, this cookie tray is an inevitable crowd-pleaser, with a flavour for everyone.
Much tastier than any cookies you might find at supermarket, and far cheaper than individual bakery prices, these cookies are not to be missed. And not to worry too much about the best-by date – these cookies can be frozen and reheated to absolute perfection!
2 – The Infamous Samba Goal
Costco's central aisles are host to a plethora of miscellaneous goods. With no labels to each aisle, shoppers find themselves on some sort of crazy treasure hunt, and much to every footballer's delight – there will always be a football goal sold in the central aisle.
The Samba football goals can be found in most family gardens, as well as being adorned in football pitches across the UK. There are multiple sizes to choose from, all suitable for league football matches. It is thus no surprise that the Samba goals have received 5 star reviews on all varieties.
The fun doesn't just end there. Costco stocks Samba at a lower price than its competitors. The store is also sells a number of additional Samba items useful for league matches, including speed and agility kits and 6-seater folding portable benches.
3 – Toilet Paper, Paper Towel and Bin Liners
Who are we kidding, we pretty much go to Costco for the toilet paper and bin liners. You can say that you are looking around, maybe buying some food for a nice BBQ, but you really went to bulk your loo roll in bulk.
After all, during Covid-19, there were queues around the block at Costco, for you guessed it, toilet paper.
Some people I know will even go weeks or months on just a few squares, because they are waiting to do a big haul at Costco.
Surprised there is any left on the shelf to be honest.
4 – The Freebies and Samples!
Costco is infamous for its early morning free samples. Many might ask why this takes Costco to the next level compared to its competitors – and the simple answer is that the testers are unlimited. That's right – unlimited. With sample stations likely to be hosted at every food aisle on the weekend, customers can essentially make up their own meal with them!
While the samples may have disappeared peak-lockdown and were certainly sorely missed, it is important to note that they have since returned in a different, COVID-friendly style. Samples are now dry and pre-packaged. While this change is certainly welcomed in a time of extreme hygiene precautions, this, much to Costco members' delight, hopefully will not translate to limits on sample tasting.
5 – The Bakery and Deli
Now, everything you might have heard about Costco's bakery … it's true. Yes, they personalise massive celebration cakes that serve 48 for only £14.99, including the cake itself! Members can choose from 20 designs, and they only have to be ordered 72 hours in advance. The bakery also offers 45 large cookies and doughnuts for just a fraction of the competitor price. Larger and cheaper which can only mean guaranteed value.
Warehouse members can also benefit from the platter offers, which make hosting hassle-free. Platters include sandwiches, wraps, rolls and even sushi. Without forgetting dessert, the deli offers a plethora of large cheescakes and warm dishes. For those who are gluten-free, several of the produce at the deli and bakery are free of gluten.
6 – The Rotisserie Chicken
Quite possibly one of Costco's top USPs is its rotisserie chicken stand. In the US, members can buy a whole cooked rotisserie chicken for just $4.99. Compared to other supermarkets where their rotisserie chicken often weights between one to two pounds when cooked, Costco's cooked chicken weighs around three pounds once cooked. It is large, affordable and can be used to feed a family in an instant.
Interestingly enough, research has lead us to discover that Cosco's rotisserie chickens are actually 'loss leaders'. This means the chain actually loses money on producing the chicken for such a cheap price, but in doing so, this incentivises members to come in, walk around the aisles leading to the chicken and most likely buy something more profitable that they otherwise wouldn't have.
The chicken is also gluten-free. Most supermarket rotisserie chickens are seasoned with marinades that contain gluten so this is a definite win for those allergic and intolerant.
It is so popular that it even has its own Facebook fan page, as well as several websites devoting whole recipe ideas and meal plans to incorporate it.
7 – Buying Chewing Gum in Bulk
It's a lot of chewing, but someone's gotta do it.
Costco is infamous for its bulk supply of products, from toilet paper to chewing gum – its members are covered for months on end. Bulk buying certainly has its pros. It can save its buyers from losing out on funds by spending more on smaller packages frequently. Particularly for dry products, it means stock does not have be replenished and can be put to good use in the future.
Some of Costco's most popular bulk buys include their canned goods, chewing gum, toilet paper, kitchen foil and cleaning products. Toilet paper is Costco's most popular bulk product, selling an estimated excess of 1 billion roles each year.
8 – The Giant Teddy Bear
The ultimate impulse buy. Many people came in for toilet paper and leave with a giant teddy bear. Good luck finding space for that around the house! Its like a guest that never leaves and now he takes up half the flat!
If you go to someone's house and see this teddy bear, you know they've been to Costco.
The best is seeing people trying to put this in their car on the way out. Didn't think this through, did you??
9 – The Kirkland Brand
As mentioned above, Kirkland is clearly a reputable brand in terms of alcohol. But this is not the only produce that has scored top-tier marks from its members. Other popular items include Kirkland's Himilayan salt, Kirkland's signature batteries, bottled water, coffee and even cooking oils. The sales generated from Kirkland branded products in Costco actually make up a significant proportion of their grand total – standing as $40 million alone in 2017.
Kirkland is significant in that it rouses brand loyalty from its members. Costco members fall in love with the cheaper alternatives to their typical Heinz or Kellogg's products. This brand loyalty translates into a cult following. The Kirkland logo, unlike most supermarket-brand produce, appears everywhere. Costco is proud of Kirkland, and its members certainly love it.
10 – Last Not Certainly Not Least, The Food Court
The rumours that you might have heard about Costco's food court – they are true. In the US, kosher hot dogs are priced at a mere $1.50, coming with a free refillable soft drink. In the UK, members can choose from a variety of hot dishes, including jacket potatoes, pizza slices, hot dogs and even burgers for a fraction of a McDonald's drive-through price. The food courts are insanely popular, at all times of the day. Only members can access it, and with limited seating this means there will certainly be a wait.
A fun fact to know is that in the US, the hot dog and soft drink option has stood at $1.50 since Costco opened in 1984. The price still remains the same three decades later, with changes made to the meat including kosher options.
Watch Out for VAT!
The buggers at Costco will show you prices without VAT.
Sure, it looks like a great deal! But wait until you get to the til and find an extra 20% on top. All that toilet paper is not looking so sweet anymore, eh big guy?
So the final question ensues – Is a Costco membership worth it?
With a membership costing £33.60 annually for members of the general public in the UK, to make the Costco shopping trip really worth it, you would need to live in a household that would utilise and maximise the most from bulking buying. For instance, bulk buying multiple fresh vegetables for a one-person household is mostly a waste, but if this is for a family of 5 – it will probably make up for the membership payment in itself.