With March being Food Month here at TechRound, we wanted to feature some up-and-coming businesses and startups across the industry, from alcohol companies to heath food brands, and not forgetting those which manufacture plant-based foods!
Here, the team at TechRound has featured brands which have created vegan-friendly seasonings, meat-alternatives and plant-based milk and chocolate, so there's something for everyone!
Brands featured include:
Little Bandits, founder(s) Jess Harris
Notorious Nooch Co, founder(s) Steven Wildish, Sam Fresco & Jake Allnutt
RedLoon, founder(s) Raspal Kaur
HAPPi, founder(s) Gavin Cox
Source of the Earth, founder(s) Phil & Viv Lambe
Eat Real
MOMA, founder(s) Tom Mercer
GreenBay, founder(s) Paula Alcalde & Anderson Caicedo
Quinola, founder(s) James Livingstone-Wallace
H!P, founder(s) James Cadbury
Bun-dles, founder(s) Jenny Howson & Julie Lynch


Little Bandits
Website: https://www.hungrylittlebandits.com/
Founder(s): Jess Harris
Little Bandits is the first free-from brand specifically for children, with a range of delicious, low sugar, plant based yoghurts. Little Bandits range of exceptional coconut based yogurts come in 3 flavours – strawberry, banana and apple & pear.
Every product is developed with all kids in mind, ensuring that parents and children have healthy, fun, great tasting options. No dairy, no soya, no worries. The yoghurts are vegan friendly, low in sugar, a great source of calcium and iodine, as well as vitamins D and B12. This makes them a totally brilliant choice for parents seeking nutritious options for their children.
Little Bandits was founded by Jess Harris for her young son who, like so many, had a number of food allergies. Worried that his allergies might become an issue for him as he grew up, Jess decided to look for some healthy options that were also convenient. Determined that Jonah would not miss out on delicious treats, she began making her own yogurts, and so Little Bandits was born. Unsurprisingly, the products have proven to be hugely popular with parents of children with allergies, specifically cow's milk allergy.
Little Bandits is on a mission to make life easier for families and become THE trusted dairy free brand for kids.
Notorious Nooch Co
Website: https://notoriousnooch.co/
Founder(s): Steven Wildish, Sam Fresco & Jake Allnutt
Notorious Nooch Co is the UK's first naturally flavoured nutritional yeast, launched to pack a punch for plant-based diets. The vegan brand's mission is to make it easier, tastier and more fun to rethink meat and dairy… so they launched with Smokey Bacon and Cheesy Immature flavours. Whilst other deactivated yeast might claim the nutty, savoury flavour that has made nutritional yeast a vegan essential for some time, the taste of these products has become a little 'samey'. This lack of category innovation spurred the adventurous, flavour-focused team behind Notorious Nooch Co. into action.
The two notoriously delicious flavours deliver a 'big on flavour, small on ingredients' approach. Cheesy Immature and Smoky Bacon have been created by toasting yeast flakes to bring out their natural intensity, with both containing fewer than five (all natural) ingredients. Flexible and versatile, Notorious Nooch Co.'s naturally flavoured nutritional yeasts flakes can be sprinkled onto practically anything, from alt. meat, pizzas and pastas, to chips, greens, and even popcorn. The opportunities are endless, and even the smallest sprinkle can pack a punch.
Notorious Nooch Co. have taken the vegan seasoning market by storm since its inception at the start of lockdown. Within a year since bursting onto the plant-based scene, they have secured a number of stockists nationwide, and are thrilled to have launched into all seven Whole Foods Market locations, Selfridges and Zebra, with more stockists to be announced soon. With the increase in demand, Notorious Nooch added Super Nooch to their product offering just this month, which contains the highest amount of B12 on the market!
Steven Wildish, Co-Founder of Notorious Nooch Co. and author of How To Vegan (Penguin Books) said, "On my own journey to becoming vegan, I loved trying out new tricks to recreate the food I loved as a kid. For years a big part of adding a cheesy flavour to vegan meals has been to use nutritional yeast… but it never quite satisfied the craving." Steven co-founded Notorious Nooch Co. with his two friends Sam Fresco and Jake Allnutt.
RedLoon
Website: https://www.redloon.co.uk/
Founder(s): Raspal Kaur
An exciting new player has entered the vegan seasoning sector with two unique and authentic products that aim to give traditional table salt and rubs a run for their money.
Founded by Birmingham-based Raspal Kaur; RedLoon products are based on genuine recipes that have been passed down through the generations of Raspal's family for nearly 80 years. Now the secret culinary power of these store cupboard essentials is about to be unveiled to the nation.
RedLoon Seasoning is an amazingly versatile and bold seasoning that can be sprinkled on a wide range of dishes from meat and fish to rice, soups and even pizza, to deliver a punchy (but not overly hot) spicy kick, while RedLoon Spicirub is an explosive concoction of tasty and aromatic spices that combine to create the perfect marinade for meat, fish, seafood and vegetables.
RedLoon is aiming to take the nation's cooking to the next level with no fuss and no hassle. Aligned with the launch of RedLoon, is founder Raspal's other passion: mental health awareness. The founding principle of establishing RedLoon was always to establish it as a brand with a clear purpose and long-term, Raspal has some very exciting and challenging plans afoot, designed to make a real difference. While the BIG project is being worked on, in the interim, for every RedLoon product sold, 1p will be donated to the charity Mind, via the Work for Good scheme.
RedLoon Seasoning and RedLoon Spicirub are available in environmentally friendly and eye-catching packaging, presented in 100g (recyclable) cartons, RRP £2.49 and £2.99 respectively. Products are ideally placed for the independent retail / farm shop & deli sector and the focus for 2022 will be on achieving a national rollout of the two innovative variants. RedLoon Seasoning and Spicirub are suitable for vegetarians and vegans and have achieved Vegan Approved status from The Vegetarian Society.
HAPPi
Website: https://happifreefrom.com/
Founder(s): Gavin Cox
Launched to fill a gap in the market for an oat mi!k based vegan chocolate is HAPPi, the chocolate brand designed to put a smile on your face.
Creating a delicious range of all natural, vegan chocolate, HAPPi is rich, creamy and delicious. Using 47% single origin chocolate sourced directly and ethically from farmers and growers with a full 'farm-to-bar' supply chain, HAPPi has created a range of products that appeal to Flexitarian chocoholics everywhere.
All naturally-flavoured, Happi puts great taste above all else and is also 35% less sugar than other mass market brands.
Choose from a range of flavoured bars including Salted Caramel, Orange and White Raspberry, or tuck into its HAPPi Nibbles, a range of chocolate covered snacks, or its Hot Chocolate Spoons for a delicious dairy free hot chocolate treat.
HAPPi uses fully sustainable packaging and contains zero single use plastic. HAPPi buys its Cacao directly from farmers and growers with a full 'farm-to-bar' supply chain. This means it knows who grows its chocolate and what they get paid.
Source of the Earth
Website: www.sourceoftheearth.co.uk
Founder(s): Phil & Viv Lambe
Who doesn't enjoy munching on a packet of flavoursome crisps? Not surprisingly, it's the UK's favourite snack and planted-based, Source of the Earth has launched a lentil crisp that offers guilt-free, lip-smacking snacking.
Available from today in Whole Foods and Selfridges, Source of the Earth has launched three, plastic-free packets of crisps that will blow your mind and tastebuds. Wrapped in brightly coloured bags, each packet is fully compostable at home and providing you eat all the crisps (we're pretty sure you will!), the lentil-crisps will leave no trace on the planet. None, Zero, Zilch!
BIG on taste, small on calories – just 96 per bag the Source of the Earth line-up has three flavours that have all been approved by The Vegan Society.
· Coconut Curry, rrp £1.29
A spicy seasoning of curry powder, turmeric, fenugreek seed, and cumin with a twist of salt and ground black pepper.
· Smoked Paprika & Chilli, rrp £1.29
A sprinkling of smoked paprika, tomato and garlic complements a pinch of chilli to offer a slightly spicy crunch.
· Sour Cream & Chive, rrp £1.29
A modern day classic, parsley, garlic and chive are blended together to create a timeless flavour.
The lentil-crisps are also gluten free and contain no added sugar.
Phil Lambe, Source of the Earth creator said, "With the launch of Source of the Earth we hope to start a movement of 'better for you, better for the planet'. We have created a snack that tastes delicious without making any compromises on the planet! Source of the Earth is vegan-friendly, gluten-free, has no added sugar and is packaged in plastic-free packets. It's no longer good enough to create flavoursome, healthy snacks – we've got to start looking after the environment too."
The environmentally friendly crisps have been approved by the Vegan Society and the packets have been approved and certified by A Plastic Planet.


Eat Real
Website: https://www.eatreal.co.uk/
Vegan & gluten-free, Eat Real are flavour experts, making great snacks with big balanced flavours by turning the humble lentil, quinoa and chickpea into a crunchy, nutritious snack for everyone.
Keeping their pioneering roots at the forefront, all Eat Real products are free from artificial colours, flavours and ingredients. Both the Hummus and Lentil ranges contain 30% less fat than regular potato chips.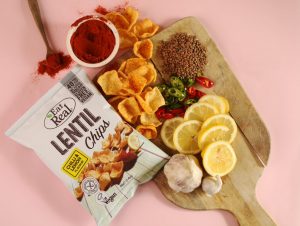 The Eat Real range offers exciting, unexpected flavour combinations with mouth-watering crunch, with favourites including; Lentil Sea Salt Chips, Hummus Tomato and Basil Chips, Lentil Chips, Chilli & Lemon Chips, Quinoa Sour Cream and Chive Chips.
All flavours are available nationwide now at stockists Tesco, Sainsbury's, Ocado and Waitrose. Share bags of Quinoa (80g), Lentil (113) and Hummus (135g), RRP £1.80. Grab bags Quinoa (30g), Lentil (40g) and Hummus (45g), RRP £1.00. Handy packs, Quinoa (20g), Lentil (22g) and Hummus (25g), RRP £0.85 and Multi-pack Quinoa Sour Cream and Chive, Lentil Sea Salt and Quinoa Sundried Tomato and Roasted Garlic (2x 25g, 2x 22g & 1x 22g) RRP £2.00.
MOMA
Website: https://www.momafoods.co.uk/collections/oat-drink
Founder(s): Tom Mercer
As the dairy-alternative milk market continues to boom, MOMA has launched a new range of chilled oat drinks – with Semi and Whole oat milk available in Waitrose.
Available now in Waitrose stores, and online at Waitrose.com, for £1.85. The new chilled range will launch on Ocado and in Morrisons stores and online, in April. Following the successful launch of MOMA's ambient oat drink range in 2020 (which sold more than two million litres in the first 15 months), the new oat drinks can be found in the chilled aisle in 220 Waitrose stores nationwide and online at Waitrose.com.
The new range was two years in the making, with over 250 recipes trialled by MOMA's in-house Oat Scientist, Dr Ryan Williams, to provide a great-tasting, quality oat drink.
The oat drinks have been carefully formulated to have a variety of uses that replicate dairy milk usage – great in cereals, smoothies, or drunk straight from the glass. Most importantly, they are non-splitting and fully foamable, making them the ideal accompaniment to tea & coffee, providing barista-quality hot drinks at home.
As more shoppers incorporate plant-based products into their diet – with nearly one in four purchasing plant-based dairy during Veganuary 2022 – MOMA's chilled oat drink is a delicious, easy switch to a dairy milk alternative.
MOMA's chilled oat drink range is UK-produced and not from concentrate – delivering a great quality product with a balanced, neutral flavour.
GreenBay
Website: https://www.greenbaysupermarket.co.uk/
Founder(s): Paula Alcalde & Anderson Caicedo
Co-founders Paula Alcalde and Anderson Caicedo arrived in the UK some 11 and 13 years ago respectively, Paula with £150 in her pocket and not being able to speak the language and Anderson in nearly a similar situation.
Against all odds, they then established themselves in their careers, with backgrounds in some of the most prestigious firms in the world, including Goldman Sachs, JP Morgan and Bloomberg.
Becoming long-time friends, they decided to switch to a vegan diet for ethical, health and environmental reasons, and gave up their high-profile careers to start a business creating a positive impact. Now they are celebrating five years of launching what they believe is the UK's first vegan omnichannel supermarket, with both a physical and online presence – GreenBay in West London.
The business has experienced incredible growth over five years: with over 50,000 customers and over half million of plant-based products sold, they now employ 10 members of staff. They stock over 1,200 vegan friendly products – many that are impossible to find elsewhere.
In 2021, GreenBay won the Feefo Gold Trusted Service Award for its "outstanding customer service in 2020″ and has now launched its own range of plant-based products.
GreenBay donates a portion of every new purchase to charities and organisations fighting climate change and supporting rural communities with reforestation projects, in order to offset their carbon footprint. GreenBay has helped plant over 5,000 trees in Marotaola, Madagascar since starting the reforestation project.
"Our mission is to make it easy, fun and convenient for people to make better choices, by educating them on the positive impact that small changes can make, and ultimately removing animals from the equation."
Quinola
Website: quinola.com
Founder(s): James Livingstone-Wallace
Quinola Make Eating Right, Easy. They are generously ethical: they source organic quinoa from Fairtrade cooperatives in Peru, employ 19 people with learning difficulties to pack the grains in France, and are highly environmental.
They work with the Pur Project on a reforestation project planting trees in the Peruvian amazon to offset their maritime carbon emissions for the transportation of the quinoa from Peru to Le Havre. As a complete plant protein, quinoa is the perfect meat substitute. It's another way to reduce your carbon footprint as it has 60% less carbon emissions than rice.
Organic and sustainable – their quinoa is grown in a Peruvian cooperative where farmers practice mixed agriculture, which improves natural soil fertility. They also practice dry agriculture, so precious water resources are not wasted via irrigation.
They have switched into recyclable packaging and offset their plastic through a RePurpose scheme in India which recycles plastic waste from the environment.
All products are natural without added artificial ingredients. Quinoa contains more nutrients than most other grains and is a great source of protein and fibre. Thanks to its Low Glycaemic Index, quinoa helps improve the blood sugar levels and helps lower cholesterol. Quinoa also reduces cravings by making you feel fuller for longer.
Over the years, they've won more than 30 awards for their range. Last year, their quinoa won best store cupboard in the Free From Awards and a Great Taste Award. Their quinoa is used in several Michelin starred restaurants, and they sell a range of organic quinoa grains and ready cooked organic quinoa Express packs. They also make delicious and nutritious Organic Kids Meals, Organic Pulses & Quinoa crackers for healthy snacking, as well as Quinoa Flakes for porridge.
All are available on Ocado and Amazon to purchase.
H!P
Website: www.hipchocolate.com
Founder(s): James Cadbury
Best-selling oat milk chocolate brand, H!P (Happiness in Plants) is all about bringing great tasting, eco-friendly dairy free alternatives to the masses.
The vegan-friendly bars offer a deliciously creamy, dairy free alternative to traditional milk chocolate. The brand blends single origin Colombian cocoa from a slave-free supply chain with creamy oat milk to deliver the ultimate plant powered indulgent chocolate fix. Not only that, H!P bars have approximately 30% less sugar than the average high street dairy milk chocolate bar and more cocoa too (41%).
With its signature eye-catching, contemporary designs, H!P is 100% eco-friendly with plastic free packaging that's also completely recyclable, in line with the brand's eco and sustainable ethos.
H!P is the brainchild of James Cadbury, someone who knows a thing or two about making chocolate (he's the founder of ethical, luxury chocolate brand, Love Cocoa and the great-great-great grandson of the original Mr John Cadbury). The inspiration for H!P came from James' own personal experience of cutting down on dairy. He couldn't find anything on the market that tasted like a creamy milk chocolate bar and so decided to create something himself.
Over 1million H!P bars have been sold since the brand launched in March 2021, testament to the ever-growing popularity of oat milk, (it's the fastest-growing milk alternative here in the UK and globally). Oat milk is also far more sustainable to produce compared with traditional dairy milk chocolate, so it's better for the environment too.
H!P is available in Creamy & Smooth, Salted Caramel, Salty Pretzels, Cookies No Cream and new Salted Honeycomb, plus the brand has brought out a Salted Caramel Egg in time for Easter. The bars are available via H!P's website as well as in Ocado, Booth's and via Getir.
Bun-dles
Website: https://bun-dles.com/pages/veggie
Founder(s): Jenny Howson & Julie Lynch
Female-Founded Bao and Dumplings brand Bun-dles has launched in the UK with meat, sweet & vegetarian options.
During the COVID-19 pandemic, founders Jenny Howson and Julie Lynch decided to swap their corporate careers after spotting a gap in the dim sum market.
Traditionally bao buns & dumplings, often referred to as 'dim sum', are hard to find outside of specialist shops and aren't made fresh, often being packed with preservatives and additives to lengthen their shelf-life. Additionally, most dim sum foods require a steamer to be cooked, something not every household has.
Jenny and Julie set out to create something that they couldn't find on the market – trendy bao and dumplings full of flavour that are made with no MSG, no added preservatives and use responsibly sourced, fresh ingredients. Every bao and dumpling is handmade with love and care in their London kitchen by top dim sum chefs, and support local independent farmers, using 100% British free-range meat in their meat options.
Their bao buns can also be cooked from frozen using just a microwave, making them available to everyone – even those without a steamer! Customers can choose from a range of delicious flavours, including the popular Beef Rendang Bao and sweet Salted Custard Lava Bao. The company also offers a selection of vegan & vegetarian bao and dumplings, which are proving incredibly popular especially throughout Veganuary.
Customers can customise the size and flavours of their dim sum boxes, starting with the mini bun-dle, containing 18 bao & dumplings at £36.00 – great value for the quality of food you can only otherwise find at top specialist restaurants.