The days are getting shorter, the temperature is dropping and cold and flu season is upon us.
To help you get your vitamin fix, we wanted to share some of our favourite winter wellness products to give your immune system an extra boost this winter.
From soups to smoothies to CBD and everything in between, here's TechRound's 2021 winter wellness roundup:

Smoothies by Smoofii


Smoofii sell frozen ready-to-blend smoothie kits that make healthy and delicious smoothies within seconds. Containing only fruits, vegetables, nuts and superfoods, the smoothies increase your intake of vital nutrients and aim to improve your overall health and wellbeing. Each smoothie flavour supports your body in its own way by having a distinct combination of vitamins, minerals and antioxidants.
One of the smoothie flavours (called DEFENCE) is specifically designed to support your immune system. With just one serving, this smoothie provides you with a large dose of Vitamin A and C as well as Selenium, Manganese, Copper and Zinc. These nutrients help your body build a strong DEFENCE by supporting the normal function of your immune system.

Vegan Wellness Shots by The Turmeric Co. 


Founded by Premier League footballer, Thomas Robson-Kanu, The Turmeric Co. offers four great-tasting blends of vegan shots, including Raw Turmeric Original, Raw Turmeric & Ginger, Raw Turmeric and Beetroot and Raw Turmeric Vitamin C and D3.
Developed over 15 years and endorsed by leading nutritionists, The Turmeric Co. delivers great-tasting shots designed to boost anyone's daily routine and support individuals who are on their wellness journey, as well as their immune system. Providing a powerful combination of functional and natural ingredients, they boast the strongest measure of raw turmeric available on the market (35g).
Turmeric contains the active ingredient curcumin, scientifically proven to have anti-inflammatory, antioxidant and anti-depressant properties, as well as helping with weight management and improving skin conditions.

Personalised Meals and Juices by Tweakd 


Tweakd offers a unique approach to home-delivered meals, providing an alternative approach to frozen meals designed to be 'Tweakd' to produce tailored meals that are focused on your individual goals. It delivers food that is nutritionally designed by experts and tweaked to suit the needs of the customer, straight to their door across the nation.
Individuals are able to input their goals and preferences before the platform sources the appropriate nutrition required and offers a selection of meals to choose from. Every single one of Tweakd's meals is designed for supporting immune function and aiding recovery.


Power Soups by Bol


With winter drawing in, and the days getting colder, warming soup is the perfect tonic for body and soul. But after 18 months of social distancing and wearing masks, our immune systems have been weakened so it is important we try and boost them where possible, something that is easily done by ensuring we eat healthy and nutritious food.
BOL's Creamy Corn + Sweet Potato soup is a nutrition-packed, fresh soup bursting with creamy coconut, sweet potato, corn, and lentils. Full of fresh veg, plant protein and lashings of flavour and taste, it's a delicious option that doesn't require chopping, prepping, or blending – just heat to eat and enjoy.
With 3 of your 5 a day, this naturally sweet, creamy soup is rich in vitamin A – a great way to help support your immune system this winter (or, in fact, all year round!)

The Super Elixir by WelleCo


WelleCo's The Super Elixir™ combines a unique and carefully balanced blend of 45+ high-quality, sustainably sourced ingredients, including botanical herbs, antioxidants, vitamins, minerals and probiotics. When taken daily with water, these ingredients are easily absorbed, working in synergy to amplify their natural benefits and nourish the body right down to the cellular level.
Supporting healthy-looking skin, strong hair and nails, overall gut and immune system health, all while enhancing energy levels, The Super Elixir™ really is super. 

Remedy Kombucha by Remedy Drinks


Remedy is an authentic kombucha and one which is made using a traditional, long-aged brewing process, which results in an incredible depth of flavour and a drink that is naturally free of sugar, and full of live cultures (good bacteria), antioxidants and organic acids that can support gut health and boost immunity.


Daily Multivitamins by Awesome Daily Dose


Vitamins and minerals help promote optimal organ function, play an important role in ensuring our immune system functions in the best possible way, and help us to recover from exercise and other stresses on the body. However, it can be difficult to get enough vitamins and minerals from your diet alone.
Awesome Daily Dose contains the optimal dose of each major micronutrient, backed up by the latest scientific research to ensure that your immune system can function in the most optimal way. The key vitamins and minerals that help support our immune systems are vitamins A, C, D, E and the minerals Magnesium, Selenium, and Zinc. These vitamins and minerals all promote the production and regulation of red and white blood cells and antibodies. They also all have anti-inflammatory effects which also helps reduce the impact of infection. Awesome Daily Dose contains the ideal doses of all of these micronutrients, as well as others that promote optimal organ and cognitive function.

Immunity Gummies by FIGHT


Combating the common cold shouldn't be difficult. With a tantalising mango flavour, FIGHT's Support Immunity gummies include a vitamin blend of scientifically backed ingredients. Each gummy is packed with goodness to support the optimal functioning of your immune system, with a combination of Vitamin D, Vitamin C, B6, B12 and Zinc. 

Apple Cider Vinegar Drinks by Jitterbug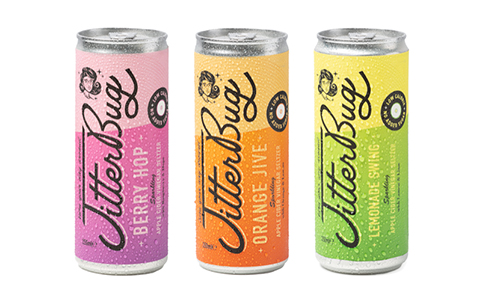 Jitterbug is one of a new wave of plant-based 'on-the-go' premium soft drinks that offer all the health benefits of Apple Cider Vinegar but with a delicious, yet authentic taste.
Jitterbug's active ingredient is Apple Cider Vinegar, which is clinically proven to support improved digestion, boost immunity and gut health, whilst encouraging clean living and weight loss. It has a myriad of health benefits such as anti-diabetic effects and the lowering of cholesterol levels in the blood by inhibiting the oxidation of low-density lipoproteins.


Immunity Coffee by Cheerful Buddha
Replacing your usual coffee for a powerful, 100% natural superfood blend is the perfect way to re-energise and revitalise whilst supporting your overall health and wellbeing.
Cheerful Buddha's unique, adaptogenic 'Immunity' blend contains organic Chaga Mushroom, Ashwagandha, MCT coconut oil and cacao to deliver not only a delicious coffee but help the body maintain health and vitality.

Immunity-Boosting drinks by Gusto


Immunity-boosting Super DC by Gusto Drinks is helping to ward off the common cold and give a much-needed boost during these uncertain coronavirus times. Super DC's immunity-boosting drinks are vitamin-packed and contain a number of health benefits – perfect for the chillier months ahead. All-natural, vegan-friendly, and delicious, Super DC by Gusto promises a revitalising soft drink unlike anything else currently on offer.
Both drinks are packed to the brim with high strength vitamins D and C, together with vitamins A, K, Zinc and Folic Acid, contain real fruit juice, delicious plant-based ingredients, no added sugar, and come in at less than 60 calories per can. The range includes Super DC Blood Orange and Super DC Elderflower and Blackcurrant.

The Immunity Range by Luhv Drinks


Luhv Drinks' Immunity range is designed with the specific purpose of supporting your immune health at various stages. With three bottles available, each containing at least eight shots, the defence, support and recovery bottles have been expertly created with scientists from King's College and expert taste profilers, utilising all-natural, plant-based ingredients. The aim was to devise great tasting drinks, but with the power to actively support your health. 


The Immunity Bundle by Erbology


Just like any other organ in the body, your immune system needs the right nutrients from a healthy balanced diet to function at its best. To give it an extra helping hand, the Immunity Foods Bundle from Erbology contains three of their bestselling immunity-supporting products:
Organic Immunity Blend Powder, containing 8 powerful medicinal mushrooms
Organic Black Seed Oil
12 of their Organic Bergamot Juice Shots: Bergamot juice is high in vitamin C, which is essential for a healthy immune system and is crucial for processes such as phagocytosis.
Lemongrass Rosehip Hemp Tea by Evopure


Evopure hemp teas are rich in cannabinoids, antioxidants and nutritional plant compounds including CBD and beneficial terpenes and flavonoids.
Their Lemongrass Rosehip Hemp tea is a perfect combination of natural ingredients: lemongrass, rosehip, organic peel, sea buckthorn, echinacea, hemp and more.
CBD tea has the same benefits as other CBD products have – it can encourage wellbeing in the body and help to rebalance the endocannabinoid system. It's known for its anti-anxiety, anti-inflammatory and antioxidant properties.

BOOST Capsules by PHD Life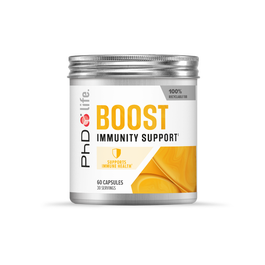 BOOST capsules are easy to use and implement into your daily routine, to help deliver a combination of Vitamin C, D, Zinc, Iron and other key minerals which contribute to the normal function of the immune system. Vitamin C is a powerful antioxidant and contributes to immune defence by supporting numerous cell functions involved in protecting the body. It also helps support the production of white blood cells called lymphocytes and phagocytes and helps lower blood pressure and your risk of heart diseases.
Vitamin D deficiency is common when getting little sunlight and it is often recommended as a supplement to take throughout the winter months as it helps strengthen the immune system and build defences against cold and flu.


Karha Chai Tea by Babbingtons Blends


Babbingtons teas are packed with antioxidants to help support your metabolism, digestion and improve your skin's overall appearance. Immunity-Boosting antioxidant ingredients include fresh roses, vanilla, elderflower, bergamot, chai spices, rooibos, berries and passion fruit.
After a hard day at work, speciality blends aid your ability to boost your immunity whilst your sleep. Babingtons Blends Karha Chai is an ideal immunity-boosting blend as it's packed with fresh ingredients including Assam black tea enriched with a medley of traditional chai spices.