Essentialise Workplace Wellbeing is a business focused on bringing effective wellbeing strategy and delivery to SME's across a variety of sectors. Based in Preston in Lancashire, and working across the UK, we are breaking the fluffiness away from wellbeing while keeping it people-centric and focusing on the intersection of wellbeing and inclusion. We officially launched in February 2020 after an initial prelaunch period at the end of 2019. We very quickly encountered the challenges of the pandemic on both ourselves as a new business and the impact on our clients.
The company was founded by Lee Chambers, the award-winning British psychologist who had previously founded PhenomGames in 2008. Fuelled by his own health challenges, including relearning to walk and mental health struggles, he decided to find a meaningful way to fuse his lived experience with his industry knowledge from elite sports and corporate finance and his psychology and human performance expertise.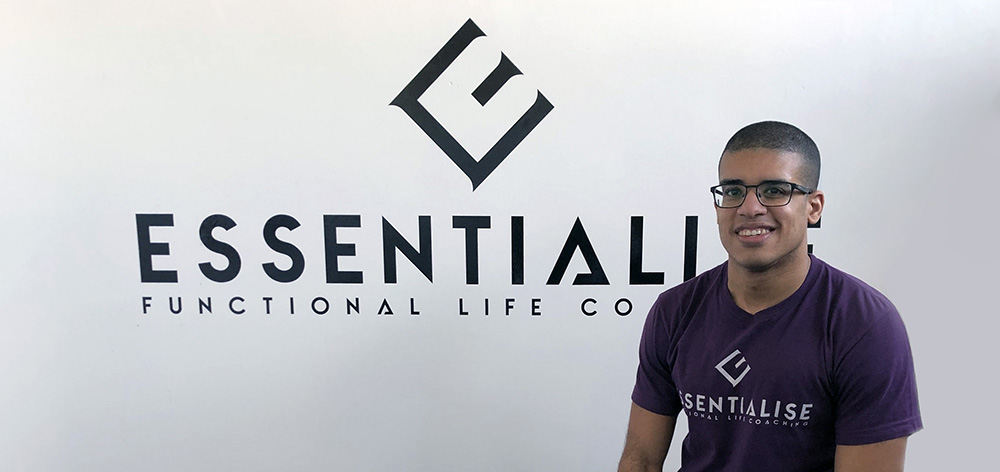 How did you come up with the idea for the company?
Essentialise was founded from this combination and was designed to address the clear issues of workplace wellbeing:
Less than 50% of SME's have a wellbeing strategy, leaving them open to spending budget on things that are not effective, are trending and not joining up or embedding wellbeing within the business.
Without measuring the impact of delivery, it becomes difficult to evolve what isn't working and hard to build a sustainable business case or secure wellbeing budgets.
For wellbeing to be both effective and engaging, it needs to be planned, created with employee participation and blend both relevant stories with evidence-based skills.
Looking at these challenges, we created Essentialise as a way for organisations to develop a wellbeing strategy and find the professionals needed to deliver bespoke and tailored wellbeing that makes an actual difference to both employee health and experience while hitting business outcomes and improving KPI's. Strategies are created that are unique to each business, ensuring industry challenges are catered for, and the diversity of employees is part of the equation.
Common themes are also identified so they can be addressed in an efficient manner. In addition to strategy, Essentialise deliver bespoke wellbeing workshops and training sessions that are built from frameworks, meaning no two are the same. This level of personalised service is important, as wellbeing is not a one-size-fits-all solution. Covering a range of topics, from stress to resilience, psychological safety to high performance, all workshops are evidence-based and skill-led, giving employees a toolkit and motivation to build the skills that will keep them happier and healthier, and giving them the authority and permission to do so.
How has the company evolved during the pandemic?
The pandemic has been a challenge for us, being so new as the world changed around us. We lost a few initial clients in the chaos as we increased the digital elements of our service. The changing landscape for our clients also gave us new strands to really focus on, such as remote working and team wellbeing. We used this period to really up our social value as well, doing free work for NHS frontline employees, hosting a radio show for isolated rural communities and helping SEND schools ensure their students were as well as possible.
As we continued to make a difference and grow, we have now taken on some talented employees and secured work with a variety of great companies, including one of the big four accountancy firms and one of the biggest job search organisations in the world. What has also been amazing is the recognition we have received from many awards, being featured on the Top 50 BAME Entrepreneurs Under 50, nominated at the National Diversity Awards and Sub36 Awards, and winning two awards at this year's UK Enterprise Awards. While the awards aren't something we aim for, the fact they have come onto our radar must be because we are disrupting the industry in a way that makes people take notice, and that is certainly something we are looking to do!
What does the future hold for Essentialise Workplace Wellbeing?
While the future looks bright, with lockdowns easing and some normality coming, we aren't taking anything for granted and are solely focused on positively impacted the lives of a million adults and children. We are gradually creating a comprehensive people board that SME's will be able to hire, covering all aspects from wellbeing and inclusion to culture and performance. We want to be part of SME's scale-up journies as they become the change-making businesses of the future. We are actively looking for talent to join our team and clients who appreciate the importance of wellbeing that works.
We don't bring fruit bowls, bean bags or yoga, but we do bring a breed of wellbeing that is more important than ever to ensure your leadership, teams, and organisation is taking advantage of the latest advances in psychology and human performance, while building a culture that attracts the best talent in your industry.