I'm an accountant, mentor & educator based in Leicester city centre. Initially I set up office in my back bedroom over 27 years ago after previously working as a teacher.
Part of my many roles is supporting all types and sizes of businesses. My company, Pro Active Resolutions, provides a range of business services such as final accounts preparation, tax work, wealth management, bookkeeping and training etc.
My mission is to help people stop hating their numbers by showing that understanding numbers in business is the key to having business success. Accountancy speak is not only daunting but it can be boring too. I like to explain numbers in ways that business and individuals can really understand.
I have a Podcast and YouTube Channel: 'I Hate Numbers'. They are jargon free & help business owners of all types improve their money mindset. Which in turn helps make more profit and save time. I want to change the way people feel about numbers.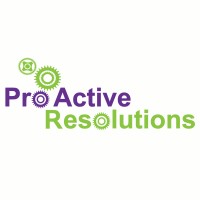 How did you come up with the idea for the company?

From the age of about 7 I knew that I wanted to run a business. I didn't actually know what type of business, so I dabbled in a few entrepreneurial activities at secondary school. From a coffee shop, to a lost property shop, and also had a punt at managing local bands.
I come from a large family with 8 siblings so had very little money growing up. Bettering myself and being self-reliance was the best legal option. My first career was in teaching which I left after three years, not the most sensible thing to do as I had no job to go to, but it felt right. I started job-hunting and I eventually got a job in the hospitality industry as an accountant. It was a complete contrast to what I was used to, but I loved it.
The money wasn't great, but the experience and people I worked with compensated for it – although that didn't pay the bills. The company had faith in me, and I'll be forever thankful to them for that. About five years later, having juggled studying and working ridiculously long hours, I gained the qualifications but the desire to move on became my main focus.
It would have been sensible to get a higher paid job, but for me that was not the case. I loved being an accountant, helping and informing people so I thought why not set up my own business.
I had this idea that if I messed up, I could always go back to working for a company. I was like a start-up business, but with experience. Besides if I didn't, I'd have that awful thought embedded in my brain of "I wish I had done…"


How has the company evolved during the pandemic?

Like everyone else, the pandemic was very challenging for us and our client family. From day one my team and I made a conscious choice to step up, reach out and support all businesses that had been impacted by the pandemic – not just our clients.
I did more live broadcasts, Q&As, blogs, podcasts, and videos, interpreting the everchanging government guidance on financial support. Throughout this extremely challenging time I regularly provided useful resources and help.
By the law of unintended consequences, the pandemic provided more focus and clarity for my own business model, and reminded me that communication, awareness and understanding play a strong and important role in the world of business.
I increased our use of technology for communication and working. I also gave my team the option of working at home.
It's currently an exciting time as my company is entering its next chapter.

What can we hope to see from Pro Active Resolutions in the future?

I love numbers but understand that many businesses do not. Numbers are your best friend in business, they don't lie to you, and they can help reduce anxiety. They ultimately guide and help you get to your Northern Star.
I want to share my love of numbers by increasing the reach of my Podcast and YouTube channel- "I Hate Numbers". I will continue providing resources, content, and solutions and get businesses to "love their numbers!"