With Just Spices we make every day cooking manageable – no matter how stressful life might be! When we started, there was no other brand that really catered for what home cooks wanted – simple, pure spices that made cooking easier and more delicious.
Since then, we have made it our mission to listen to people and develop a range that meets our consumers' needs. This means we create innovative spice blends with 100 % natural ingredients and no additives. In Germany we have developed over 150 different spice blends for every occasion and we are selling them through our own online shop and in more than 11.000 supermarkets.
On our social media channels, we already inspire over 1.8 million followers with daily cooking inspiration. And now we are revolutionising the spice market in the UK, too. The United Kingdom is a very exciting market for us. British cuisine is very diverse and emotional. This should also be reflected in the use of spices. We can see the need of people in the UK: to cook simple, delicious food they love with joy and fun. Without any additives – just with spices. And we empower them to do so.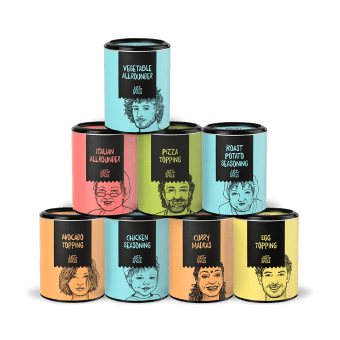 How did you come up with the idea for the company?
It all started in the shared student flat of Florian, Béla and me. We were really the classic students who only had salt, pepper and a bit of paprika in the cupboard and we cooked pasta with pesto almost every day. One evening we wanted to cook an Indian dal together. In the supermarket we realised that the spice offering was not really inspiring or helpful.
We thought to ourselves: Why is the situation in the supermarket so lacking in innovation, especially when it comes to such an emotional product? Why can't we buy spices directly as a mix? And where are the spice cans that not only enhance our food but also our kitchen? That evening we came up with the idea for Just Spices.
How has the company evolved over the last couple of years?
In 2012 we started to mix the first spice blends in the cellar of Florian's mother's house in Dusseldorf, Germany because we had no money for an office. Two years later we went on a spicy world trip where we cooked with locals and took their recipes as inspiration for the first spice blends.
Nonna Lucia's Italian cooking skills can be found in the Italian Allrounder or Rocio's Mexican spicy ingredients in Guacamole Seasoning. Back in Germany, we thought to ourselves: we can't tell the stories of the spice blends, only the locals themselves can. This is how Just Spices came to life as our customers know it today. Their faces still appear on the spice blends inspired by them.
Today we have a team of more than 170 employees and as well as in Germany we also sell our spice blends in Austria, Switzerland, Spain and most recently in the UK.
What can we hope to see from Just Spices in the future?
Our vision is to make every dish tasty. Since our UK launch in March this year, we have built a social media community with over 120.000 followers on Instagram and TikTok and have launched over 60 different spice blends. The feedback of our community is amazing!
Our aim is to strengthen our position and to revolutionise the spice market in the UK. For that we will launch new innovative products and focus on Online Marketing, Influencer Relations and Social Media. As a second sales channel, our goal is to build up the presence of Just Spices in retail.