Made from popped lotus seeds, Karma Bites is the new, healthy and delicious way to snack. Our ingredients are pure and clean – nothing artificial or chemical, zero refined sugar and no palm oil/sunflower oil/rapeseed oil.
If you can't find the ingredient in your kitchen cupboard, it doesn't go in the pack. Karma Bites is Non-GMO, Vegan, Gluten-Free and filled with goodness, protein and minerals in every bite.
The snacking category has been long looking for a healthy alternative to popcorn – making Karma Bites the perfect choice. Our products are available in a range of flavours including; Peri-Peri Wasabi; Coconut & Vanilla; Himalayan Pink Salt and Caramel. In the UK, Karma Bites is available on Ocado from Whole Foods Market; Planet Organic, and over 300 other UK stores.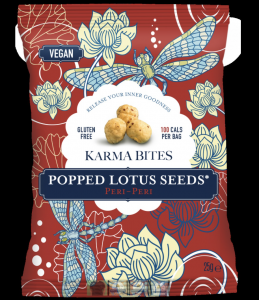 How did you come up with the idea for the company?

The inspiration to start Karma Bites came from my grandmother and with years of working with large FMCG brands. My grandma introduced me to popped lotus seeds and she used to snack on these as a child.
With its many health benefits (source of protein, minerals, iron etc.) and delicious taste, it quickly became my go-to snack. My background is in Advertising and Marketing where I had the opportunity to work with a number of leading brands in the food and snacking space.
Whilst the market offered several choices for snacking, I struggled to find a product that was truly unique and delivered authentically on both taste and health. Lotus seeds were as yet an undiscovered superfood and having experienced the benefits of it first-hand, and so I took the leap, and decided to launch Karma Bites 2 years ago.

How has the company evolved during the pandemic?

Firstly, we have seen consumer focus shift from low fat / low calorie to what's in the pack – ingredients. This helped us as we have always kept our ingredients pure and honest. You won't find any chemicals, artificial ingredients, refined sugars or palm oil/rapeseed oil.
Our products are all vegan, gluten-free and non-GMO. This ethos has helped us not only weather the Covid storm but we have also thrived and grown our business by 150%. Secondly, our market focus has diversified from just the UK. We are now present across 15 markets globally and this has helped us hedge risks across multiple markets rather than rely on one particular market.

What can we hope to see from Karma Bites in the future?

We want to continue championing purity and honesty of ingredients and encourage conscious consumption – look beyond labels and start seeing how consuming a product will actually benefit you. Staying true to the core of the business, we have some exciting plans underway to expand the range with yet more delicious, healthy products.