Distributed is a fast-growing British startup that enables enterprise and public sector organisations to deploy Elastic Teams™ of expert software developers. Our platform allows businesses to harness a global freelance community of on-demand, skilled tech professionals without shouldering the time and cost burdens of recruitment, management, or retention.
This ensures that businesses' digital initiatives are delivered faster, to a higher standard and more cost-efficiently than ever before.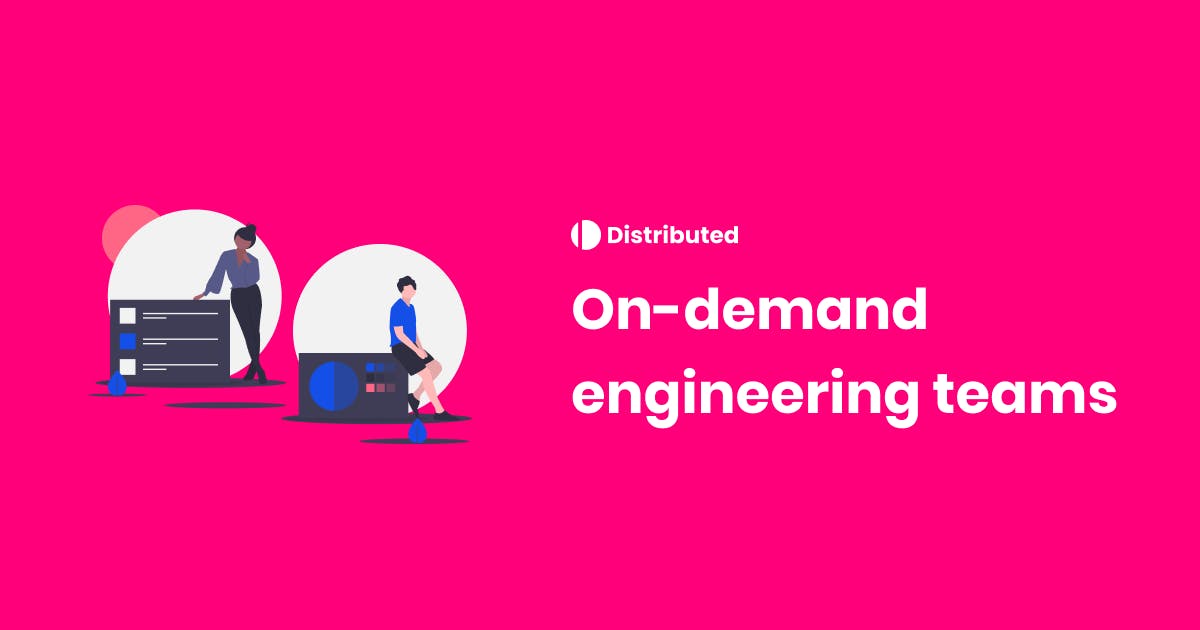 How did you come up with the idea for the company?
I've always wanted to start a business but couldn't immediately identify a gap in the market. During my time as a freelance consultant for companies like Zoopla, I became increasingly interested in improving people-orientated systems. That's when I saw there was a broken talent model. Businesses need to move quickly to respond to changing market conditions, especially when it comes to digital transformation. However, there aren't enough skilled tech workers to go around without hiring large consultancies at significant cost, especially for complex projects.
It became clear that businesses would benefit if they were given more flexible access to the best talent – when it suited them – and how this reciprocal relationship would also benefit freelancers and individuals who want to take control of their own careers.
How has the company evolved during the pandemic?
Working as a consultant, I saw first-hand how people were becoming more attracted to independent, non-traditional career paths. The pandemic has further demonstrated that having a more flexible and often remote workforce will become the preferred working style for the next decade.
With the economy recovering, the shift towards such practices will also increase the popularity of freelance careers, as people realise they can work for multiple clients and get paid more than the traditional 9-5 career – all the while choosing when, where and how they work.
The pandemic has also left companies with much tighter budgets, forcing them to reduce internal IT teams, putting a strain on resources and reducing capacity for innovation. This trend has led to increased adoption of more on-demand talent to make up the shortfall, with businesses becoming more accustomed to using skilled freelancers on a more regular basis.
These two factors are defining the future of work and have been pushed to the foreground by the pandemic. Distributed has been well positioned on both these fronts, to support businesses looking to engage on-demand software experts and individuals wanting to take ownership of their careers.
Thanks to these trends, and a lot of hard work from our London-based team, we were very pleased to recently announce our Series A funding round of £5m led by Guinness Asset Management. It's a fantastic endorsement that the industry is as excited about Distributed as me and my team, and will enable us to further support businesses and freelancers in this new world of work.

What can we hope to see from Distributed in the future?
We want to ensure that we're providing stability and security for our Elastic Teams™ so they are getting the best of both worlds – the flexibility of freelancing with the benefits of permanent employment. That's why we're building a new portal as a hub of information, support and career development for our global developer community.
Although freelance, independent work gives much greater flexibility, people still want to feel as though they are advancing in their career. This new platform will enable our Elastic Teams™ to map skills growth, join apprenticeship schemes to develop skills like learning new coding languages, apply for perks such as a Duo-lingo membership, bid for work on particular projects and receive payment updates. It will also give developers the chance to meet and communicate with each other – helping to build a network of support that is uncommon in the freelance world.