Launched in 2017, the agency was formed to create immersive theatre for brand experiences and corporate events. Up until a year ago we worked with brands like restaurant chain Dishoom, Verizon Media and Resident Evil owners, Capcom, devising fantastic physical spaces to host our live immersive events.
The idea was to bring a theatrical element to marketing campaigns, plunging audiences into the heart of a theatre-quality performance and great storytelling. Our experiences transported people to another time or place, giving them a role to play at the heart of the story, creating cut through and making a lasting impression.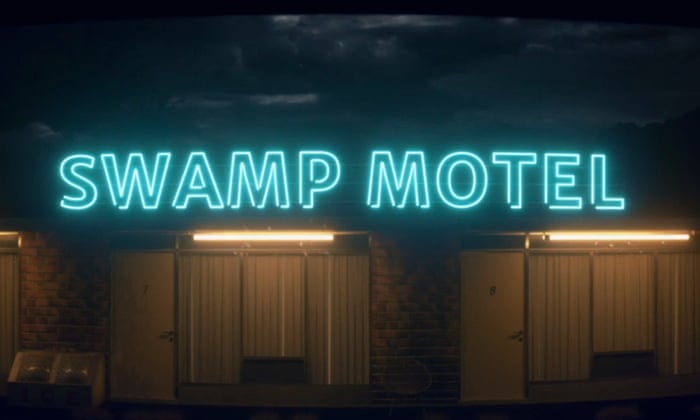 How did you come up with the idea for the company?

The business was devised by Clem Garritty & Ollie Jones, founders of theatre company Kill the Beast and later associates at Punchdrunk. After being asked by one of their contacts to write a script for Bombay Sapphire they quickly realised how the marketing world could benefit from experiences that immerse people within them, rather than simply being passive audience members, and that it needed creatives like them to draw up the characters and stories to make that happen.
Their expertise – from scripting and directing events, to casting superb brand ambassadors – was invaluable for brands seeking to create bespoke experiences for their target audiences. So they set up Swamp Motel with the aim of creating a whole experience based specifically around a brand.


How has the company evolved during the pandemic?

Shortly after the pandemic began to take hold in the UK, our entire pipeline dried up – as you'd expect for a live events business. It was clear we had to pivot, and quickly, to avoid the business going under. As it was we tapped into a huge demand for virtual immersive entertainment and switched the whole operation from physical to virtual, without losing any of the power of the storytelling. That meant taking all the tools and tricks that were previously at our disposal and reinventing them for the internet.
The early surge in Zoom quizzes and things like the Houseparty app showed there was an appetite from the public for virtual entertainment and we knew that we had the perfect opportunity to fill a newly created gap in the market.
A year on we've created a trilogy of virtual consumer experiences – Plymouth Point, The Mermaid's Tongue and The Kindling Hour – which are part true-crime interactive detective game, part escape room, part immersive theatre and which take place online using everyday technology. We've now entertained close to 50,000 people through these original experiences, we have more than proved the value of the medium.
We've also developed a major marketing opportunity and are working with a number of consumer-facing businesses to create branded digital immersive events. This is an entirely new entertainment stream that blurs the boundaries between digital and physical, reality and fiction to powerful effect.
Audiences spend, on average, 60-90 minutes engaged with our immersive entertainment experiences. When a consumer spends over an hour absorbed in a brand world it helps build long-term emotional relationships, presenting the opportunity for brand values and messaging to really resonate.

What can we hope to see from Swamp Motel in the future?

As we emerge out of lockdown, physical events will gradually start going back into the planning stages, and we're excited for that side of the business to resume, but what we're seeing now is very much a dual business model. Our digital experience offering will run side by side with the physical events, catering to those brands for whom virtual events simply work better – either due to the lack of geographical restrictions, the different creative opportunities or the desire to reach a wider audience than a single-location fixed-period experience can deliver.
Creatively, we've discovered a whole host of new ways to push the boundaries of what excites us the most: audience engagement. We're excited to explore the impact these methods can have on live shows and where else we can take our unique brand of online immersive entertainment.
Virtual immersive experiences are an emerging genre of culture that brands can tap into as part of their PR and marketing activities and we're excited to be a pioneer of the concept. Now that advertisers have identified the opportunity there is a buzz around it that's driving it forward at a rapid rate.
The industry has had to adapt to much over the past year as people's habits have changed and we are now approaching a crossroads as we begin to look at life beyond the pandemic. In many respects people's lives will return to normal, but digital immersive experiences will be one of the permanent changes to emerge from an altogether best forgotten year.