Cyan is a Scottish technology company that helps law enforcement, social media and cloud companies find and block harmful content from paedophiles and terrorists.
Police digital forensics teams are typically overstretched, facing a backlog of devices and thousands of data points that need analysing quickly.
Cyan's fast digital triage forensic tools reduce the time it takes for law enforcement to identify illegal content, pinpointing the computers which need further investigation, creating earlier opportunities to safeguard children and take action against terrorists. Reducing the time it takes to locate illegal content can accelerate convictions and helps to make the internet a safer place.
The technology is also used by social media companies to help automate the process of finding and eradicating illegal content on their platforms. The traditional process is often traumatic for the moderators on the frontline and is hugely time-consuming, so using software solutions to review content is an effective way to improve online safety and reduce online harms.
Our work has been called 'game changing' by the UK Home Office and is also recognised as effective in helping identify child abuse content by the National Centre for Missing and Exploited Children (NCMEC), the leading US non-profit on child safety.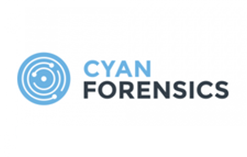 How did you come up with the idea for the company?

I've been involved in bringing various new technology to market throughout my career and I've always wanted to lead a high-growth tech company. Cyan spun out of a project I was working on with my co-founder Bruce, at Edinburgh Napier University.
The sense of purpose and mission around the technology really appealed to me, as speeding up the time it takes to identify illegal content literally helps to put criminals in prison. In the early days, Bruce drew a stickman behind bars on a post-it note and added it to the wall each time our software helped police catch someone accessing child abuse material. We had to stop the post-it notes as we were running out of space, but this sense of purpose still guides everything we do.


What advice would you give to other aspiring entrepreneurs?

Building a business requires a diverse range of skills, to enable you to work with technology, customers, investors, your team, and professional advisors. It's natural that early on in our careers we often focus on one thing, but building a broad range of skills is invaluable in building our own businesses. Even more important is recognising what skills you bring, and where you need help from others whether that is mentors, co-founders, or talent you hire in.
At Cyan, I am constantly pulling on my expertise in both business and technology and I think it's important to have a grounding in both.

What can we hope to see from Cyan in the future?

In the future, we'd like to see online safety being baked into products as they're sold to consumers, much like seatbelts are an integral part of a car.
Today we're equipping law enforcement with the technology to detect harmful content quickly and effectively on suspects devices, and this is opening up new opportunities to catch offenders. We believe our technology that finds basic digital evidence fast can become as ubiquitous as the breathalyser is today in traffic policing, and our partnerships with Susteen and Detego will help us to achieve this.
Catching offenders is great, but it's even better if we can prevent the circulation of illegal material online altogether. Looking ahead, we're excited to continue our work with organisations in the online safety sector, as well as furthering our partnerships with governmental bodies to deliver technology to improve online safety.