Launched in 2018, LARQ is a sustainable hydration brand which we launched with the world's first self-cleaning water bottle. We started as a Kickstarter campaign, which became the largest crowd funded effort for a clean water initiative.
The LARQ Bottle is revolutionary not only in its design and technology, but also in how it can affect our dependence on single-use plastic. LARQ's advanced technology aims to disrupt consumer behavior to help battle dependence on single-use plastic, while heralding access to clean drinking water. The LARQ Bottle uses proprietary and patented PureVis™ UV-C LED technology to combat most common complaints about reusable water bottles: odor and contamination, difficulty cleaning, and shortage of on-the-go access to pure drinking water.
By emitting a UV-C light in the 280nm range — the optimal wavelength of light to eradicate bacteria and viruses — the LARQ Bottle purifies water and inner surfaces by eliminating harmful sources through a photochemical reaction. At the touch of a button, the non-toxic and mercury-free bottle eradicates up to 99.9999% of harmful and odor-causing bacteria and viruses. The technology activates every two hours, basking the water and the inner surface in purifying UV light to keep your water and bottle free of germs.
This year, we launched the LARQ Pitcher on Kickstarter, a project that was fully funded in just 3 minutes and we have just announced Series A funding of over $10 million to help fund new product development and the brand's expansion.
Like our flagship LARQ Bottle, the LARQ Pitcher will also use LARQ's proprietary PureVis UV-C LED technology to eradicate bacteria, viruses and mold, turning on automatically every 6 hours to keep your water pure. We've also developed a custom-designed filter that is carbon derived to remove chlorine and other contaminants to deliver a perfectly smooth finish.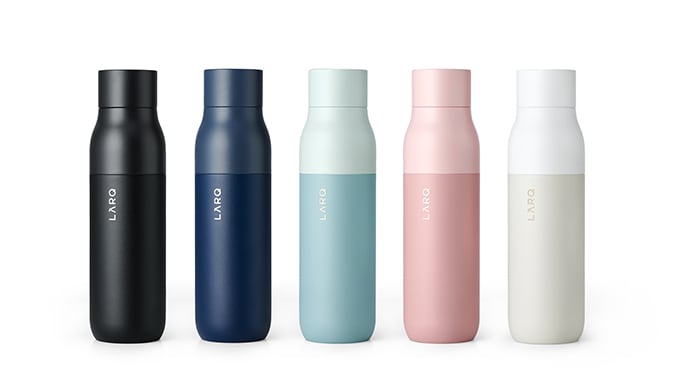 How did you come up with the idea for the company?

A few years ago, my family and I decided to try reducing our use of single-use plastics, the most obvious cut being bottled water. We hoped to reduce our waste in general, and wanted to be more sustainable. In trying to reduce single-use plastic water bottles, I realized my family had collected about 15 different kinds of reusable water bottles. Despite the wide availability of these options, it failed to curb our use of plastic bottles completely.
I realized this was not an issue of access but an issue of the product not solving the core pain points of the average consumer, namely difficulty to clean. Serendipitously, I met my co-founders who are the core inventors of the UV-C LED technology in our bottle. We put our heads together and decided to launch LARQ a little under 2 years ago.

What advice would you give to other aspiring entrepreneurs?

Be a sponge for help, knowledge and experiences. It is easy to think you should have all the answers as a founder, but I think one of the most important traits as an entrepreneur is to know when you are in need of assistance. You'd be surprised how many people are willing to help if you open yourself up to it.
We've had the benefit of having met some extraordinarily generous people and partners who were willing to help us along some key points in this journey. We tested some of our early design concepts by standing outside a Whole Foods and asking the shoppers which shape they liked the best. Despite being asked to leave the premises, we did collect very valuable insight at our critical point in our design process.

What can we hope to see from LARQ in the future?

Our ultimate goal with LARQ is to continue to develop into a 360-degree hydration brand and provide consumers with sustainable solutions. We've just raised capital to develop our product lines in the hydration space while furthering their global expansion to new markets this year and beyond.
We are on a mission to help eliminate our addiction to one-use plastic bottles. We have the technology and design to help make the right choice easier today. LARQ will be a household name in the near future and we hope readers will join us on this journey.