Founded in 2013, Uphold is a global platform that allows easy conversion between fiat currencies, cryptocurrencies, and commodities.
We serve almost 5 million customers in more than 150 countries and manage almost $1.5 billion in customer assets. We're currently opening around 50,000 accounts a day as consumers seek a more versatile and cost-effective home for their financial lives. Leveraging blockchain technology, the platform provides both consumers and businesses with easy access to 43 digital assets, 27 national currencies, four precious metals and 50 fractional U.S. equities.
Our goal is the onboarding of 100 million people to cryptocurrency, making digital securities and cryptocurrencies accessible to the markets and a variety of investors across the world, including remote third world nations.
We're trying to become the most useful and convenient wallet for people's daily financial lives. This means providing better access to novel and traditional investments and allowing them to make payments across different jurisdictions and currencies. We provide customers with an account that is a hybrid replacement for a conventional bank and brokerage account, offering all the benefits of both a brokerage and bank account combined and giving today's consumers faster access to a much broader range of investment classes and payment functionality.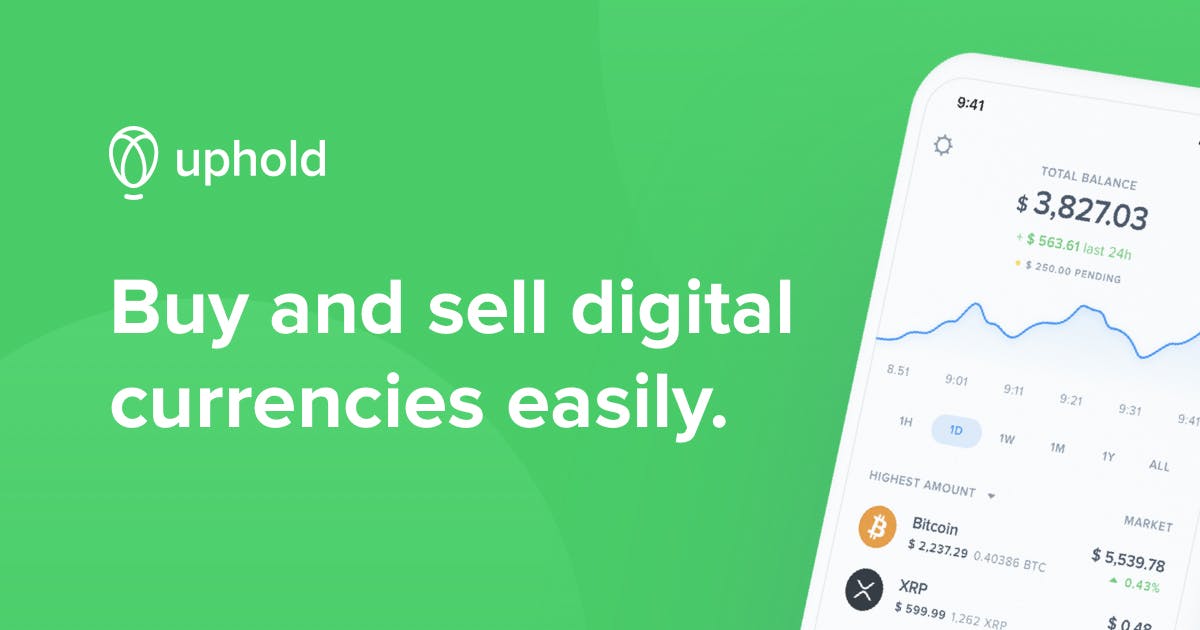 How did you come up with the idea for the company?

When we started Uphold, then known as Bitreserve, in early 2013, we never thought Bitcoin itself would be a mass consumer value proposition. However, we did believe it was revolutionary and that it would boom into something much grander in the future.
Today, Uphold allows people to access novel and traditional investments more cheaply and efficiently than has previously been possible. Users can pay, invest, and be paid in a variety of assets, ranging from precious metals to cryptocurrency to US stocks.
This happens all in one place, rather than requiring a separate wallet for each investment.
Our wallet acts as a hybrid brokerage and bank account, opening up financial options that traditionally haven't been available to people in their daily lives.


Tell us about your new partnership with IMVU

Earlier this year, the Securities and Exchange Commission (SEC) granted a no-action letter enabling users of IMVU to cash out on their virtual goods and convert them into Ethereum currency.
In light of this, IMVU has launched its own transferable digital currency called VCoin, allowing users to buy, gift, hold, earn and convert their earnings and rewards from the platform into various digital assets and fiat currencies.
Before implementing VCoin, users of IMVU had to rely on third-party payment tools such as PayPal and Venmo to get paid. This made it more difficult for users to cash out on their virtual goods, as many of these payment tools have geographical limits.
Unfortunately, these limits affect many IMVU users.
This is where Uphold comes in. We have recently partnered with IMVU to allow their users to withdraw VCOIN from the platform and transfer it to an ERC-20 compliant wallet. This can then be converted to fiat currency.
IMVU is currently the world's largest avatar-based social networking platform, facilitating a comprehensive, dynamic economy with participants who are creators, hosts, and customers of the platform itself.

What can we hope to see from Uphold in the future?

Our main goal at Uphold is to enable investors across the world to easily access cryptocurrencies without paying exorbitant transactional fees.
We are looking to work with firms that want to pay their employees in cryptocurrency, either in part or in full. This trend will definitely gather momentum in the near future as the validation of currencies like Bitcoin and Ether has risen significantly through recent bull runs.
The world's richest man, Elon Musk, has recently stated that he wouldn't mind being paid in Bitcoin. If Bitcoin is too lucrative for even someone like Elon Musk to turn down, there will be no shortage of corporations and employees who wouldn't mind transacting and holding cryptocurrencies.
We'll soon be adding IBANs, whereby all users are given an individual account number and sort code, allowing them to pay and be paid with Uphold. We're also looking to introduce a stop-loss product for our users investing in cryptocurrency so that they can lock in their gains and lock out downside risk.
A lot of people are put off crypto due to its volatility. We're allowing a trailing stop. This will enable users to have greater control over their investments and means you can lock in your gains and lockout the downside of a sudden market crash.
We may have begun with cryptocurrency, but Uphold is looking to branch out into tokenised versions of several assets. These range from fine art to private equity.
We're also really excited about developments in DeFi and ETH2.0 and are working to support that functionality.