above & beyond (or a&b) is a different kind of startup focused on ending single-use waste and landfill across the home, starting in the bathroom.
Our a&b story and soul was created through this chance encounter of redemptionists, rebels and responsible adults crazy enough to do something about a problem that was only getting worse – household waste. Landfill and single-use waste is bad, you know that. It needs to stop. So we're trying to stop it, that's it.
And why not? We sell microplastic-free lifetime-use lip balm today, but soon we'll sell a complete refillable universe fit for every corner of your home (and beyond).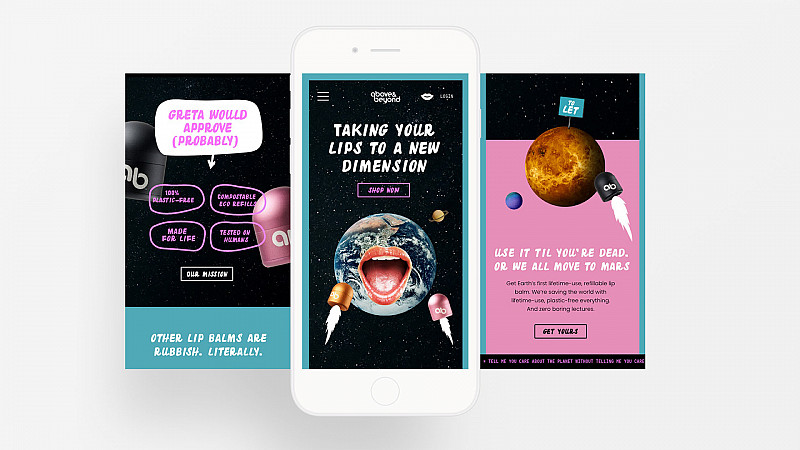 How did you come up with the idea for the company?

Exhausted with immovable brands and reactive agencies, I decided to take a chance and go on a little adventure with a group of people I now know as my fellow agitators. An adventure in business and purpose without compromise. Led by courage and a grounded, progressive and responsible philosophy, bereft of gerontocratic structure.
We have; Tiger Savage, with a name and attitude that isn't afraid to breathe the creative fire needed to get us noticed. Andy Hill, whose design, rigour and sustainable expertise created our above & beyond MVP that leads the field in anti-landfill, anti-single-use-waste and beyond.
We also have Simon McCandlish, ex Boots honcho that jumped ship to join the flint of this growing wildfire we're trying to start. And of course, we have Will King. The high octane, incorrigible energy behind a&b. The individual who connected the dots and brought us all together in this green ensemble.
With big multinational targets too far in the future and sustainable upstarts too small to make an impact, there was and is an obvious gap. We need to inject the power of brand, affordability and access to drag our category up to the standards our natural world deserves.


How has the company evolved during the pandemic?

We started as a group of 5 people and 3 product ideas in June 2020. We didn't meet in person until some time thereafter. Meaning, from ideation to reality to today, everything has happened with the backdrop of the pandemic, Brexit etc. If we can progress and move like we have over the past 18 months, the future is very exciting. We have a growing audience, platform and range that we'll develop no matter the circumstances.

What can we hope to see from above & beyond in the future?

We hope you'll stay with us and enjoy a more affordable, accessible and broader ecosystem of lifetime-use refillable products. The more we grow, the larger our impact on people and the planet.
The future is our refillable oyster, but we're running out of time. Whether it's lip balm, deodorant, shampoo, conditioner, toothpaste (the list goes on), we want to be there to provide the most sustainable immediate and effective solution that brings the future to the present.
Fingers crossed we can #UnscrewThePlanet in time.