Cirrus Response is a cloud contact centre solution provider, delivering a seamless omnichannel experience for customers and agents. Our technology works by integrating communications across multiple channels, including voice, video, email, messaging and social media – achieving a single view of the customer.
With a cloud infrastructure, Cirrus operates on a real-time basis with unlimited scalability and the highest level of resilience and security. Our open, extensible platform enables us to integrate and innovate rapidly, supporting the requirements of organisations across all sectors, regardless of location or complexity.
Cirrus provides a 99.999% service level guarantee; and the Cirrus Cloud service has achieved 100% service uptime since January 2014. I'm really proud of our reputation of being the most stable contact centre platform in the market, and we specifically built our infrastructure to serve 24/7 operations which require an 'always on' service. Our solution is designed to be highly scalable, stable and secure – virtually indestructible. Cirrus also guarantees a Recovery Time Objective (RTO) of 60 seconds and a Recovery Point Objective (RPO) of 60 seconds.
In March 2019 we adopted a channel-only exclusive selling strategy, working with a number of trusted resellers in the technology space. We are passionate about partnering with ambitious companies and strive to help their customers achieve a flawless customer experience.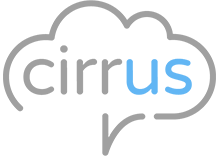 How did you come up with the idea for the company?

Working in the contact centre space for many years and ultimately as Operations Director at an out-sourced contact centre, I identified the growing need for a seamless solution that would enhance the agent experience and help them work smarter, achieving a step-change in customer experience.
Back in 2008 whilst with my old employer, the technology that was supporting the contact centre was nearing the end of its life and needed replacing. I therefore took on the task of engaging around 16 different CCaaS providers to find the best vendor for our needs. However, none could quite fulfil all of the functionality that was required.
So, I decided to build my own solution, bringing together all of the components that were required, taking the best bits from other solutions and implementing some new functions. Once live, we started getting fantastic customer feedback and we quickly realised that we had created a unique proposition that had the potential to redefine how contact centres were managed in the future. And so, Cirrus was born.
As we come from a contact centre background we were and continue to be, passionate about the industry and partnering with like-minded customers to offer a service that enhances customer experience and communicates with customers, in a way that they want to be interacted with.


What advice would you give to other aspiring entrepreneurs?

Starting out in any industry brings about challenges, and one thing we did at Cirrus which really helped us to stay on track, face our biggest competitors and build a reputable company, was to focus on company culture.
Therefore, my advice to other entrepreneurs is to stay loyal and committed to your business objectives and try to build out the best team around you. In the early days especially, it is important that your team understands your vision, has a strong work ethic but most importantly, brings their own ideas and opinions to the table.

What can we hope to see from Cirrus in the future?

We've started 2021 with a bang, announcing a multi-million-pound investment round with BGF who have come on board to support our next stage of development. It's a hugely exciting time for Cirrus and we have already started to scale up the business with key people hires and we are dedicated to creating our new market-leading technologies.
The need to advance contact centre tech was supercharged in 2020, due to the pandemic. As most contact centre agents adapted to working remotely, specific apps such as Microsoft Teams became fundamental to the running of businesses. Our partners called for a highly flexible solution that could join up the front office with the back office, to remedy customer demand – an integrated contact centre solution within Teams. We, therefore, dedicated time and resources to ensuring this technology gap was filled with easily adaptable solutions that overlay customers' existing technologies, empowering agents in their day-to-day work.
As we come out of the pandemic having moved through this digital transformation, we're looking ahead with excitement to future technologies and to bringing our team's expertise to the forefront, offering a range of very compelling solutions to partners and their customers.
I'm proud of the culture we've created here at Cirrus which is reflected in our Glassdoor score of 4.9/5. Our diverse and inclusive team is driven by a passion for teamwork, success and innovation and the team remains dedicated to helping customers achieve client's business outcomes.