KoRo Handels GmbH is a diversified food and technology company that rethinks retail. By skipping stages of trade, using efficient process flows and bulk packaging in a sleek design, KoRo makes high-quality food accessible to all at fair prices.
Our company pursues the vision of becoming Europe's leading supplier of food and goods by consistently implementing its five basic principles: quality, short supply chains, bulk packaging, fair prices and transparency.
In this way, KoRo brings producers and consumers together and also connects consumers to the product. Our product range includes a wide variety of long-life, natural and processed foods as well as kitchen utensils, cooking accessories and much more.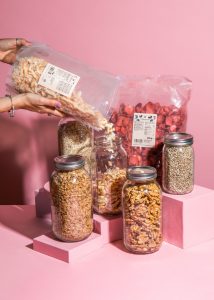 How did you come up with the idea for the company?
When KoRo was founded in 2014, our first product and main focus on the online shop was detergent. The starting point for the founding idea was the book "Kopf schlägt Kapital" ("Head beats capital") by Prof. Faltin.
This book describes the path to founding a company without capital – consisting of outsourced components and with products only in bulk and directly from the manufacturer. Together with Robert (our initials form the company's name KoRo), I asked myself which product is sold in pharmacies in relatively small packages at a high price.
KoRo wanted to offer an alternative to this product, detergent: by skipping trade stages, efficient process flows and large packs in a simple design, detergent should be sold online at fair prices. The KoRo range soon expanded to include food. The idea came from my wife Michelle, who was very involved in vegetarian and vegan nutrition.
From then on, the new focus was on a wide variety of long-life, natural and processed foods. Quality, short supply chains, bulk packaging, fair prices and transparency became the basic principles of KoRo. Nuts and dates quickly became much more popular in the online shop than detergent, so we said goodbye to the original product.
Our background is also rather unusual, I studied law and Piran mathematics and business administration. Piran worked as a trainee at KoRo at the time and joined the management in 2016. To do so, he bought all shares from co-founder Robert by auctioning off his collection of Yu-Gi-Oh cards. Since 2020, Flo (Florian Schwenkert) has been part of the management team as COO. He originally studied industrial engineering with a focus on computer science before becoming a founder himself. I think we make a great team at the moment and everyone has their own specific business areas and ideas.
How has the company evolved during the pandemic?
As an online shop for long-life food and accessories, KoRo can be considered one of Corona's profiteers. We are very satisfied with the development in the British market.
We had twice as many orders between January and July 2021 as in the same period in 2020. Globally, the number of orders for this period grew by 230%. From 2019 to 2021, global sales for KoRo increased twelvefold.
What can we hope to see from KoRo in the future?
The next big milestones are the expansion of the offline concepts in the entire EU market, the launch in new online shops as in Greece and the Czech Republic, and the sale of the products in the US. We also want to develop more and more of our own creations in our own production side in southern Germany and find franchise partners for our offline concepts KoRo Kocht (delivery service for lunch and dinner) and Chunks by KoRo (handmade ice cream).
In 2022, we will also open our own café in Berlin Mitte. In the long term, our vision is to become Europe's leading supplier of food and goods.