Space Goods is the next generation wellness brand which uses functional mushrooms to help positively impact people's health and mental wellbeing. Our first product, 'Rainbow Dust' is an all-in-one chocolate-flavoured powder blend that can be mixed with water or milk and enjoyed as a hot or cold drink, or even combined with smoothies or food.
Made with all-natural ingredients, including vitamin B5, Ashwagandha, and Maca root, Rainbow Dust is designed to be part of your everyday routine. The result is increased energy and sharper focus with zero jitters and no crashing, making it a great alternative to coffee!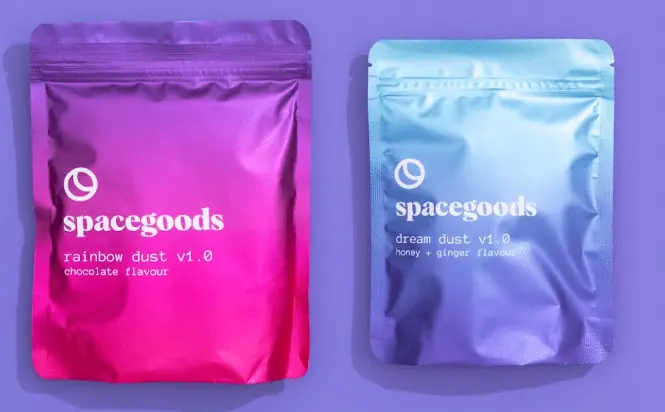 How did you come up with the idea for the company?

By 2020 I had already founded seven different companies. My first few ventures weren't as successful as I hoped, but I had finally built two successful brands, delivering a combined revenue of £1million a month. However, it was still 99% work, not play. I would be working gruelling 15-hour days, and although I had everything I could dream of; it wasn't smooth sailing.
I frequently struggled to cope with the ups and downs that came with running two successful businesses, both professionally and personally. When my multi-million-pound neon sign business, Neon Beach, collapsed due to supplier breakdown, my mental health hit an all-time low – to the point where I considered ending my own life.
After seeking help, I was diagnosed with bipolar disorder. Although I was prescribed traditional medication, I wanted to instead find a better solution, which lead to my own experimentation with magic mushrooms as an escapism and coping method, having heard about their positive impact on brain functionality and reducing depression.
Having experienced the positive effects of psychedelics in Amsterdam five years earlier, I believed they had the power to turn my life around, both in terms of improving my own mental health, as well as being the unique business idea I had been searching for.
Quickly throwing myself into research and exploring mushrooms as a natural wellness solution, I made it my mission to find mushroom alternatives that are legal in the UK. It was with this vigour that I channelled my energy into working with a nutrition lab in Surrey, to create what is known today as Space Goods' Rainbow Dust.


How has the company evolved since it was started?

Following its rapid growth since launching in May last year, Space Goods has received 30,000 customer orders and is on track to generate £1.6 million revenue by the end of January, with that figure projected to rise to £8 million for the 2023 calendar year.
To date, 4,500 subscribers have also tried and tested the unique all-natural and vegan blend of lion's mane mushroom, cordyceps mushroom, chaga mushroom, ashwagandha, maca root, rhodiola rosea, coffee extract and vitamin B5.

What can we hope to see from Space Goods in the future?

I started Space Goods to educate others like me on the power of mushrooms to help unlock their best self. So many people rely on coffee for an instant buzz or to focus yet regret it hours later when they can't get to sleep or have the jitters.
Rainbow Dust is only the beginning – our mission is to become the world's number one mushroom brand and given the rate the functional mushroom market – and our fanbase – is growing, it's a very exciting time to be on this journey. I look forward to expanding our offerings beyond Rainbow Dust… all I can say is keep your eyes peeled, as something very exciting will be launching on January 30th!