In French, RÉDUIT means 'reduced' and that's the big idea – to amplify results and efficiency and reduce time and waste.
We're based in Switzerland, one of the key areas for micro technologies, particularly within pharmaceuticals and advanced cosmetics. Our parent company Wellfully has developed enhanced drug delivery technologies for almost 20 years now. With Réduit, we have taken what they do and delivered it to the beauty tech industry. We are the first to take a quantum physics approach to beauty and I believe the rest will follow!
We are focusing on a new paradigm of performance, from the actual application and the way you manage and engage with it, to the effects of the product.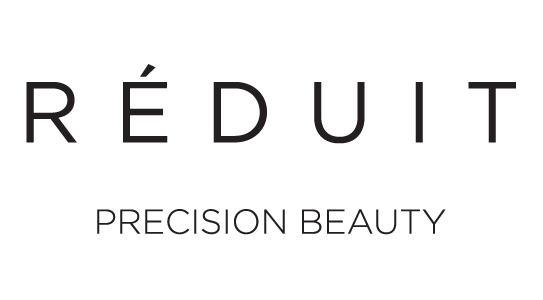 How did you come up with the idea for the brand?

I created RÉDUIT with one vision: to revolutionise the everyday beauty routine. We use our proprietary enhanced delivery technology to really push active skin and hair ingredients deep into the layers, exactly where you need them. We've created a skin and hair care system that is 100% painless, yet is giving injectable grade performance with the health of the hair and skin at the forefront.
We started in Neuchâtel, Switzerland, with the dream of creating truly superior beauty products. From performance to sustainability and user-friendliness, we design products that truly elevate the everyday.
RÉDUIT was inspired by nature.  Somewhat different than is common: rather than focusing on specific plants, or extracts, we are fascinated by integrating nature's core principles in our innovation.  Magnetic fields, for example, are key to our products' performance, but at the same time, these are the very same ones that make life on earth possible in the first place by protecting our planet from solar radiation.


How has the company evolved during the pandemic?

As we launched in the year of COVID-19 while it was disrupting the world, we are essentially a COVID brand that actually had some benefits. This gave us the time to approach our product development, go to market strategies and we were able to really think about how we would approach our customers for this 'new normal'.
In this time period we noted:

A more sober approach from consumers and the desire for real results. In the wake of a health crisis, consumers had much more bandwidth to think about ingredients in their products and what would be best for them.
The need for at home solutions as salons and clinics closed their doors in lockdown. There was a real need in the market to provide tools and solutions that would give customers salon worthy results with optimum health and benefits at the forefront, but easy to do at home. The convergence of health, wellness and beauty was more apparent than ever.
We also noticed a clear divide of consumers looking at entertaining skincare ( those who like the idea of skincare and are excited about the new gadgets on the market) vs those who really 'desire' skin health and are educating themselves on ingredients, how to penetrate the skin in the best possible way, and above all; looking for real results for skin health.

I identified the convergence of health and wellness, merging with beauty and people are much more aware and paying particular attention to ingredients in their beauty products. Not only ingredients but about how they are applying their products. The heightened awareness and warnings in COVID times with regards to washing hands regularly, touching your face and surfaces led people to rethink how they do things, and this was the same when it came to beauty routines. A touchless way to deliver skincare was another solution RÉDUIT brought to the table in COVID times so we evolved with the pandemic, bringing solutions to everyday beauty problems in the 'new normal'

What can we hope to see from RÉDUIT in the future?

My first plan is to do all the things we planned to do!
My second plan is to invent more world-firsts along the way to shape and disrupt the industry as we know it. This is the beginning of the RÉDUIT story and who knows how far we will be in two years but we are excited to see!
This year has been particularly exciting!  We're already well underway with a number of exciting new products, from a new generation of advanced smart applicators, to multiple novel lines of exciting high-performance Hairpods and Skinpods.  We're engaging our internal team and collaborations with professionals to really push and move the learning curve further up both on design, as well as communications and marketing practices to make sure we increase value for consumers.
Now we've launched the basics of treatment for hair, and the same for skin, there is potential to explore enhanced delivery technologies that could combine treatments – for example moisturiser with sunscreen, which layer perfectly on top of one another on the skin.
There are also opportunities in personalisation by acting with different waveforms – each
active ingredient reacts to different waveforms – we may activate specific active ingredients in a certain formula to emphasise the delivery depending whether you want more of one or another.