Juno is an app that gives parents on-demand access to NHS paediatricians and midwives, giving you expert medical advice from leading clinicians in minutes.
Getting a GP appointment can be tricky at the best of times, meaning many parents are having to resort to A&E trips or 'Dr Google' when they need advice. Juno is solving this issue. On-call, GMC registered paediatricians or senior midwives will give parents or expectant mothers personalised, expert advice on next steps.
Messages receive a reply from a real doctor (no robots or AI!) within 4 minutes on average and the specialists can advise on next steps – whether that's care you can provide for your child at home, or a visit to the GP or hospital, or if you have nothing to worry about. You can also securely share photos to help explain what you're worried about – such as a rash or graze.
With Juno, families can avoid unnecessary trips to doctors to hospitals, but also ensure that healthcare concerns don't go unaddressed and that any serious problems are escalated. Often, particularly for new parents, being able to access the peace of mind that comes from speaking to a professional is hugely important.
It's also taking pressure off healthcare services at a time of intense demand and rising queues for treatment.
Paediatricians are available on Juno between 8am and 8pm, 7 days a week (with 24-hour access coming soon). Over 2,000 parents are already using the app to ask questions on everything from colic to colds.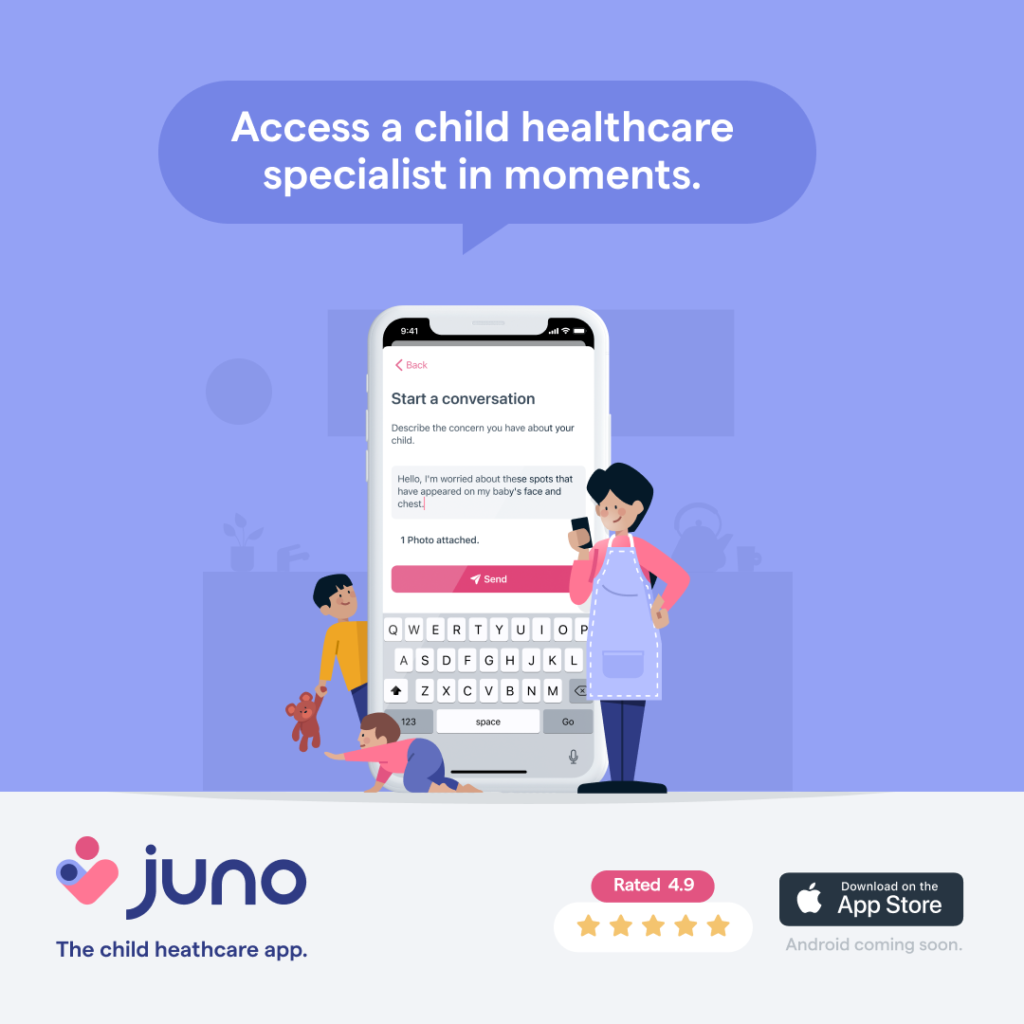 How did you come up with the idea for the company?

The app has been designed by myself and my wife; Dr Lydia Yarlott, who is an experienced paediatrician. The idea for the app came when we found out we were expecting our first baby. All of a sudden, we had all these questions and concerns, but only infrequent hospital appointments where we could ask them. (Even though Lydia's a doctor, so already knew a lot!). This experience, combined with Lydia seeing a huge decrease in children being brought into hospital during the pandemic, inspired us to create a way of getting expert advice to families whenever they needed it.
We've worked alongside a wider team of clinicians and technologists to build an app which is secure, effective, and safe.


How has the company evolved during the pandemic?

We launched Juno in the midst of a pandemic and it couldn't have been more needed. Due to understandable virus fears, children weren't receiving the care they needed. The existence of Juno meant parents could still get healthcare advice and our doctors could make sure urgent cases were acted upon. We know we've already saved the life of at least one child.
We started our pilot with just paediatricians and were delighted to add midwifery services to the platform earlier this year. Feedback from parents has been amazing and we think the pandemic has highlighted just how important timely, expert medical advice can be.

What can we hope to see from Juno in the future?

Our goal is for Juno to be the go-to destination for all parents and parents-to-be who are seeking medical advice. So many digital health apps use AI or bots to handle conversations. We are offering something different; real NSH doctors and midwives offering personal, empathetic support to parents when they need it most. Scaling this up to support more families is our number on objective.