Glaize is on a mission to change the nail care industry by simplifying the process of getting a quality manicure and by reformulating nail care products in a more sustainable fashion. We basically exist to give you an alternative that's easier, faster and better for your nails and the environment while still giving you the durability and salon quality of a gel manicure.
Our first product (launching soon) is our made-to-measure gels, partially bio-based stick-ons that are sized exactly to your nails using our patent-pending technology and which can be applied in just a few minutes anywhere, removed in seconds (simply peel them off) and last for about 10 days without damaging your nails.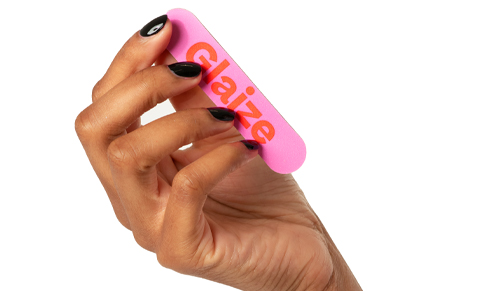 How did you come up with the idea for the company?

My love for manicures started while I was growing up in Lebanon where I would always have my nails done. But when I moved to Dubai and then London to work in investment banking, I had very little downtime for manicures. Because manicures had always been important to me, I was on the hunt for an easier nail care solution but all the quick fixes looked cheap or didn't fit my nails properly. So when I couldn't find the solution I was looking for, I decided to build it. This is basically how I came up with the initial idea for Glaize.
The deeper my co-founder and I dug into the nail care industry, the more we realised that the products we still use today hadn't evolved much since their invention, not just in terms of application but also when it comes to chemical composition (which is filled with microplastics) so we wanted to change that.



How has the company evolved during the pandemic?
The company was born in the middle of the pandemic so we don't really know what it's like to build Glaize in a "normal" world.
We've had to build our product and tech from scratch for almost two years remotely and in the middle of a global pandemic and a supply chain crisis. Needless to say, this has been very challenging and has involved over 300 product iterations to get to where we are today. The supply chain crisis has also impacted our timelines due to delayed deliveries and longer than usual lead times which as you can imagine also puts additional pressure on a start-up's cash flow.


What can we hope to see from Glaize in the future?

You'll hopefully see a lot of exciting collaborations which are currently in the pipeline. Without giving too much away, you'll also hopefully see constant innovation on the product and experience side of things within the nail care space.

What advice would you give to other aspiring female entrepreneurs?

I speak to a lot of female founders in my network on a regular basis as we often lean on each other for advice and support. One of the things I often notice is that women often hold themselves back because of imposter syndrome and the constant guilt of feeling like we're not doing enough.
My advice for whenever imposter syndrome creeps in and you're having a bit of a low moment is to write down your wins and accomplishments over the past 6 – 12 months. This helps put things into perspective and allows you to differentiate between facts and feelings.