Piqant, is the new online destination for ethically sourced coffee with an innovative new AI tool to help people pick their perfect brew.
The unique app delivers a selection of carefully curated coffees personally matched to each customer's individual tastes – without any need to puzzle over origin or altitudes – allowing coffee lovers to discover exciting new global favourites from a huge range of independent local roasters in one place.
Coffee enjoys a complexity similar to wine but while drinkers may confidently shop for a preferred tipple, navigating coffee from Bolivia to Brazil can be a headache. Harvesting, growing and processing methods, terroir, roast level and varietal influence coffee flavour, and many coffee fans don't know how to interpret these myriad factors.
It's a modern take on coffee, a brilliant way to get into drinking coffee and cutting through the noise around which coffee to buy.
Once our app has computed a customer's appropriate tasting profile, they can choose to purchase their ideal coffee match, or try it with a selection of three similar bags for a discovery experience a world away from the supermarket. Alternatively, customers can subscribe to their tasting profile and receive perfectly matched freshly roasted coffees regularly to their door.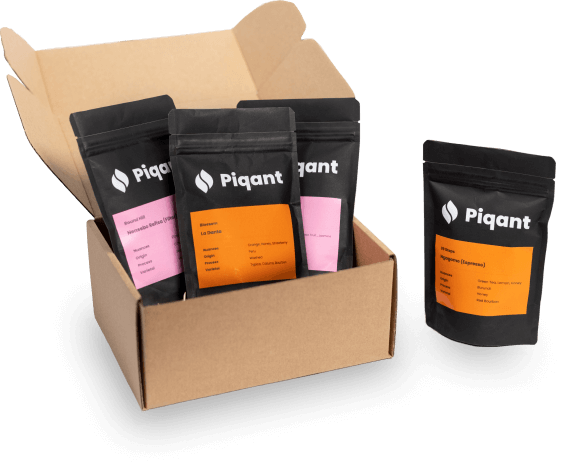 How did you come up with the idea for the company?

The original idea was to open a coffee shop featuring coffees from different origins and offering different brewing methods but the pandemic struck out and everything stopped, including our project.
During the first lockdown, we were trying to keep ourselves busy, like everybody else, with the idea of still opening the coffee shop. We started to order coffees from different small roasters in the UK. We spent a lot of time surfing the internet and found that these small businesses live a different reality than that of the famous giants of the industry whose products are based on mass production.
We found out how difficult it was to discover these small roasters with great coffee, and the online experience was lagging behind the quality of the coffee. Here's when the idea of Piqant arose – a place where everyone can find great coffee from different independent coffee roasters and cut through the noise around which coffee to buy.


How has the company evolved during the pandemic?

2020 has brought a lot of changes, but not all of them have been bad. In a year where everything turned, including our way of life, it was difficult to start a business. However, it was also a big opportunity for us, one could say that Piqant is how the company evolved due to the pandemic..
We had to completely change our first idea to open a coffee shop and evaluate how we could adapt our passion for coffee to this situation. We saw in this the amazing opportunity to simplify the way people buy coffee.
While helping small businesses (independent coffee roasters) grow.

What can we hope to see from Piqant in the future?

After three months from launching we've discovered other areas of struggle, some people don't really know how to get into drinking better coffee and not many understand what speciality coffee is, hence, we're releasing a free online video course: Introduction to Home Brewing. Which we're developing in partnership with award-winning baristas from the UK.
We're rolling out a new version of our Match My Taste AI algorithm, doubling our coffee selection by onboarding new roasters and expanding our offering with coffee equipment.