Confer With allows eCommerce, retail, and customer service teams to give real-time video advice on which and what products to buy, just as they would in a store environment.
During live eCommerce shopping experiences, teams can be matched with customers and engage, real-time over video.
They can demonstrate products, shop within an immersive experience, upsell, cross-sell and deliver promotions to the customer. Both the team members and the customer can jointly populate the customer's basket, ready for checkout.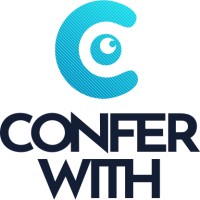 How did you come up with the idea for the company?

I've spent my career working with eCommerce operations from enterprise level all the way down to startups – focusing in on how to unlock growth. In fact, the last business I built up and sold, Stream20 was a consultancy that would send teams into eCommerce operations large and small – trying to unlock growth in revenue.
I was lucky enough to have a helicopter view of most sectors in eCommerce – and I got a picture of what worked and what didn't.…. and I think the most consistent factor in unlocking growth was strong conversion. If a business had great conversion – growth was relatively straightforward. If conversion was poor – it was an uphill battle.
Conversion has always been central to me, having spent years relying on it to get growth. After Stream:20 was sold and I was working through what the next business would be, I kept coming back to the thought that eCommerce conversion isn't that great. It ranges from 1% to 5% in most instances. There are outliers: I've seen plenty of high consideration products convert much lower and a few amazing operations convert much higher, but these are a good benchmark.
Talking to people in retail, it's a whole different ballgame. Great retail converts at somewhere between 20% and 40%. There are a lot of factors that impact the high and low of those figures, but there is a key factor here: eCommerce conversion rates aren't great when you look at retail. Retail just doesn't get the traffic volumes eCommerce gets these days.
So the seed idea of Confer With was to try and replicate the retail environment in the higher volume eCommerce world.


What advice would you give to other aspiring entrepreneurs?

I think the most important predictor of success of an early-stage business is traction. It gives you an indication of the likelihood of success. Some people call it product-market fit, and there are ways to get that indication early.
When we were planning Confer With, we spoke to hundreds of people in or related to the field of retail and eCommerce at each stage in the development process. Initially just spoke with retail people and asked how they optimised their conversion rates before we built anything.
That gave us a view of how retail really worked. Then we built a prototype around a concept that replicated the ideal retail experience as closely as possible. We then spoke to those people again, showed them the prototype and got further feedback and refined based on their opinions.
This gave us a big head start – not only did we have real-life feedback early and throughout that process, some of those people either advocated for us or became customers. That gave us traction – reduced the risk of our investment (both time and money) and the risk of our investors. We came out with a market-tested and a presold product before it was even released. Quite a thing to have the first revenue assured before you launch a product.

What can we hope to see from Confer With in the future?

Confer With has been lucky enough to have a good robust connected video commerce platform that we can build on. With shoppable products and the shared virtual basket, we think we are slightly ahead of the competition, coupled with a key customer use case for remote selling in a retail environment.
From a product perspective, we will be growing out features based on some bets we would like to make as well as listening closely to customers and watching what components of the platform resonate in driving up customer satisfaction, conversion rate and average order value. All of those bets link amazing uses of data to improving a customer experience. Confer with is already fun to use, it's getting more fun every month.
On the customer side, we are growing, onboarding new clients every week, and seeing how they are selling on the platform. There is lots of refinement we can give them in their approaches – as we can measure what works. It's clear there is a solution here that meets a remote selling problem that retailers are clearly facing right now.
Right now, it's supporting either retail or eCommerce (or bringing them closer together). In the future – we firmly believe that connected video commerce can become a channel in its own right. The team is focused on achieving that goal.