Tanya's Just Real introduce the UK's 1st cold-pressed sauce, cooking from scratch in a bottle. Our range of six products each contain a combination of at least 7 raw veg, fruit and herbs which are blended and preserved through HPP (high-pressure processing) also known as cold-pressed, rather than pasteurising. Unlike pasteurisation, the cold-press process ensures the nutritional values, taste & textural qualities of the fresh ingredients are retained without the need for salt, sugar, additives or stabilisers.
Each bottle has a unique flavour profile to give consumers the reassurance that they are cooking with completely fresh ingredients taking away the stress, mess and food waste associated with cooking from scratch.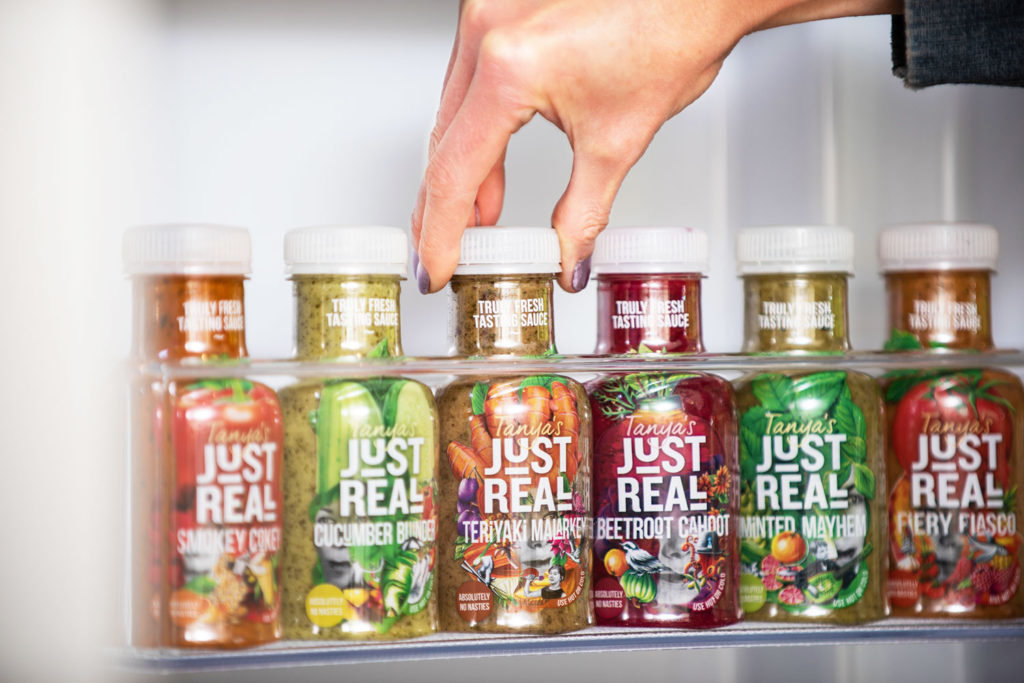 How did you come up with the idea for the company?

In 2015, I gave up a very stressful role in corporate life to take a break and reassess my future after suffering a breakdown and an eating disorder since childhood. With two young children and feeling the strain of putting healthy meals daily on the table, I decided to commit to finding an easier way for time poor people to eat as if from scratch but with all the work done for them.
I had always wanted to get involved in food and was inspired to persuade my children and friends that veg and salad weren't the bad guys by creating a range of homemade dressings to trial at home and take to market. When I surveyed the Waitrose customer service team and found out that fresh salad dressings only sold well for 3 months of the year, I had to take stock.
I transformed my much-loved dressings into sauces by blending the salads into various varieties taking the world flavours as inspiration. My mother's homeland, Singapore, and my own love of Japan were the motivation behind Cucumber Blunder while Smokey Cokey was a result of my husband's weakness for American foods, particularly ketchup and BBQs.
I was determined to create fresh, totally clean sauces that could be used hot or cold by blending an alchemy of at least seven fresh veg, fruit, herbs and spices designed to complement meat, fish and plant-based meals. My family were the tasting panel and I focused on developing a chef-rated, healthy solution to cooking from scratch from my kitchen with a start-up loan to fund the venture which required 7 fridges!


How has it been relaunching a company during the pandemic?

The brand is listed in Waitrose and Costco, both of whom recognised the growing demand for a sauce that offers something different in the sauce category, Tanya's Just Real has been able to keep supply up during the challenges of 2020.
The pandemic has driven huge lifestyle changes and many of these trends are here to stay as consumers become more aware of the value of fresh, healthy, real food that delivers great flavour. Food very much remains the focus of at-home occasions and fresh sauces are a growing part of the market as consumers are seeking authentic ingredients and bold flavours to compliment meat, fish and pasta dishes – as well as the growing consumption of plant-based and free from alternatives. People want sauces that are as close to home-made as possible, they want to open their fridge, take out something delicious and nutritious and to simply pour.
There's also been a growing movement away from ultra-processed foods and increased awareness that gut health is linked to better immunity, so our fresh sauces very much fit the profile of in favour of natural products that are clean label, and deliciously good for them. Restaurant-style food at home is growing in popularity as people wish to recreate a gourmet food experience. Fresh sauces with interesting ingredients and flavours, like Tanya's Just Real, are playing a key part in the creation of chef-style meals from the home kitchen.

What can we hope to see from Tanya's Just Real in the future?

It is my vision to introduce Tanya's Just Real sauces to as many people as possible through wider retail listings and by introducing our products into food service schools where children can benefit from a tasty and healthy shot of fresh nutritious ingredients in their diet.
In the long-term, I aim to globalise brand and drive-up volume production to allow for greater economies of scale. My plan is to extend the range beyond the core. Ultimately, my goal is to spearhead the connection between gut health and mental health through both the brand and personal contribution and support charities I holds dear to my heart.