The US is home to 50% of tech unicorns with collective value of $1.3 trillion, says GlobalData.
US – Home of the Unicorn
Unicorns – privately held startups worth over $1bn – first emerged in the US in the early 2000s, and the country continues to dominate the unicorn club. As of 31 August 2021, there were 751 tech unicorns globally, of which 379 are headquartered in the US – with a collective valuation of $1.3 trillion.
Priya Toppo, Analyst for the Thematic Team at GlobalData, comments: "The US is home to most unicorns operating within the cloud, fintech, healthtech, big data and cybersecurity fields. In fact, 70% of cloud unicorns are based in the country, as well as 46% of fintech unicorns and 68% of healthtech unicorns."
Covid-19 Pandemic Catalyst for Unicorns
GlobalData's latest thematic report, 'Tech Unicorns – Top 10 Themes in 2021', reveals that US tech unicorns emerged even stronger following the COVID-19 pandemic. While there was a slowdown in tech unicorn formation in the US in 2020, with only 22 new unicorn businesses emerging in H1, however, the country saw 136 appear in the first half of 2021 – six times more than the previous year."
Leading Country for Tech Unicorns
Data from the research shows that the US are clearly in the lead when it comes to geographical location for tech unicorns, representing half of the global unicorn companies. China is in second place, though it is not even close, with China representing 22% of the world's tech unicorns.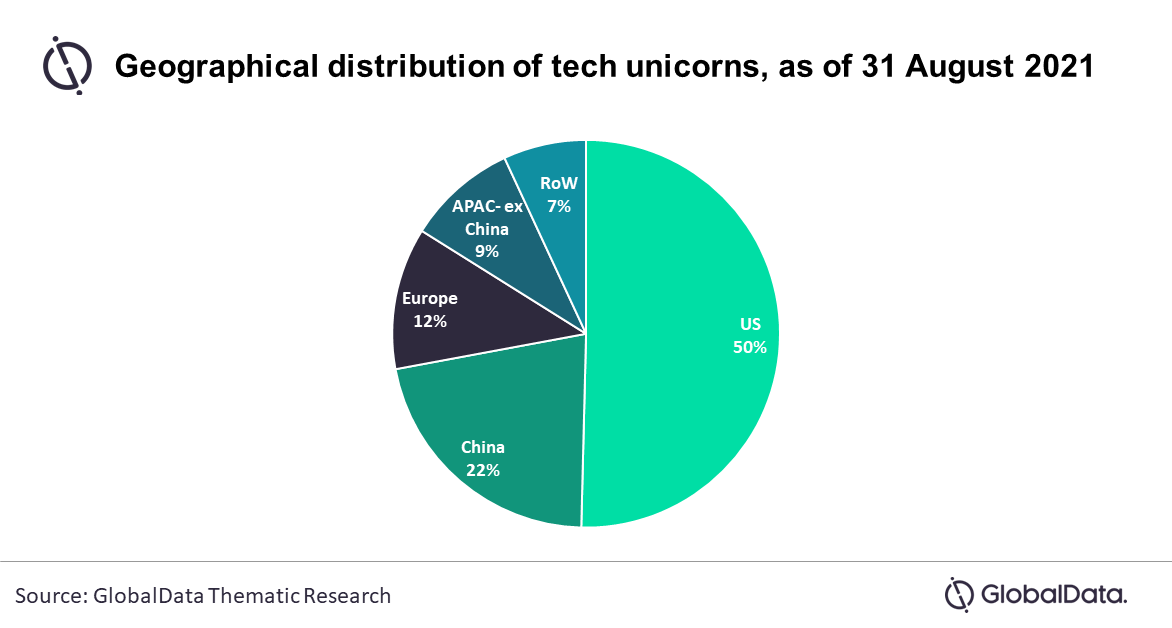 Collective Value of $1.3 Trillion
According to the research, the tech unicorns in the US represent a nearly $1.3 trillion market, nearly double that of China's and significantly more than any other geographical location.
Toppo adds: "Stripe is the most valuable tech unicorn in the US, with a valuation of $95bn, followed by SpaceX ($74bn) and Instacart ($39bn).
"California has emerged as the 'land of tech unicorns' in the US. It hosts 205 of the 379 tech unicorns in the Americas, followed by New York (64) and Massachusetts (17)."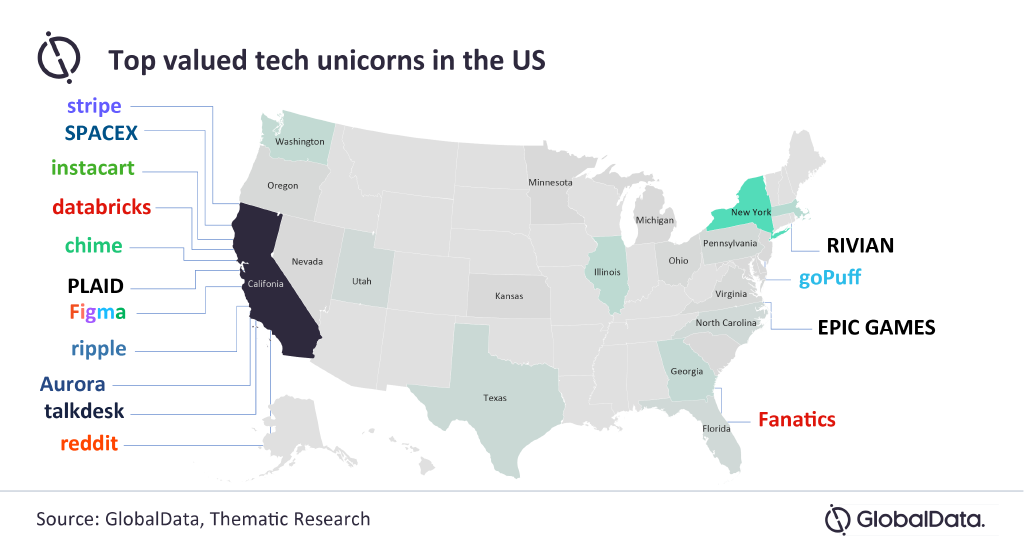 Toppo adds: "While GlobalData expects the tech unicorn club in the US to grow further, it also expects at least 35 unicorns from the US to exit the unicorn club (going public, either through IPO or M&A) in the next two years. The biggest companies that are anticipated to list on the public market are Instacart, Stripe, Chime, Ripple and Databricks."