The ubiquity of YouTube in so many of our digital communications these days places it in very much the same category as iPhones or Facebook, as well as in so far as its hard to remember a time when it wasn't for many people, a fundamental component of their day-to-day lives. YouTube has developed as a channel catering to almost any possible whim we could have.
In the early days, it was a site purely characterised by peoples need for a bit of light-hearted entertainment and easy escapism, with one of the most popular videos being the Evolution of Dance (remember that?) which currently stands at having over 300 million views.
Sure, that's a fair few eyes who have seen this otherwise unknown man in a bright orange t-shirt do some rather run-of-the-mill dance moves, but nothing compared to the staggering numbers that musicians can reach today on the site. Take Justin Bieber's Latin-themed song that soundtracked almost every instantly regrettable club night ever attended this summer: Despacito, with nearly 4 billion views in less than 8 months, making it
one of the most-viewed videos
of all time, and demonstrating the capacity of the platform to be instrumentally influential. In comparison, the Evolution of Dance has been online since 2006.
Aside from music and endless cat videos, YouTube has also evolved as a hub for tutorials of almost any kind you could think of, making minor celebrities out of these 'vloggers'  (creating a whole new vernacular as a result – vloggers didn't exist twenty years ago) who present them as well as hosting its own TV and film streaming services in HD and 3D from independent and Hollywood studios.
It has also become a platform documenting almost instantaneously social unrest and political activism across the globe, having a direct societal impact on the way in which we view events. Indeed, in recent years YouTube has become much much more than just a site to view a middle-aged man dance on a stage.
Where did it all begin?
But where did it all start for the website? Who was behind the video-sharing behemoth?  Much has been publicised about how Facebook came to be, with all of us these days tending to have some vague lingering knowledge about Zuckerberg and the Winklevoss brothers as a result of watching The Social Network. But the inception of YouTube? Not so much. Well, we've decided to take it upon ourselves to find out more about the history of YouTube. Here are our findings.
How it all started
YouTube was the concept behind PayPal employees Chad Hurley and Jawed Karim, who studied computer science together at the University of Illinois at Urbana-Champaign, and Steve Chen, who studied design at the Indiana University of Pennsylvania, back in 2004. The video-sharing website idea was apparently triggered, according to Karim, after viewing the Boxing Day tsunami and the Janet Jackson Super Bowl incident, of all things. However, it should be noted that it was the problem of the lack of inexpensive ways to share videos, at a time when content and photo sharing sites were booming and at no-cost that was the ultimate catalyst for the creation of YouTube for the trio.
The trademark, logo, and domain name of YouTube was set up on Valentine's Day 2005, which seems rather appropriate considering that it's other founders Chen and Hurley even wanted it to be an online video dating site in its early days! in May of 2005 a beta test site version of the site was set up by a small number of employees, and then by November 2005  It finally an angel investor by the name of Sequoia Capital gave money to help to fund the company, and this was the moment that YouTube became a corporation.
YouTube had very modest beginnings, with its headquarters initially set up above a little pizzeria in California and the very first video ever uploaded was by Jawed titled 'Me At the Zoo' in April 2005:
Just a year later, Google took the company over for a staggering 1.65 billion dollars, which was at the time its second-largest acquisition ever.  Soon after in 2006, the platform became Time Magazine annual 'Person of the Year' (winners of this accolade include the Ebola fighters, the Pope and President Donald Trump). By 2007, it had launched in 9 more countries other than the US, and by January 2012, the site had accumulated more than 4 billion views. Now, YouTube is now the 2nd most viewed website in the world.
YouTube in 2017
Here are some more facts and numbers from 2017 that demonstrate the meteoric rise of YouTube:
YouTube gets over 30 million visitors each and every day
300 hours of video are added to the site every minute
1,300,000,000 is the total number of people who use the video-sharing website
5 billion is the number of videos watched on YouTube daily
3.25 is the estimated number of hours of YouTube videos watch every month
1,000,000,000 is the average number of video YouTube views daily on mobile phones
Mobile devices make up more than half of YouTube views by 2017
40 minutes is the average amount of time spent viewing videos on mobiles, increasing 50% year on year!
YouTube is now available in over 76 different languages (equating to 95% of the internet population)
There are local versions of the video-sharing platform in over 88 countries
Rather amusingly, during the eclipse in the summer of August 2017, there was a major spike in the viewing of Bonnie Tyler's 'Total Eclipse of the Heart" as charted here (Source: youtube-trends) :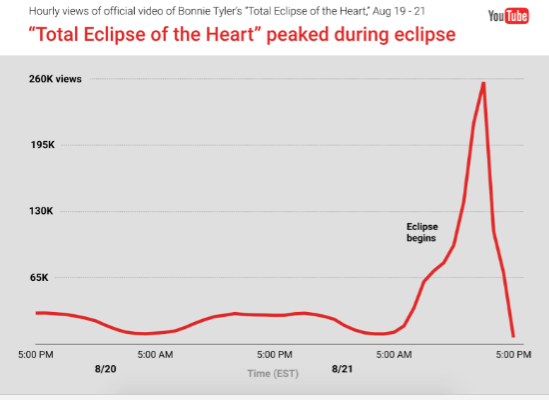 The Evolution of YouTube
If you are curious to see just how much YouTube has evolved, here is a video by YouTube channel 4096 that charts the history of all the changes made to the website since 2005 all the way up until now. Enjoy!