If you're into your gin but don't fancy traipsing around stores, or tirelessly researching online for exciting new products, a gin subscription box may just do the trick!
As their name suggests, gin subscription boxes offer regular (typically monthly) deliveries of gins. Subscriptions can range in their offerings, from larger premium gin bottles accompanied by complementing tonics and snacks to smaller, more personalised and niche packages.
Whatever type of gin subscription box you're fancying, they'll probably be a company who can provide it. Whether you're wanting all the frills, something more modest or anything in-between here at TechRound we've listed our top 10 gin subscription boxes – continue down to see the full list.
Provider:
Cost:
ILoveGin
£14 per month
Craft Gin Club
£40 per box
Flaviar
£75 for quarterly opton
Little Gin Box
£10 per month
Think Gin Club
£40 per box
Gin With
£40 per box
Gin In A Tin
£35 per tin
InterGIN
£40 per box
The Secret Garden Gin Club
£25 per month
Craft56
£40 per box
1) ILoveGin
Claimed "The UK's Favourite G&T Subscription" ILoveGin offer gin subscription boxes, helping their partner brands reach gin lovers across the UK. They were recently ranked number 1 out of 140 UK subscription businesses for social reach and engagement by IPG MediaBrands, and help people to discover new favourites of this fantastically diverse drink.
What you get:
2 gins sourced from unique distilleries.
2 tonics/mixers that complement the gin.
A recipe booklet for how to perfectly serve and garnish the drink, alongside its story.
Competitions and discounts in their shop exclusive to members.
Free delivery.
Each subscription box makes 4 tasty G&Ts, and costs £14 per month. Customers can also pause or cancel payments any time. Find out more at: https://www.ilovegin.com/
2) Craft Gin Club
Craft Gin Club is another fantastic gin subscription service, helping customers discover wonderful gins from across the globe delivered straight to their doorstep. Every month, Craft Gin Club will select a superb small-batch gin to include in its subscription boxes – including exclusive limited editions that aren't available elsewhere.
Over the course of a year, the gin club will typically have selected 6 UK gins and 6 sourced from across the globe, giving members a wide range of exotic new drinks to discover.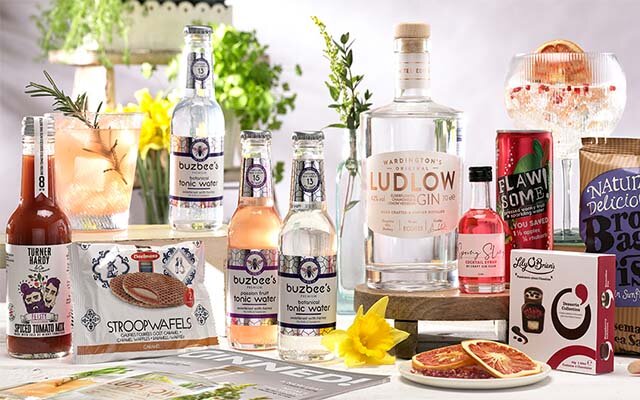 What you get:
1 full-sized bottle of craft gin.
Complementing tonics and garnish.
Ingredients for Craft Gin Club's "Cocktail of the Month".
The club magazine.
Delicious sweet and savoury snacks.
Free UK delivery.
The precise contents of the box will be a surprise until opened, however will always include the items listed above. Members also have flexibility with how often they'd like to receive the subscription boxes, with monthly, bi-monthly and quarterly options available, with all options costing £40 per box. Customers are also free to cancel or change their membership any time.
3) Flaviar
Flaviar is a drinks club offering a variety of different spirits, including whisky, rum, vodka and, most importantly for this list – gin. The club sends out complimentary bottles as well as personalised samples and access to rare, original spirits.
So far, Flaviar has delivered over 2 million spirit samples and holds over 600,000 registered spirits lovers.
What you get:
3, 50ml glass vials of the premium spirit of choice (e.g. gin).
A complimentary premium bottle each quarter (which you can choose).
Access to spirits exclusive to Flaviar.
Both live and virtual exclusive tasting events.
Free shipping (on qualifying orders).
Customers can choose between two different memberships, the one quarter costing £75 while the one year costs £250. The quarterly comes with a free quarterly bottle and a free quarterly tasting box while the annual option comes with 4 free quarterly bottles, 4 free quarterly tasting boxes and a bottle of whiskey.
4) Little Gin Box
Little Gin Box is the provider of non-committal gin subscription boxes, offering customers access to some of the top gins from across the globe. Each month, Little Gin Box's experts will select superb gins to feature in their subscription boxes.
Customers can choose between a rolling subscription, where they can cancel at any time, or a fixed subscription, with 3, 6 and 12 month duration options available.
What you get:
50ml of 2 gins, carefully selected each month.
Tasting notes.
First box can come with 6 Artisan Gins (optional, costs an additional £12.50).
The cost of subscriptions will vary depending on the length you go for. Fixed term subscriptions will cost £30 for 3 months, £60 for 6 months and £120 for 12 months (that's just £10 per month!).
5) Think Gin Club
Think Gin Club offers high-quality gins from around the world. Customers can discover new favourite artisan and craft gins, and learn a little more each month about the fabulous drink.
Think Gin Club's experts hand-select exclusive premium gins for its members each month, pairing these with mixers and treats to compliment the spirit.
What you get:  
A full-sized, surprise bottle of craft gin.
Mixers to compliment the gin.
Facts and cocktail recipes for the gin of the month.
A complimentary mixology gift.
Delicious sweet or savoury snacks.
Free mainland UK delivery.
The value of each box will always be over £55 – fantastic value for money with boxes priced at just £40. There are no contracts that come with the subscription, meaning there's no commitments. Members can also change or cancel their plan at any time.
Members have the option to choose three different plans, including the monthly, the bi-monthly or the quarterly plan – all costing £40 per box.
6) Gin With
GinWith is another marvellous gin subscription service to consider, sourcing boutique gins from around the world each and every month to include in their boxes. The subscription service has flexible delivery options, with one-offs, monthly, bi-monthly and quarterly plans available.
The contents of each box is left a surprise. Only after delivery will GinWith then share the story behind the gin of that month – including where they found it, how to buy more and details on garnishes.
What you get:
1 full-sized bottle of craft gin (minimum 70cl).
Tonics suited best to the selected gin as well as garnishes.
A sweet and savoury treat.
1 item carefully selected to compliment your #GinWithMoment.
This carefully selected item, Gin With explain, is a "mindfulness gift allowing you to retreat into some relaxing you time." The cost of the one-off box is £40, the monthly box £40 per month, the bi-monthly £40 per 2 months and the quarterly £40 every 3 months.
7) Gin In A Tin
Offering gins in stylish, unique packaging, Gin In A Tin provides bespoke collection of gins held in – that's right you guessed it – a tin! The drinks providers was founded by Martin Agius, also the founder of Gin Pantry, and sells a range of different great-tasting gins in vintage-styled tins.
Gin In A Tin also offers gin subscriptions, available monthly, bi-monthly or quarterly.
What you get:
1, 50cl tin.
Information on where to find out more about the gin, as well as how to make a top-notch G&T with it.
Depending on the subscription plan you go for, you'll be able to build up your very own library of gins in tins, at £35 per tin.
8) InterGIN
interGIN offers a great selection of goodies in its gin subscription boxes. All boxes are created with the help of the company's own expert Ginsarian, who taste tests all the gins on offer.
What you get:
1 full-sized bottle of small craft gin.
1 miniature 5cl bottle of gin/gin liqueur.
2 tonics to compliment the gin as well as garnishes.
Tasty nibbles.
Gin-related surprise goodies.
InterGIN offer a range of different subscription options, including one-offs (£70) as well as every month, every 2 months and every 3 months – all priced at £40 per box, with their "Year of Gin" options also available.
Members can cancel their subscriptions after an initial 2-delivery commitment, with no hidden fees.
9) The Secret Garden Gin Club
The Secret Garden Gin Club offers delightful surprises to members each month, including exclusive, brand new gins that have been made especially for the gin club. The gin for each month will also come with a seasonal theme – e.g. a "Christmas Spice" for December, or "Red, Red Rose" for Valentine's Day.
What you get:
1 uniquely designed 20cl bottle of gin.
Garnishes freshly harvested.
Mixer to compliment the gin.
Discounts.
Exclusive Gin Club events.
Free delivery.
Subscription boxes are delivered every month, costing £25 per month, and can be cancelled at any time.
10) Craft56
Promoting the top gins of Scotland, Craft56 is a gin club passionate about Scottish gins, tonics and mixers. Each month, Craft56 will select a stunning, small-batch gin sourced from an expert distillery in Scotland.
What you get:
1 full-sized bottle of Scottish craft gin (either 70cl or 50cl depending on the selected distiller).
A gin glass (only included in the first box).
Tonics/mixers to compliment the gin (Scottish where possible).
Sweet treats, handmade to compliment the selected gin.
Tasting notes and serving suggestions.
Free delivery across the UK.
Craft56 offer subscription boxes monthly, bi-monthly and quarterly, all at £40 per box delivered. There's also no contract, meaning members can cancel their subscription at any time.
How Do Gin Subscription Boxes Work?
While each subscription is different and will vary in its offering, much like in the case of coffee subscription boxes and others typically, boxes will be sent out monthly, with the gin company specially selecting the gin (or gins) to include in the delivery each month. However, if you're not wanting the subscription to come each month, many of these services offer flexibility, with customers able to tailor their deliveries from monthly to every other month or every few months.
The subscription providers will then make sure the box is packed with all of the correct items for that particular month/box and will deliver to the address the customer has provided them with. Some companies offer these deliveries for free, however it's always best to check this with the provider first.
Providers can often be flexible in their cancellation policies, with some giving members the choice of cancelling at any time.
What Do You Get in a Gin Subscription Box?
Gin subscription boxes can vary in their offerings. However, one thing that's guaranteed – there will be gin!
Gin subscription boxes will typically choose a gin specially selected for that month/box, alongside some mixers that have been chosen specifically to pair with the selected gin(s). These boxes can also often come with tasty treats – which can include crisps, bars of chocolate, popcorn and more. While these items are commonly found in gin subscription boxes, it's important to note that each box and each provider can differ in their offerings. It's best to check the details of what's inside boxes before going ahead with a subscription.
What Is the Best Gin Subscription to Go For?
The best gin subscription box to go for will depend upon what you want! These subscriptions can vary in the types of gins they offer, as well as the mixers and other treats that can accompany them. In our opinion, this top 10 lists some best gin subscription boxes out there, all offering a fantastic variation of a quintessentially British drink, accompanied by some perfectly suited mixers and delicious tasting treats.