Bearable is a health tracking app that helps people to identify the habits that improve and worsen their health. 
There are so many apps that just focus on a single health outcome such as weight, fitness, nutrition, sleep, energy, habits, meditation, journaling, etc. Siloing data like this makes it hard to analyze how each of these metrics impact one another and Bearables aim is to try to do the opposite so that people can have a much bigger picture of their health. 
This is especially important for the 1-in-4 people that experience mental health issues per year, or the 1-in-7 people that live with chronic health issues. 
It's also important to point out that many health apps focus on improving or maintaining the health of people that are already healthy. They track passive outcomes like Sleep, Heart Rate, and Steps but not subjective health measures such as Mood, Symptoms, and Energy Levels.
So Bearable tries to represent the needs of people living with and managing health issues. By giving them the tools to track how their habits, treatments, and meds correlate with changes in their health outcomes.
Our aim is to help at least 100 million people to manage their health better with self-care.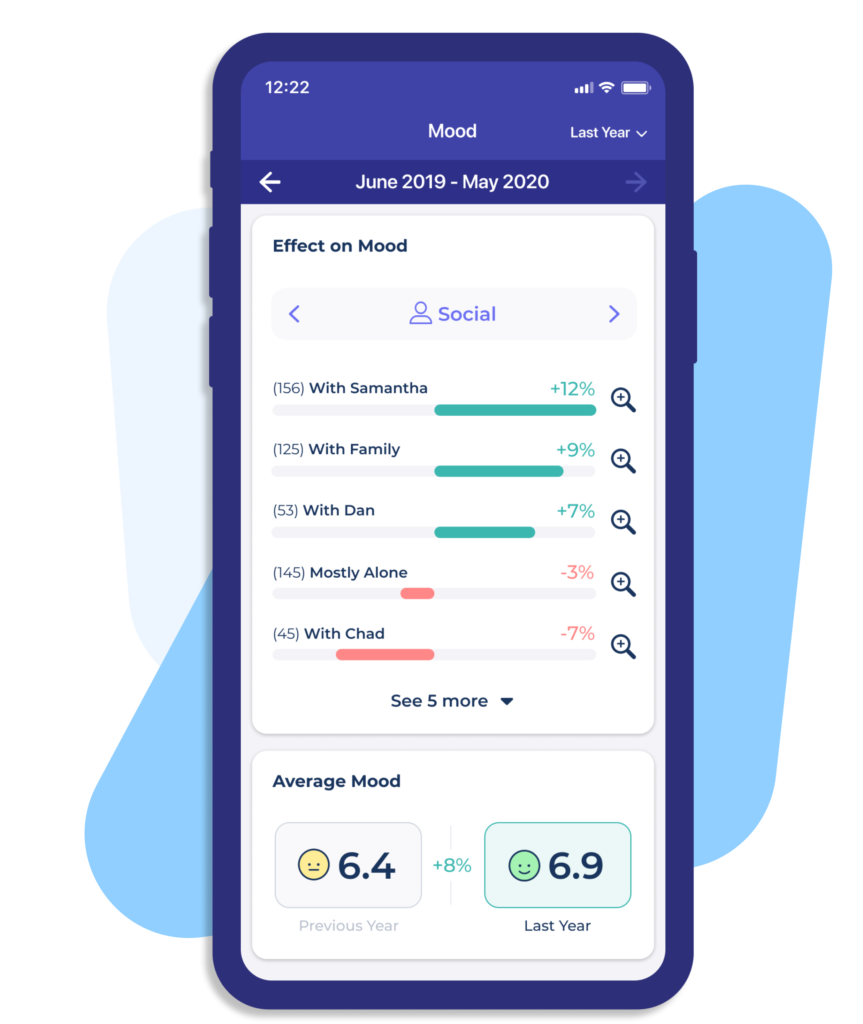 How did you come up with the idea for the company?

Bearable was born out of necessity. In 2018, I was living with symptoms of chronic migraines but was struggling to get a diagnosis. The symptoms ended up forcing me to quit my dream job.
When your symptoms are interfering with your life in such a big way you're desperate to do anything you can to get a diagnosis because it means you can begin to treat the condition. But without a diagnosis I wasn't able to make any progress. 
I started tracking my symptoms as well as my daily activities in an excel sheet to see if I could spot any patterns in the data. I thought that if I was able to identify any correlations or trends with specific habits that it might help to advance the conversation I was having with my Doctor at the time. 
After a few months, I not only found patterns and trends in my symptom data. But also that my symptoms scores were lower in correlation with certain activities. For example, I found that taking above 300mg of Magnesium and stretching before bed, both reduced the number of headaches I was experiencing.
Ultimately, tracking my symptoms and activities this way helped me to get a diagnosis, access treatment, and begin to manage life with chronic migraines. But that wasn't the end of my symptom tracking journey. 
Whilst my clinical treatments helped, I still needed to manage my symptoms with a number of supplementary self-care routines. So tracking my health really helped me to identify the routines and habits that were improving my symptoms. 
Shortly after my diagnosis, I realized that there were millions of people living with undiagnosed conditions that could benefit from my approach to health tracking. After speaking with a number of chronic illness communities on Reddit, I recognised that excel wasn't good enough. It had to be easier to enter data, it needed to be easy to share trends and correlations with a medical professional, and to enter events as they happened.
One of the experiences that I shared with other people in these communities was that many of the apps that tried to achieve something similar were all too clinical. Apps created by medical professionals tended to be unengaging and contained a lot of formal questionnaires. They weren't sympathetic to the unique needs of people with existing health issues and as a result no one wanted to use them.
So with this advice, I began sharing the initial prototypes and designs for the app that later became Bearable. Two years later, this is how we continue to develop the product and over 70% of users say it helps to give them more control over their health. The exact issue I was tackling alone back in 2018.


How has the company evolved during the pandemic?

Coincidentally, Bearable only launched in March 2020, just as the pandemic began. So we've only known life as a company during these times. This makes it tough for us to gauge how the pandemic may be impacting our performance.
But in a time when more people have become aware of their mental health and chronic fatigue, we hope that Bearable has been helpful for people that needed tools to help them to manage their health. We've certainly had a number of users tracking long covid symptoms in the app with the aim of aiding diagnosis and managing their symptoms.
As a result of the close relationship between long-covid and ME/CFS there's been a big increase in the number of people living with chronic fatigue. So as part of the chronic condition community I hope we can continue to evolve Bearable to not only help anyone that's new to the community but to continue to raise awareness of the – often hidden – struggles that people with hard to diagnose, chronic, and hidden illnesses face.

What can we hope to see from Bearable in the future?

Until this year, Bearable has been quite a DIY product. Which means that a lot of users use the app in totally different ways for different needs.
But – late in 2021 – we also realized that the small team at Bearable – who all live with their own chronic conditions – had begun using Bearable in a similar way. We were all running self-care experiments on a weekly or monthly basis and using Bearable to see which of these new habits were having the biggest impact on our symptoms. 
Habits such as going caffeine free and cold showers helped one team member to improve the severity of their social anxiety. No screens and a shower before bed helped our developer to tackle their insomnia and fatigue. 
Whether you've been diagnosed or not, self-care becomes an important part of managing symptoms of a health issue. This could be for something as common as stress or burnout or as complex as chronic pain and rare diseases. As Bearable users we felt like this was the most valuable way to use the app. 
So in 2022, we have plans to release features in line with this. Including a guided self-care experiments tool that will not only introduce and help people stick to new positive habits, but also show them how doing so correlates with any changes in their subjective and objective health outcomes. We're really excited that we'll be evolving to help our users to not only identify things that help with managing symptoms but to also actively help users to test the self-care habits that might improve their quality of life.
Our focus will always be on improving the health and lives of our users. So, in 2022, we'll also continue on our mission to empower 100 million people to optimise their health through self-care.