67% of Brits desperate for a good internet connection would volunteer to build a community owned infrastructure

34% of Brits don't believe communities would be able to come together in order to build a community broadband

Community-owned broadbands could end the buying and selling of personal data, yet
54% of Brits are worried about the security of a community-owned network
Widespread discontent with internet service providers means that 78% of Brits approve of community owned broadband projects. However, only 35% of those in favour would be willing to pay £600 or more to cover initial installation costs. 
Community-owned and operated networks give people total control over their internet. Prices are lower and speeds higher compared to services offered by traditional ISPs, not to mention the much improved customer service and enhanced online privacy. However, the initial cost of such a project is usually in excess of £600, a price which not many Brits are willing to pay.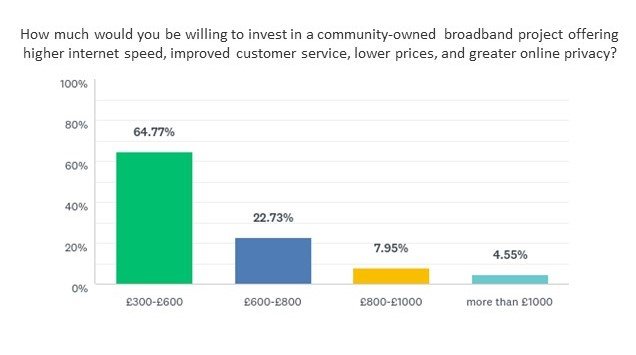 Digital marketing agency, Rebootonline.com, has surveyed 1,563 Britons to find out whether or not they would be in favour of community-owned broadband projects. The data speaks to a general willingness on the part of communities to mobilise: 
78%

of respondents said they would be

prepared to provide access to their property free of charge

,

67%

held they would be

ready to volunteer in order support the building of a community owned infrastructure

.
34% of respondents saw the ability of communities to pool resources together as a major impediment when it comes to establishing a communally-owned broadband network. Furthermore, 42% listed initial cost of the project as a chief obstacle. These concerns seems justified when we take a look at existing UK networks:
Of the 10 case studies on

gov.uk

, just three reported a cost per premises lower than £650. Only two of these (

B4RN

and

Tove Valley

) were community-owned and operated, while the third simply saw

Preston village

in Hertfordshire buy into a planned BT broadband upgrade (without gaining ownership over the infrastructure or its operation). 

The B4RN and Tove Valley projects came in at £600 and £385 respectively. However, the low cost of Tove Valley's network was largely due to funds obtained through BDUK via the Rural Community Broadband Fund (RCBF). This scheme is now closed, meaning such a low cost could likely not be replicated.
Other major reservations UK residents have when it comes to community broadband schemes are represented by:
Ability of the community to successfully maintain the network without significant outages (46%)

Lack of technical expertise needed to establish network (42%)
Security/Privacy concerns (54%)
This last stat is important; it points to a fundamental lack of understanding among Britons when it comes to both the status of their data security under the traditional ISP model, and their online privacy within a community-owned network. 
Current UK legislation requires ISPs to store detailed internet usage logs on all their users; these include lists of websites visited, software used, and files downloaded, among other pieces of information. The recent Facebook Cambridge Analytica Scandal, as well as examples of how US legislation in this area has evolved, shows just how big the market for such data is, and how eager both governments and corporations can be to make profits using a citizen's private data. 
Community-owned and operated broadband projects, by their very nature, would ensure that users' private data isn't sold on. Furthermore, when it comes to securing the network against cyberattacks, local collectively owned ISPs, by virtue of the fact that they have less users, would be better equipt to fight hackers off. In fact, research suggests that traditional ISPs focus their security protocols on shielding their own infrastructure, as opposed to protecting the customer or third parties.