Deliveroo is a UK-based takeaway service delivering from local restaurants. 

Deliveroo has raised a total of £1.2 billion in funding from top investors including Amazon, DST Global and Index Ventures.

The food delivery service is now offering 500,000 free meals to NHS workers in thanks for their hard work during the coronavirus crisis.
About Deliveroo
Will Shu and Greg Orlowski founded Deliveroo in 2013. When Will first moved to London from the US, he was surprised to discover that so few of the great restaurants in the city delivered food. Will, who previously worked in finance, then launched Deliveroo with the mission of providing restaurant-quality food to customers at home.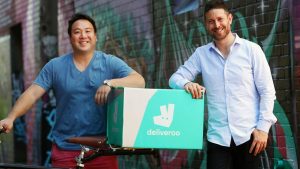 Deliveroo has raised a total of £1.2 billion in funding from top investors including Amazon, DST Global, Index Ventures, Accel, Bridgepoint and General Catalyst. The startup has seen tremendous revenue growth of over 650% year on year. It continues to expand, recently securing a substantial strategic investment of $575 million from Amazon to fund a scale-up in Europe.
How Does it Work?
Deliveroo aims to offer fast and reliable delivery which customers can track on their phone. The Deliveroo platform can be accessed online or via mobile app and offers deliveries from over 1000 restaurants and food chains. Many restaurants are keen to join the service as an added source of income and those partnered with Deliveroo see revenue increases of up to 30%.
The app uses British-born technology to boost efficiency. In 2018, Deliveroo was ranked top in Deloitte's UK's 50 fastest growing technology companies for the second year in a row. The so-called 'Frank' algorithm used by Deliveroo utilises predictive technology to evaluate the most efficient method to distribute each order, based on the locations of the restaurant, customer and riders. The platform also uses machine learning to predict meal preparation times, offer ETAs and streamline the delivery experience. Technology plays a vital role in Deliveroo's service, cutting delivery time by 20%. This, in turn, allows riders to complete more deliveries and increase earnings, increases sales for restaurants and reduces the wait-time for customers.
The deliveries are carried out by local riders using bikes, motorbikes and cars to bring food from nearby restaurants. Deliveroo was a leader in leveraging the gig economy by offering self-employed job opportunities where riders are free to work to their own availability, organised via the riders' app. 
How Does Deliveroo Compare To Other Delivery Services?
Competition within the market is fierce, with UberEats and Just Eat posing as strong rivals. As a result of the challenging market, Deliveroo has been forced to innovate. One such innovation is the development of Deliveroo Editions, in which high-quality restaurants share facilities and place focus on servicing their takeaway clientele rather than expanding their existing restaurants.  Deliveroo offers its own dark-kitchen facilities for local restaurants to operate in, allowing food to be delivered quickly from that location. The programme was launched in 2016 but has seen numerous new restaurants make the transition to delivery-only during the coronavirus pandemic.
Deliveroo in 2020
In recent weeks, Deliveroo has been expanding, alongside its rivals, to offer on-demand grocery deliveries during these times of isolation. They have also added a 'contact-free delivery' feature, notifying the rider to leave the food at your door.
Deliveroo is offering 500,000 free meals to NHS workers in thanks for their hard work during the coronavirus crisis. CEO Will Shu has said 'Those in the NHS working night and day to save lives are the real heroes of this crisis, and we want to do our small part to support them and the vulnerable who aren't able to leave their homes'. Users can offer a donation towards a meal via the app or website. During this time, Deliveroo will continue to deliver free food to vulnerable people and work with charities, such as St Mungo's Community Housing Association. 
This week, Deliveroo has partnered with Open Table, the global online table reservations service. Open Table will now direct customers to delivery options through the site while reservations are no longer possible. The partnership will support restaurants globally, including in Australia and Mexico, by providing a much needed new source of revenue.