Too Good To Go is a social impact startup fighting food waste globally. 

The food-sharing company was founded by Jamie Crummie and a group of entrepreneurs across Europe in 2015.
The certified B Corp encourages businesses to sell-on food leftovers to its more than 22 million users.
About
Too Good To Go
Too Good To Go is the world's largest B2C marketplace for surplus food. Jamie Crummie and a group of entrepreneurs across Europe founded the platform in 2015. The food-sharing startup sells food close to its sell-by date at a reduced price to customers in the area. The Too Good To Go app connects restaurants, cafés, supermarkets, bakeries and wholesalers in 14 countries with users to save good food from going to waste.
Food waste is an enormous global challenge, with statistics showing that one-third of all food produced is wasted. The corporation's Movement Against Food Waste tries to create change and help people rediscover respect for food. Recently, several companies have set out to tackle this issue, including platforms like Olio, Foodcloud and Karma with similar premises to Too Good To Go. These apps help raise awareness of food waste and empower consumers to take action in reducing it.
How Does It Work?
Too Good To Go sells surplus food from stores and restaurants through its app-based platform. This service aims to act as a win-win solution to food waste. It serves these stores and restaurant as they make extra income on food that would have otherwise been thrown away. And, customers also benefit by getting discounted end-of-day food. The app normalises eating these tasty leftovers and appeals to a range of people. This includes bargain-hunting students, the environmentally-conscious and has seen a strong market in women over 50.
Customers searching for food available within their location through the app and can schedule a time to pick up from any restaurants offering food. You pay directly through the app, which holds the money until the food package is received and then pays the partners, minus a fee.
Too Good To Go reached their first million users in just 15 months. It is recognised as one of Europe's fastest-growing apps with over 22 million users, increasing every day. Too Good To Go has more than 45,000 partners across Europe, such as Yo Sushi and Accor Hotels.
Too Good To Go in 2020
In 2020, Too Good To Go was certified as a B Corp. The company has also seen a rapid expansion, with CEO Mette Lykke now leading a team of over 450 talented 'Waste Warriors'. The corporation now operates in 14 European countries, including Sweden which launched this month.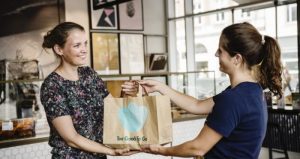 Currently, the social impact company invests all revenue back into the business to grow and expand into more countries. Ultimately, Too Good To Go does aim to be profit-making, but their timeline for delivering returns is not yet clear. According to Too Good To Go, they have already helped save over 38 million meals from going to waste globally. CEO Mette Lykke says: "I feel like this is just the beginning… It doesn't feel like we're anywhere near the goal line at all. Within the next five years, we want to have saved a billion meals."