The Clifton opened in St John's Wood in May 2017
Steeped in history, The Clifton has been a fixture of the local community for centuries and in May 2017 brothers Ben and Ed Robson reinstated this beloved pub, bringing a new look and a refreshed attitude to pub drinking and dining to St John's Wood.


North Londoners Ben and Ed delved into the world of pub dining in 2007 when they started running the first pub that they ever drank in – The Horseshoe in Hampstead. After the subsequent success of their schnitzel and prosecco bar, Boopshi's in Fitzrovia, the brothers were drawn back to their first love. Ben and Ed have been committed to breathing life back into The Clifton, which had stood empty since its unexpected closure in 2013, and transforming it into their vision for the contemporary pub.
Ben and Ed have given comfort pub grub a dash of re-imagination. The new summer menu features crisp and punchy ingredients and alongside inventive staples. Favouring laid-back Saturday brunches and Sunday Lunches, The Clifton will offer an evolved definition of pub food. The menu is split into two sections: 'Drinking House' and 'Eating House'. While the former features smaller plates, perfect with a drink, the latter is a full all-day menu; both sections are designed to be enjoyed simultaneously, by all kinds of diners, throughout the open plan room.
Examples from the menu include:
Beef Carpaccio, Rocket, Pickles, Ink Mayo
Hake, Clams, Baby Octopus, Nduja, White Beans, Wild Garlic
8oz Rose County Farm Rib Eye, Chips, Snail Butter, Watercress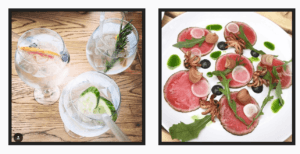 The beer menu features a diverse array of local and craft beers on tap and Ben and Ed plan to brew their own Clifton beer. This is accompanied by a strong wine list which is a collaboration between the boys and Raul Diaz the wine expert on Channel 4's Sunday Brunch and the team will be hosting a monthly 'Wine Club' to showcase the impressive list.
The Clifton is also open from 10am on weekdays to offer locals an alternative stop-off to pick up a morning coffee and pastry. During the day, the pub is a relaxed and welcoming spot for freelancers to work and friends to meet in a café-like atmosphere.
Situated on a tree-lined residential street the pub's London brick Georgian façade belies a grand and fascinating history. This historic pub has been reinvented throughout the centuries; King Edward VII used to take his mistress Lillie Langtry to The Clifton for secret trysts and reputedly ordered for the venue change its name from a 'hunting lodge' into a 'hotel' to accommodate him, as royals were not allowed to drink in pubs. Over one hundred years later, The Clifton is metamorphosing again but retaining its essential character.
Sensitively designed by Structured Design, The Clifton has retained the comforting elements that are synonymous with a traditional pub; homely sofas around original fireplaces, traditional loose furniture and a well-stocked bar. The interior is open and spacious with grey-green walls, moody lighting and a relaxed drawing-room feel.  Local design company Cameron Design House, have designed a bespoke light fixture to illuminate the main bar.
The Clifton seats 65 inside, including a light-strewn and plant-filled conservatory, cosy corners for bar drinkers, as well as an outdoor patio for 25 people. With a contemporary interior and a forward-looking menu, the pub will be reinstated as a comfortable hideaway, lively social eating house and relaxed drinking spot for locals and visitors alike.