The 'New Space Race' is very different to the original Space Race between the United States and the Soviet Union (USSR) back in the 1950s and 1960s. Space Race 1.0 was sparked after Sputnik 1 sent its first message back to earth in 1957 and ramped up by Cold War tensions between the superpowers, both vying for technological and military supremacy. At the time, only these two nations had the resources to even imagine a space program.
Now, new technologies and decreasing costs have made space flight far more accessible. Private space companies now launch satellites, resupply the International Space Station and now offer spaceflights to consumers. Today, more than 70 countries have space agencies.
Space startups in the UK and around the world are creating innovative technologies and developing 'SpaceTech', which is a now a new industry in itself. Space Race 2.0 is between private entities and not world superpowers. But the aim remains the same. To be the first, to be the best and to not just be a world leader, but a leader beyond what many believe is possible.
It has been coined the Billionaire Space Race because of the huge amounts of wealth needed to develop and send futuristic rockets and satellites into the galaxy or transporting tourists up amongst the stars. Elon Musk, Jeff Bezos and Richard Branson have all stolen the march. However, at TechRound, we like to look beyond the obvious and see which other entrepreneurs may enter Space Race 2.0. Here are the TechRound Top 10 Space Entrepreneurs:
10. Dan Ceperley, CEO of Leo Labs
Dan Ceperley is a champion of new space ventures, innovative space technologies, and sustainable development of the space economy. As the CEO and cofounder of LeoLabs, he created LeoLabs to drive advances in space traffic safety, space situational awareness (SSA), and preservation of the space environment through actionable, real-time information. Collisions with debris are the number one risk to safe operations in space and new data sources are required to measure and reduce that risk.
The company completed a $65m series B round this year which takes the company's total funding to more than $100 million.
Dan is also a Technical Advisor to Space for Humanity. This non-profit seeks to greatly increase the number of people who have experienced space flight, and thus promote the greater use of space.
Fun Fact: Dan was featured in Via Satellite's 2018 Young People to Watch List.
9. Robert Bigelow, Founder of Bigelow Aerospace
Millionaire Robert Bigelow is the founder of Bigelow Aerospace. Bigelow has used his wealth to provide financial support for investigations of UFOs.
In 1999, Bigelow founded Bigelow Aerospace and said he planned to spend up to US$500 million to develop the first commercial space station with a goal of the station costing 33% of the US$1.5 billion that NASA expended on a single space shuttle mission.
Bigelow Aerospace has launched two experimental space modules, Genesis I in 2006 and Genesis II in 2007, and had planned for full-scale space habitats to be used as orbital hotels, research labs and factories.
In April 2016, Bigelow's BEAM module was launched to the International Space Station on the eighth SpaceX cargo resupply mission.
In March 2020, Bigelow Aerospace let go of all 88 members of staff and halted operations after over 20 years of business, in a move that was partly caused by the coronavirus pandemic.
Fun Fact: In March 2021, Bigelow sued NASA for US$1.05 million.
8. Peter Beck, Founder, President and Chief Executive Officer of Rocket Lab
After founding the company in 2006, Beck it into a global organization that develops and launches advanced rockets, satellites and spacecraft.
From 2013, Beck led the development of the Electron launch vehicle, which was designed from the ground up to accommodate a high launch rate business model to meet the needs of customers for small launch services. Under Beck's leadership, Rocket Lab pioneered advanced aerospace manufacturing techniques for Electron, including 3D printed rocket engines, electric-pump-fed rocket engines and fully carbon composite fuel tanks. Beck also led the development of our private orbital launch site, Launch Complex 1, located in Mahia, New Zealand, which required the establishment of an international treaty and legislation to enable Rocket Lab to use U.S. launch and spacecraft technology that otherwise would not be permitted for launches from foreign soil.
Fun Fact: An award-winning engineer, Beck has been presented with the Gold Medal from the Royal Aeronautical Society, Meritorious Medal from the New Zealand Division of the Royal Aeronautical Society and Cooper Medal and Pickering Medal from the Royal Society of New Zealand.
7. Nobu Okada, Founder & CEO of Astroscale
Nobu Okada founded Astroscale in 2013 due to a strong desire to address the growing threat of space debris. He used his personal funds as seed money and hired a team in Singapore in 2013 and opened an R&D office in Japan in 2015, a UK office in 2017, a U.S. office in 2019, and an Israeli office in 2020, whilst raising US $300M capital. The team calls themselves, "Space Sweepers" and their mission is to reduce orbital debris and support long-term, sustainable use of space.
Nobu is the International Astronautical Federation's Vice President for Space Economy and Sponsorship, member of the International Academy of Astronautics, member of the Space Generation Advisory Council Advisory Board, and a Fellow of the Royal Aeronautical Society. He also served as a member of the Subcommittee on Space Civil Use, and Space Industry at the Cabinet Office for the Government of Japan. Nobu was awarded Grand Prix during the UNESCO Netexplo Innovation Forum 2020, Forbes JAPAN "Start-up of The Year 2019" and Technology Pioneer by the World Economic Forum in 2017.
Fun Fact: When he was a teenager, Nobu attended a camp at NASA's Marshall Space Flight Center in the United States where he met Japan's first astronaut, Mamoru Mohri. He received the handwritten message, "Space is waiting for your challenge." and has been inspired to work on space ever since.
6. Tim Ellis, co-founder and CEO of Relativity Space
Ellis is an American aerospace engineer who in 2015, co-founded Relativity Space with his former classmate, Jordan Noone with the mission of being the first company to launch a fully 3D printed rocket into orbit. Relativity Space's fully 3D-printed and fully reusable Terran R rocket can be built in only 60 days, according to a report by New Atlas. The additive manufacturing process used to build the rocket reduces the number of joints, meaning less risk of failure during launch. The California-based company unveiled its Terran R rocket in February this year as a successor to its Terran 1 rocket.
Relativity Space announced its US$650 million Series E funding at US$4.2 billion valuation in June 2021.
Fun Fact: Ellis and Noone received their initial $500,000 in funding from cold emailing Mark Cuban.
5. Dr Susmita Mohanty, Space Entrepreneur
Dr Mohanty is a spaceship designer and is the only entrepreneur in the world who has founded space companies on 3 different continents. She is the co-founder and CEO of EARTH2ORBIT, India's first private space start-up that played a pivotal role in opening up the US launch market for India. She has co-founded and led two other companies, MOONFRONT, a boutique space consulting firm in San Francisco [2001-2007] and LIQUIFER, a trans-disciplinary space architecture firm in Vienna [2004-ongoing]. Before turning entrepreneur, Dr Mohanty worked for the International Space Station programme at Boeing in California and on Shuttle-Mir missions at NASA Johnson in Houston. Educated in India, France, and Sweden, Dr Mohanty holds multiple degrees including a PhD.
In 2017, Dr Mohanty was featured on the cover of Fortune Magazine. In 2012, she was voted into Financial Times' list of "25 Indians to Watch". In 2005, Dr Mohanty was honoured on Capitol Hill in Washington DC with the International Achievement Award. In 2016, Dr Mohanty was nominated to the World Economic Forum (WEF) Global Future Council for Space Technologies.
Fun Fact: Dr Mohanty hopes that someday, she can take long sorties on the Moon.
4. Chris Newlands, CEO of Spelfie and Space 2 Consumer Group
Newlands is known as one of the UK's most connected entrepreneurs in the UK technology sector with a clear mantra to bring a more scientific, sustainable and conscientious approach to the space tech industry.
Spelfie: the space selfie, in partnership with AIRBUS, was launched in November 2019 as an app to capture real-time satellite images of events and their attendees. The images are then optimised for sharing on social media platforms, creating a digital souvenir, from an entirely new perspective in space. The first Spelfie was unveiled on the BBC in November 2019, showcasing a message on a beach in Bali from a campaigning group to rid the island of single use plastic bottles. The app then reached the top 10% of all app downloads in history.
In January 2021, in the midst of a global pandemic, the Spelfie app was made free for all users across the world specifically for the world's first socially distanced US Presidential Inauguration. Spelfie tasked a satellite to capture images from space of Joe Biden's Inauguration and paired them with social media users across the world who wanted to be part of the celebrations.
Having received its game changing US Patent in March 2021, Spelfie is focussing on offering unique Space to Consumer (S2C) Engagement Strategies to their current and future partners, which is set to underpin an entirely new technology sector as thousands of satellites are set to be launched in to space in the next few years. Many of these will be utilised through the US patent, firming the relationship between humankind and satellites in to a new era. These new and exciting societal, climate and commercial opportunities are currently being executed by Newlands and his team.
Fun Fact: In 2020, Spelfie charted at 17th in the prestigious TechRound100 of global start-ups and ranked as the Number 1 Scottish start up.
3. Jeff Bezos, founder of Blue Origin
Established by Amazon founder Jeff Bezos in 2000, Blue Origin aims to provide access to space to private individuals. The company's motto is "Gradatim Ferociter," meaning "step by step, ferociously" in Latin.
Blue Origin has a focus on space tourism services, rather than military or science applications. Bezos, who has a net worth of more than $200bn, believes that providing entertainment through space travel is the best way to further technology. Therefore, the goals of Blue Origin include lowering the cost of space travel and improving safety.
Blue Origin announced an orbital rocket called the New Glenn in 2016. This rocket will also be reusable like the preceding New Shepard rocket. The company has signed on a number of customers to use their rocket to launch satellites and Bezos himself flew to space in 2021 in one of his rockets.
Fun Fact: William Shatner, the actor who portrayed Captain Kirk on the original "Star Trek" TV series and films was launched into space in October this year, aboard Blue Origin's New Shepard spacecraft.
2. Elon Musk, founder of SpaceX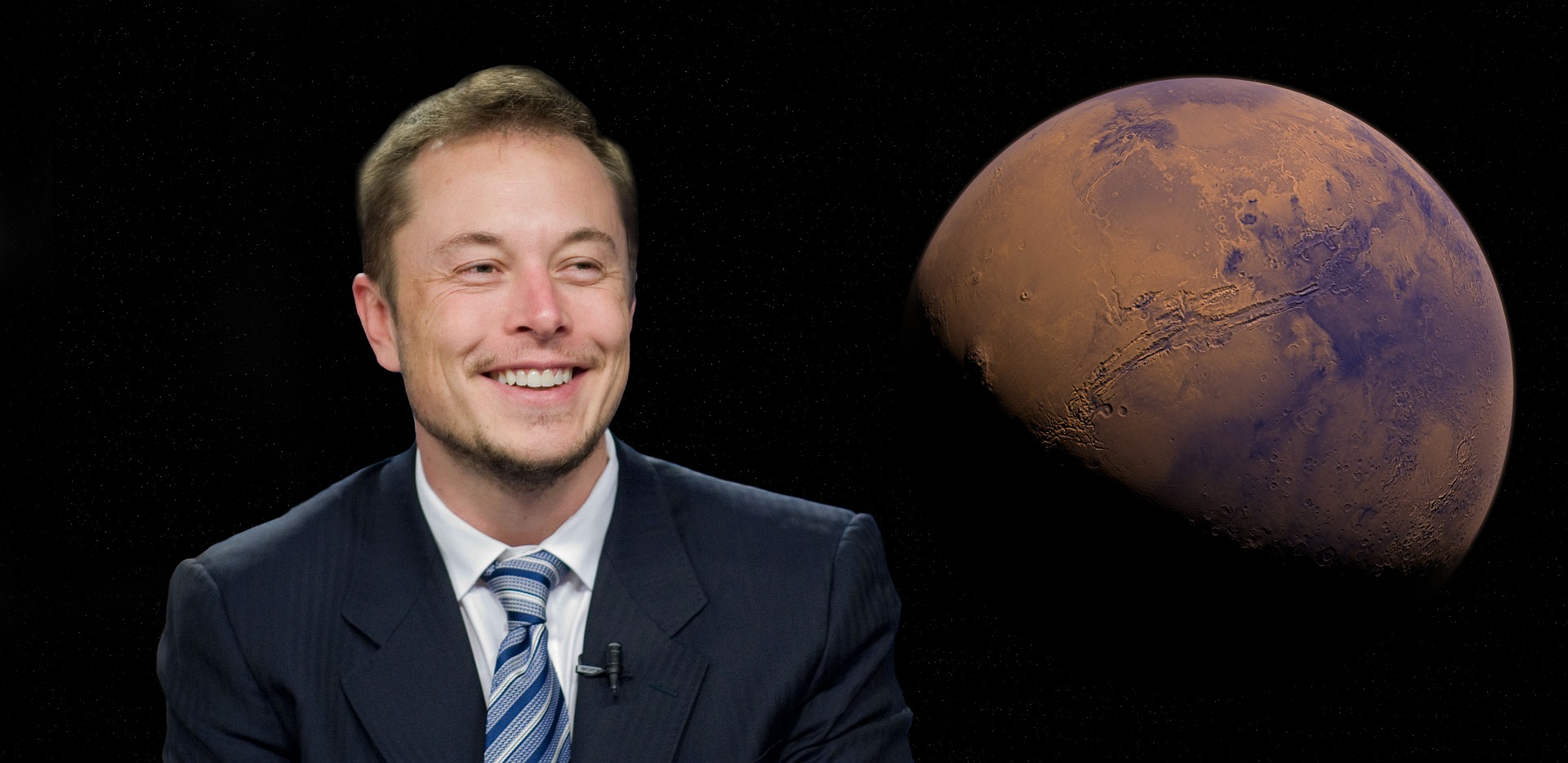 Musk is the world's richest man with a wealth of $297bn and is the CEO of Tesla and the founder and CEO of SpaceX – arguably the most well-known private space company.
Musk launched SpaceX with the goal of enabling the colonization of Mars. Though this sounds like a far-fetched goal, the company has made some impressive progress and Musk believes the company could get people to the red planet in the next decade.
SpaceX was the first commercial company to deliver cargo to the ISS. They have also secured a contract with NASA to carry humans to the ISS. The company has already had great success with their Falcon 9 and Falcon Heavy rockets. The Falcon 9 first successfully re-entered the atmosphere and landed vertically in 2015 and SpaceX is now working on a new rocket capable of launching manned missions to Mars.
Fun Fact: The Falcon Heavy first launched in February 2018 and it carried Musk's Tesla Roadster as a test payload.
1. Sir Richard Branson, founder of Virgin Galactic
Branson's Virgin Galactic, founded in 2004, is an extension of the Virgin brand into the space tourism industry. The goal of this venture is to fly private citizens into space and dominate the commercial space travel market and thousands of customers have already paid in excess of individual $200,000 deposits.
In 2014, Virgin Galactic tested their spacecraft with disastrous results. The ship crashed, killing the pilot. Then, in 2018, Virgin successfully launched SpaceShipTwo, the successor to SpaceShipOne. This was a manned flight that reached nearly 56 miles above the surface of Earth. It marked the first flight by Virgin Galactic to carry a passenger, though this passenger was their chief astronaut instructor.
Earlier this year Branson successfully reached the edge of space on board his Virgin Galactic rocket plane flying high above New Mexico in the US in the vehicle that his company has been developing for 17 years. "I have dreamt of this moment since I was a kid, but honestly nothing can prepare you for the view of Earth from space," he said in a press conference following the flight. "The whole thing was just magical."
The trip also made him the first of the new space tourism pioneers to try out their own vehicles, and in doing so, beating Amazon's Jeff Bezos and SpaceX's Elon Musk to that accolade.
That is why Branson is voted as the number 1 space entrepreneur.
Fun Fact: Branson beat his space rival, Jeff Bezos, into space, by just 9 days.