FemTech is fast becoming a huge sub-sector of the tech industry. Previously relating to companies that aid women in issues around reproductive health, the sector has now grown to serve a range of health and wellness needs for women (and people who experience similar health issues) through software, diagnostics, products and tech-enabled health services.
We wanted to talk to some of the big players in the FemTech space, to hear about what inspired them to start their companies, talk about the growing sector and find out where they think it's headed. As the first chapter in our TechRound Trends series, we wanted to hear from some of the women paving the way in an industry set to grow exponentially in coming years.
Our Panel of FemTech Founders:
Andrea Oliver, the CEO and Co-Founder at Emjoy
Dr Elina Berglund, CEO and Co-Founder at Natural Cycles
Amy Thomson, Founder at Moody Month
Leah Remfry-Peploe, Co-Founder at Ohne
Abi Hannah, Co-founder and CEO at Fertility Circle App
Jane Boyd, Co-Founder at How Bright Can We Shine
Chantelle Bell, Co-Founder at Syrnona

Andrea Oliver, the CEO and Co-Founder at Emjoy: A Barcelona-founded audio-based intimate wellbeing startup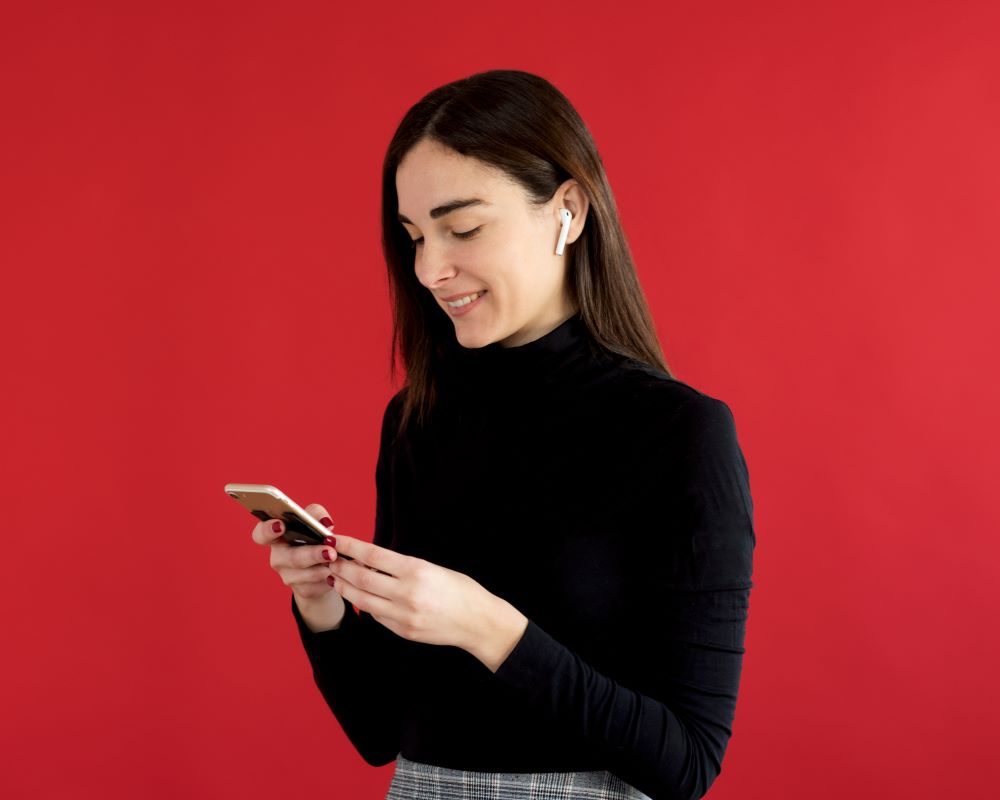 "I think the burgeoning success of the FemTech industry boils down to a few things. Firstly, female empowerment, on the whole, has made huge progress in the past 5-10 years, and this can be seen through pivotal moments such as the #MeToo movement or the #FreeTheNipple campaign. Secondly, women are far more comfortable demanding products that meet their needs.
"On top of this, most of the founders who are starting companies in the FemTech space are young women, like myself. Despite having been raised as equals to our male counterparts – at least more so than the generations before us – many of us have grown up and realised that there are still stigmas and misconceptions surrounding our health, bodies, and sexuality. As such, we have begun to take matters into our own hands by creating companies that address these issues.
"I, for example, designed Emjoy to address the orgasm gap normalised by my friends and I, along with so many other women. With every download, we move closer towards creating a future where female sexual wellness is considered as important as mental and physical wellbeing.
"In the future, however, I believe that FemTech will not be viewed as a women-only industry and investment in this space will be seen as equally important as that which we continue to see in the wider HealthTech arena. This will also, no doubt, result in an increased number of exits in the space, whether through M&A or IPO. I hope that as the industry continues to grow and develop it will attract and empower even more women to start their own businesses, and not only within the FemTech space."
Dr Elina Berglund, CEO and Co-Founder at Natural Cycles: A hormone-free birth control service
"Women's health has been historically under-researched and underfunded, which is why there is so much opportunity in the space. Although it is still primarily underfunded, the market potential is estimated to be a staggering £36.4 billion in 2025 so positive steps are clearly being made.
"Personally, I was drawn to the industry after my own search for a natural form of birth control. I found the lack of non-hormonal contraception options for women problematic and realised I couldn't be the only one. I have also always loved innovation and I remember asking my parents questions about science as a young girl. Now an ex-CERN physicist and founder of Natural Cycles, I really appreciate how technology can solve social problems. And that's the key to FemTech – solving the genuine problems that women face.
"Whether it's providing new options for birth control or offering more resources online so women can understand their bodies, consumers are not interested in tech for tech's sake. Women want something that serves a purpose and that has to be the future."

Amy Thomson, Founder at Moody Month: A daily health and wellness tracker for women
"FemTech was born from a realisation that men and women are different and society has been designed with a male bias. In the book Invisible women by Caroline Craido-Perez she outlines all the data and social systems including technology that have been designed with a male bias.
"It has only been in the last ten years that technology specifically to affect change and efficiencies for the female experience were engineered. The first generation of these technologies were focused on fertility, but there is a lot more to the female experience than fertility and that is the next generation of FemTech. If you take Invisible Women as a barometer for how society has grossly ignored women, you can clearly see the sectors and markets available for fast growth and high spend for a female experience.
"The top three trends from this book that I would set as clear signs for both opportunity and innovation in technology are:
1- Clinical research both B2B and B2C, as medical trials have historically been conducted on majority men, meaning high mortality rates for women.
2- Hardware as even iPhones are designed for a male hand with VR headsets making more women feel sick due to design and performance being tested on men
3- Space planning and design, as the formula to determine room temperature was designed in 1960 based on a 40-year-old 70kg man. Craido-Perez shows all the data on a society that does not support a female experience and if technology is going to have a new era, it will be the era of the female tech boom."
Leah Remfry-Peploe, Co-Founder at Ohne: A sustainable period brand
"While the digital health market is set to reach $536 billion by 2025, Emergen Research recently released estimates that the Femtech market specifically is set to reach $60B by 2027 with a CGAR of 15.5%. Despite this, womxn's health still only accounts for 4% of the overall funding for research and development of healthcare products and services.
"It currently takes over 7.5 years to be diagnosed with endometriosis, and 9/10 womxn experience period pain in the UK. We believe that the marked increase in companies tackling important issues surrounding womxn's health and wellbeing is driven by the increase in organisations, brands and consumers talking about these issues outside of the private sphere and bringing these conversations public. This, combined with the development of digital business models, creates an opportunity for founders to revolutionize the way that women experience their menstrual and reproductive wellness via new technologies and product innovation.
"At ohne we're passionate that every single person that bleeds deserves a better experience with their menstrual cycle – considering they'll go through about 540 in a lifetime we believe the opportunity is huge. We're here to bridge the gap between content and commerce, support and community, brand and purpose in a way that provides womxn with a one-stop-shop for everything they could ever need in relation to their cycle.
"The fact that our entire model is built around authenticity and community means that we are able to more successfully shift the pattern of women using the same sanitary products and bringing them into the process of discovering their cycle and hormones. Previously, when speaking about the menstrual cycle we have traditionally only spoken about the 5 days a month that womxn bleed. The progress in the industry has led us to a point in which women are taking more ownership of their bodies, discovering more about their health, and understanding their menstrual cycle is a core part of this discovery.
"There is currently no brand for them to turn to for this entire journey. Ohne exists to ensure women have autonomy over their bodies by understanding their cycle, and being supported with all the tools they need to successfully navigate the journey."

Abi Hannah, Co-Founder and CEO at Fertility Circle app: A company empowering people on their path to parenthood
"Although 1 in 6 couples experience fertility issues, 50% are not seeking medical or professional support. This is due to the cost of fertility treatment, lack of access, and the stigma associated with infertility. Those that do seek help are overwhelmed and often ill-informed.
"I launched the Fertility Circle app because of my own difficult journey to motherhood. I've felt the rush of hope and the stomach lurch of another failed cycle or loss, and I wanted to help others on the fertility rollercoaster. Fertility Circle brings together the community support, world-leading experts and trusted advice I wished for when I was trying to conceive… like your best friend with all the fertility smarts!
"Whilst there has been a recent surge in FemTech innovation, men are still leading on investment decisions, and astonishingly only 1% of VC money goes to all-female founders. Historically FemTech has been – and continues to be – a sorely underserved market.
"But things are looking up. The conversation is opening up and bespoke solutions for women – from sexual wellness to fertility, pregnancy and menopause – are now gaining attention. This can only be a good thing. The sooner investors wake up to the need – and opportunity – for FemTech solutions, the sooner founders like us can help more people."
Jane Boyd, Co-Founder at How Bright Can We Shine: Connecting women to good deed projects that need their help
"I began How Bright Can We Shine with my co-founder and schoolfriend Karen Mandy. Karen lives in Eswatini, Africa, a poverty-stricken country with the highest rate of HIV globally. She was a pastor for 20 years and I was a training and development specialist for 30 years.
"We started Rediscovering Me in 2016 to coach midlife women to break through the overwhelm they often feel when children leave home, parents begin to need care, and the menopause kicks in. It's a time when many of us need to redefine our relationships and find a new purpose in life. Women need encouragement and support to discover themselves again.
"In February 2020 we launched How Bright Can We Shine, an online network, run through our website with an app. It's for women of all ages who want to help others through good deeds.
"Members create or join voluntary projects helping people across the world. They meet new friends, get inspiration and support, learn ways to be more fulfilled in life and find a purpose in helping others. We run weekly events with guest speakers, creative challenges and fun activities to help us shine brighter.
"The key thing is our members are all women driven to make a difference in the world, and our role is to help them find ways to do that, to support them while they are doing that – and to have fun doing it!
"Projects we've worked on can be as diverse as our 'Water for Life' project, which is looking to sink a borehole in Kenya, while other members have set up a project crocheting and knitting items for premature babies across the world.
"Our members have already made a massive difference and our Facebook marketing campaign is generating new members towards our BHAG (Big Hairy Audacious Goal) of one million members by February 2023.
"FemTech is a big growth area. Anything that helps women break through their feelings of overwhelmedness, stress and anxiety from coaching to online courses and support networks is popular.
"There are places other than Facebook where women can connect and find support in a more authentic way and that is what we're all about. There is so much bad news about, we want to hear good news in the world and to support causes which bring meaning and purpose to our lives."

Chantelle Bell, Co-Founder at Syrnona
"Syrona develops digital therapeutics for Chronic Gynaecological conditions like Endometriosis. Syrona's story began in Cambridge University, where Anya and I met as classmates. Our shared passion for raising the standards for Gynaecological care delivery combined with our multidisciplinary expertise in data-science, biology and genetics led to our translational research activities.
"Although Syrona is classed as a FemTech company, we identify first and foremost as a healthcare company first, solving a need for all with gynaecological conditions, creating accessible and inclusive healthcare. For years, gynae health needs have been overlooked and underinvested in resulting in millions being underserved.
"We both had shared negative experiences when it came to our own gynae health, receiving sub-par care, incorrect diagnosis and discriminatory care on multiple occasions causing great distress and pain. This really drove us to create Syrona and make a meaningful impact.
"Our first focus is within Endometriosis and Chronic Pain. Endometriosis is a painful condition where tissue similar to the lining of the womb starts to grow or form lesions in other places, such as the ovaries and fallopian tubes. It affects 1/10 of reproductive age and takes on average 8 years to diagnose in the UK, often dismissed as 'period pain'. Syrona's mission is to democratise gynaecological health and provide accessible, inclusive and integrated care.
"Patients are well-informed and are advocates for better healthcare outcomes. The industry is headed towards on-demand care with evidence-based outcomes. Healthcare is undergoing a rapid revolution through digitisation, but this will also come with strong regulatory headwinds.
"In 2018, the top five googled questions included one about Endometriosis. Whilst reproductive health has had the spotlight for the last few years, it is becoming clear that there is a great unmet need for better diagnosis, treatment and management tools for Endometriosis. Endometriosis affects the same number of women as it does Diabetes, yet there is significantly less funding for Endometriosis. In 2020, the APPG report found that 58% of women who were eventually diagnosed with Endometriosis had to visit their GP 10 times before getting a diagnosis, highlighting major gaps in the system, making it a huge market to tap into"